How Tall Is Blake Shelton?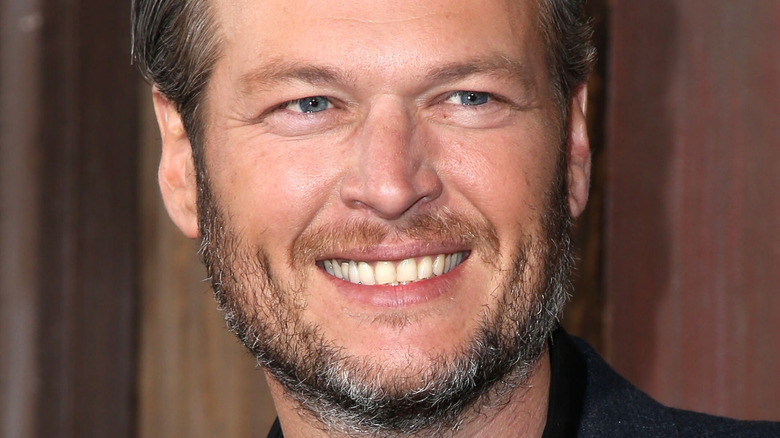 Kathy Hutchins/Shutterstock
Blake Shelton's sense of style may be more laid back than others, but it's one people know and love. His wife Gwen Stefani, on the other hand, has always been known for her bold, trendsetting fashion that has evolved over time. In the mid-2000s, the "Hollaback Girl" hitmaker launched her labels — L.A.M.B. and Harajuku Lovers — which have earned Stefani an impressive net worth. Since forming a romance with the No Doubt leader, it seems that idea has rubbed off on Shelton as he released his own clothing line with Macy's in 2017, according to Country Living. The collection was true to his brand, consisting of denim and plaid shirts, and suede jackets. In an interview with People, Shelton said, "It's the best clothes being made, [in terms of] quality and taste, and you're an idiot if you don't buy this stuff."
Although Shelton's signature style is identifiable, many have wondered: How tall is the "Nobody But You" hitmaker?
Blake Shelton is much taller than his Voice co-stars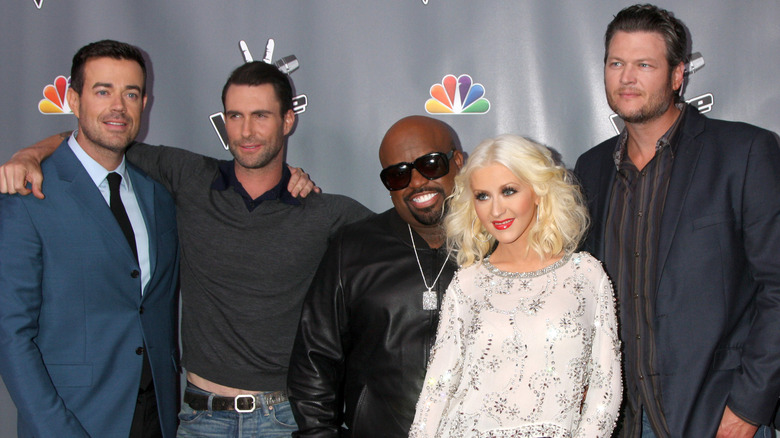 Kathy Hutchins/Shutterstock
If you ever imagined Blake Shelton as a tall man, then you are correct. According to CelebHeights, the "Happy Anywhere" hitmaker is 6 feet, 4 inches tall.
During a 2014 interview with Entertainment Weekly, the singer joked that his co-stars on "The Voice" are shorter than him, insisting, "It's easier for them to find clothes." Shelton continued: "That's the sucky thing about being tall and being a fat-a** at the same time. Nothing fits. If you see me on red carpets and I've got a look of disgust on my face, it's because I'm uncomfortable with whatever I have to be wearing." Because of his tall physique, he was asked how good of a basketball player he is. "They called me Hook-shot Shelton back in Oklahoma," he pursued with the joke, adding, "You can tell by looking at me that I am an athletic son of a b**ch. I don't want to brag, but I still wear my Reebok Pumps from high school."
In an interview on "Late Night with Seth Meyers" in 2018, Kelly Clarkson discussed her experience serving as a judge on "The Voice." When opening up about the banter she has with fellow judges, the "Breakaway" chart-topper stated she enjoyed messing around with Shelton, referring to him as a "giant." Clarkson also insisted that when she is being photographed next to him, she's always "on two steps," otherwise she will look like "an Oompa Loompa because I'm 5-3."
How much shorter is Gwen Stefani compared to Blake Shelton?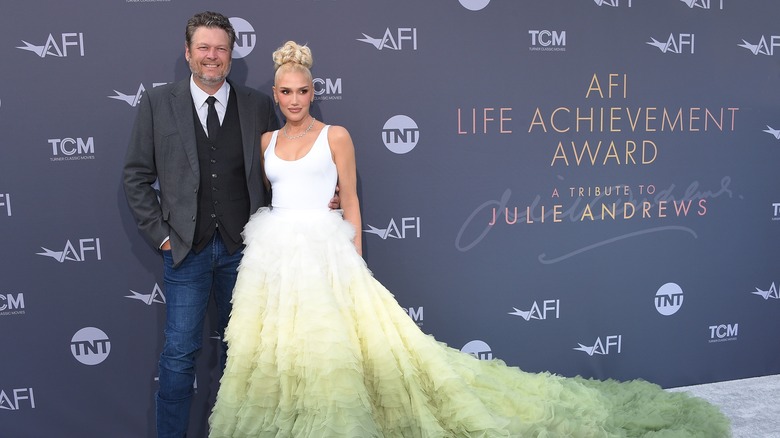 DFree/Shutterstock
Gwen Stefani is known for her eye-catching looks and isn't shy about posing with her hubby, Blake Shelton. As seen in an Instagram photo shared in December 2020, the blonde beauty stood beside the country singer in a pair of bright pink cowboy boots and a large country hat, appearing nearly as tall as Shelton. At the American Film Institute, Stefani was snapped on the red carpet next to Shelton while sporting her locks up in a bun — which added some extra height to her physique, per Hollywood Life.
However, even with the heels, extravagant hairstyles, and accessories that may give the illusion that Stefani is taller than she is, she is in fact a lot shorter than Shelton naturally. Per Closer Weekly, when shopping with Shelton and her son, Kingston Rossdale, in a pair of flats and her hair down, it is more obvious that there is a height difference between the pair. According to CelebHeights, the "Just A Girl" hitmaker is 5 feet, 6 inches tall. This means Stefani is roughly 10 inches shorter than Shelton.
Despite that, Stefani has continued to express her appreciation for Shelton and loves him for who he is. "He's just really an amazing all-around human so I feel so grateful for that," she told "Good Morning America" in 2018. "He's inspired me so much. He's changed my life."