Report: Louis C.K. Accused Of Sexual Misconduct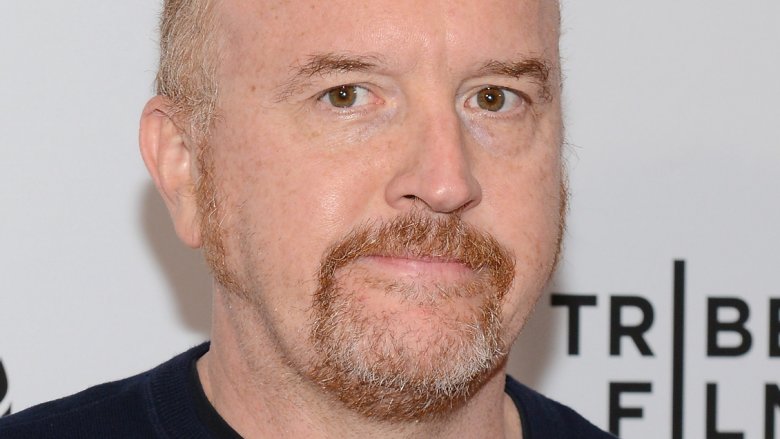 Getty Images
The comedian is facing disturbing new allegations of sexual harassment.
On Thursday, Nov. 9, 2017, The New York Times published a report about Louis C.K. (full name Louis Székely), detailing accounts made by five women who've accused the comic of sexual misconduct. Two of those women are Dana Min Goodman and Julia Wolov, a comedy duo. They told the paper that, in 2002, C.K. had invited them over to his hotel room to celebrate after they performed at the U.S. Comedy Arts Festival in Aspen, Colo. They reportedly accepted, as they admired C.K. and nearby bars were already closed.
Once there, Goodman and Wolov alleged that C.K. asked if he could take out his penis. Given that the women were still wearing winter coats, they said they laughed off C.K.'s comments, assuming he was joking. But, according to Goodman and Wolov, C.K. wasn't kidding.
"He proceeded to take all of his clothes off, and get completely naked, and started masturbating," Goodman told the paper.
Comedians Abby Schachner and Rebecca Corry also shared their own individual experiences with the Louie star. Schachner told The Times that she'd once called C.K. in 2003 and heard him masturbating during their conversation. Corry, on the other hand, alleged that C.K. had approached her on the set of a TV pilot, on which Corry was a star and producer and C.K. was a guest. "He asked if we could go to my dressing room so he could masturbate in front of me," she recalled. When she brought up the fact that he had a family, he allegedly became embarrassed and said "he had issues."
The executive producers of Corry's show, Courteney Cox and David Arquette, both confirmed the incident to The Times. "What happened to Rebecca on that set was awful," Cox said in an email to the paper. While Cox was willing to stop production, Corry said she wanted to continue.
A fifth woman, who wished to remain unnamed, echoed the claims made by the other women, stating that C.K. had repeatedly asked her if he could masturbate in front of her. The woman, who said she worked with C.K. on the set of The Chris Rock Show, said she allowed him to.
"I think the big piece of why I said yes was because of the culture," she explained. "He abused his power."
A former Chris Rock Show colleague corroborated the woman's reports, confirming that the woman had told him about an incident after it had happened.
C.K., whose New York premiere of the film I Love You, Daddy was canceled ahead of the New York Times piece, has not yet responded to the allegations.
Rumors of sexual misconduct have plagued C.K. in recent years. In June 2016, comic legend Roseanne Barr told The Daily Beast, "Some of the biggest comics, males, are doing some terrible things. And they're about to get busted."
She went on to say, "It's Louis C.K., locking the door and masturbating in front of women comics and writers. I can't tell you—I've heard so many stories. Not just him, but a lot of them. And it's just par for the course. It's just s*** women have to put up with."
Over a year later, comic Tig Notaro, distanced herself from C.K., who was a producer on her Amazon series One Mississippi, telling Vanity Fair that he has "nothing to do with the show." She claimed she'd had "an incident" with her one-time collaborator and has since kept her distance.
Unfortunately, C.K. is just the latest man to be accused of sexual misconduct since Miramax co-founder Harvey Weinstein was outed for his alleged history of sexual harassment, sexual assault, and/or rape.