How Tall Is Gwen Stefani?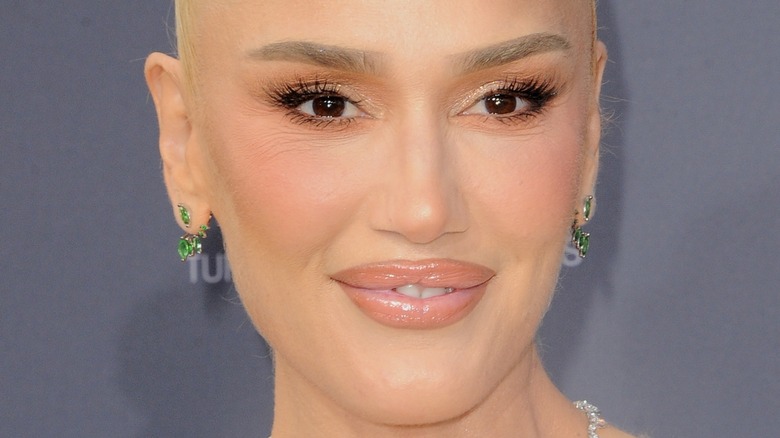 Tinseltown/Shutterstock
As one of music and fashion's most loved faces, it's fair to say that Gwen Stefani has made her mark on pop culture.
Debuting on the scene as the frontwoman of No Doubt, Stefani ventured out on her own and built a huge empire for herself. As previously reported by Billboard in 2005, she launched her own fashion label, L.A.M.B., before expanding with another line called Harajuku Lovers. "Music and fashion, it all comes from the same place of creativity," Stefani said. "It's an extension of my personality. I can't explain why I like it, it's just always been that way for me — like pizza." Since then, Stefani has brought out her own fragrances and eyewear collection. In 2019, the "Rich Girl" hitmaker was honored with the E! People's Choice Award Fashion Icon honor, where it was revealed that her brands had made over a billion dollars in retail sales.
As of 2022, Stefani is worth an astonishing $160 million, according to Celebrity Net Worth. It goes without saying that the mom of three is a financial giant. With that being said, how tall is Stefani really in the flesh?
Gwen Stefani is shorter than you think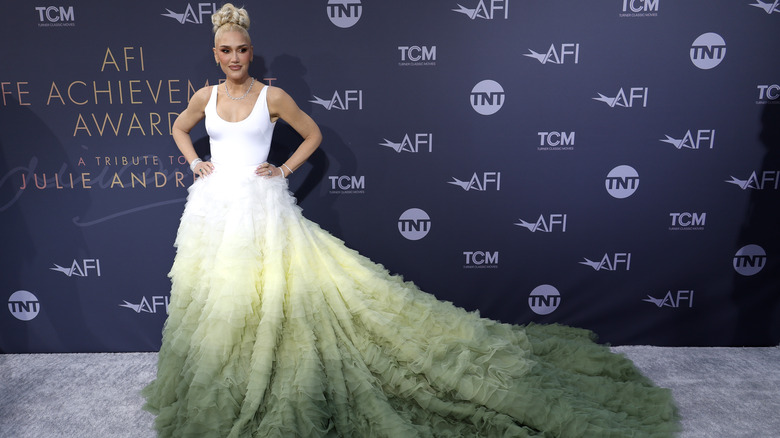 Frazer Harrison/Getty Images
Have you been wondering how tall Gwen Stefani is? Well, you're in luck as we're here to tell you. The No Doubt singer is 5 feet, 6 inches tall. As noted by Cleveland Clinic, the average height for women today is 5 feet, 4 inches, making Stefani two inches above average. Despite that, many people may have imagined the "Make Me Like You" hitmaker to be longer in height.
There are many ways in which Gwen Stefani allows herself to appear taller than she is over the years. As most will already know, she loves a fashion moment and isn't shy to portray a super glam appearance. As previously reported by Shoe Post, Stefani rocked a pair of Christian Louboutin 5-inch black heels when posing next to her co-stars on "The Voice." In the image, Stefani appeared just as tall as Pharrell Williams, who was seen wearing only lace-up sneakers, when in reality, she is much smaller than the N.E.R.D. frontman in height.Williams is 5 feet, 8-and-a-half inches tall.
Another example is the snapshot above. Stefani was photographed on the red carpet for the American Film Institute wearing a dress with a long train that covered her feet, leaving it to our imagination whether she's wearing heels or flats. In addition to that, she sported her blonde locks up in a high bun, adding extra height to herself.
How much taller is Blake Shelton compared to Gwen Stefani?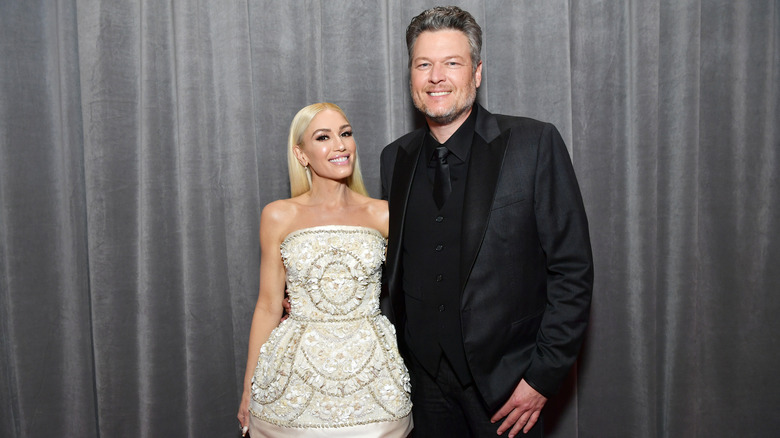 Emma Mcintyre/Getty Images
Gwen Stefani clearly likes her men tall. Her first husband, Bush frontman Gavin Rossdale, is 6 feet, 1 inch tall, according to CelebHeights, while her current husband, country singer Blake Shelton, is 6 feet, 4 inches tall, making him 10 inches taller than his wife. As seen in the pic above, it's clear that Stefani is relatively shorter than Shelton.
Stefani and Shelton first laid eyes on one another while both working on NBC's hit competition show, "The Voice," per Billboard. Over a year after meeting, the pair formed a romance and have since become one of Hollywood's most talked-about couples. Shelton has been a coach on "The Voice" from its very first season and previously admitted that he is taller than everyone else on the panel, telling Entertainment Weekly in 2014, "It's easier for them to find clothes." The "Nobody But You" hitmaker continued, "That's the sucky thing about being tall and being a fat-a** at the same time. Nothing fits. If you see me on red carpets and I've got a look of disgust on my face, it's because I'm uncomfortable with whatever I have to be wearing."
In 2018, Kelly Clarkson joked on "Late Night with Seth Meyers" that she's always "on two steps" when being photographed with Shelton, otherwise she will look like "an Oompa Loompa because I'm 5-3."