Report: George Takei Accused Of Sexually Assaulting Model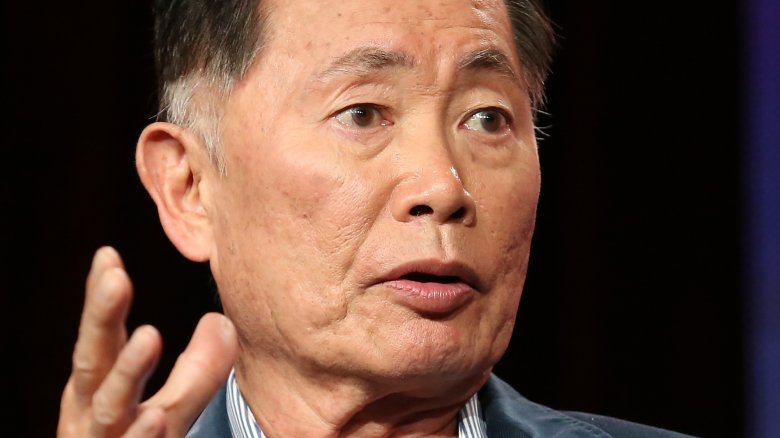 Getty Images
The Star Trek star is the latest man to be accused of sexual misconduct in Hollywood.
In an article published by The Hollywood Reporter, former model Scott R. Brunton claimed that he was once sexually assaulted by actor George Takei. The alleged incident occurred decades earlier, when Brunton was 23 years old and Takei was 43 or 44. The two had reportedly met at a bar back in 1981 and exchanged numbers, calling one another every so often.
One night after Brunton broke up with his boyfriend at the time, he allegedly sought comfort from Takei, who had invited him out to dinner and a show. "He was very good at consoling me and understanding that I was upset and still in love with my boyfriend," Brunton explained. "He was a great ear. He was very good about me spilling my heart on my sleeve."
After their night out, Brunton told THR that he and Takei retired to the actor's condo, where they had drinks. But after his second drink, Brunton claimed that he started feeling "very disoriented and dizzy." Feeling like he "was going to pass out," Brunton reportedly sat in a beanbag chair, and, Brunton remembered, he "must have passed out."
When Brunton woke up, he allegedly had his pants down around his ankles. He told THR, "... [Takei] was groping my crotch and trying to get my underwear off and feeling me up at the same time, trying to get his hands down my underwear."
"I came to and said, 'What are you doing?!' I said, 'I don't want to do this.' He goes, 'You need to relax. I am just trying to make you comfortable. Get comfortable.' And I said, 'No. I don't want to do this.' And I pushed him off and he said, 'OK, fine,'" Brunton said, recalling the alleged incident. "And I said I am going to go and he said, 'If you feel you must. You're in no condition to drive.' I said, 'I don't care I want to go.' So I managed to get my pants up and compose myself and I was just shocked. I walked out and went to my car until I felt well enough to drive home, and that was that."
Four of Brunton's friends corroborated his story to THR, explaining that they remembered Brunton telling them about the alleged assault years earlier.
Brunton said he once attempted to approach Takei about the alleged misconduct—"to ask him why"—and had coffee with him but ultimately could not bring up that one night from decades before, as it was just "too uncomfortable."
Regarding his decision to come forward over 35 years later, Brunton said he chose to speak out after learning about the ongoing Harvey Weinstein scandal. He was also reportedly infuriated by Takei's reaction to how Kevin Spacey responded to actor Anthony Rapp's sexual assault allegations.
"When power is used in a non-consensual situation, it is a wrong," Takei told THR in late October. "For Anthony Rapp, he has had to live with the memory of this experience of decades ago. For Kevin Spacey, who claims not to remember the incident, he was the older, dominant one who had his way. Men who improperly harass or assault do not do so because they are gay or straight — that is a deflection. They do so because they have the power, and they chose to abuse it."
Takei has yet to address Brunton's allegations against him. THR notes that his rep, Julia Buchwald, said that the actor, now 70, is "traveling in Japan and Australia and not reachable for comment."
While we wait for Takei to address the claims, read about all the other men who've been called out since the Weinstein scandal broke in early October.