What We Know About Trae Young's Fiancee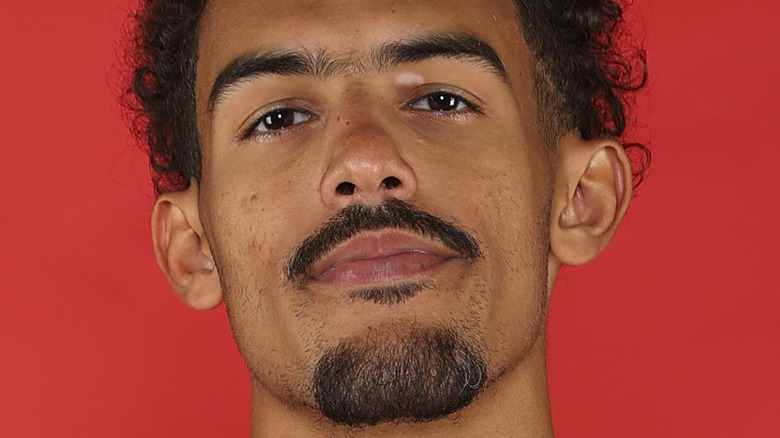 Todd Kirkland/Getty Images
The 2021-22 season was pretty phenomenal for Trae Young, both on and off the courts. At just 23, the Atlanta Hawks point guard became only the second NBA player to lead the league in both points and assists during the regular season, as reported by Fox 5 Atlanta. In May 2022, Young also celebrated his first All-NBA selection. "Imma represent the best I can," Young wrote on Twitter following the feat. Outside the arena, the NBA athlete was also taking big steps in his personal life.
In December 2021, Young popped the question to his longtime girlfriend, Shelby Miller, officially becoming an engaged man. "What a night," he captioned an Instagram post, which showed snaps of the proposal and included the hashtag "Future Mrs. Young." While Young generally reserves his feed for career-related content, he made an exception to mark the milestone. He did so again in June 2022 when he and Miller welcomed their first child, a son. "A new star was born. Tydus Reign Young," he announced on Instagram.
Young used another opportunity to gush over his little guy on Father's Day before switching back to business mode on social media. "Love you baby boy! Thank you for making me a father!" he wrote in the Instagram caption, also including a photo of himself as a newborn next to Tydus to show off their resemblance. With so much personal news involving Young and Miller hitting the headlines, the public has unsurprisingly taken an interest in Miller's fiancee. So, here's what we know about her.
Shelby Miller was a cheerleader at University of Oklahoma
Before Shelby Miller became engaged to Trae Young, she was a regular college girl living her best life as a member of the University of Oklahoma's cheerleading squad. In fact, it was thanks to that passion that Miller met Young, who — despite being the No. 15 overall recruit across the country — opted to stay close to home and represent the Sooners in February 2017, according to ESPN. By October, Miller had made their relationship Instagram official, sharing a snapshot of herself clad in her uniform and posing with Young on a football field. "I guess you could say I'm a pretty big fan," she captioned the post.
Miller's love for sports, and particularly the Sooners, has accompanied her since childhood. In June 2017, she shared a throwback showing her as a little girl rocking the team's red and white colors with pride. "Many memories in my OU uniform and I can't wait to make some more in it this year," she captioned the Instagram post. Since then, Young's fiancee has continued to post about her time as a Sooners cheerleader — whether it was documenting the journey as it happened or reminiscing about the good old days at OU.
Young joined the Atlanta Hawks in June 2018, prompting his move a few states east, NBA.com reported. It is unclear how the young couple was managing their time then, but Miller stayed put in Norman, Oklahoma, to complete her degree — a feat she celebrated in May 2019. "Thank you, next," she captioned an Instagram photo featuring her in her OU stole while holding her graduate cap.
Some have speculated about the timing of their engagement
The sports world was caught by surprise when Trae Young announced he'd become a father, considering neither he nor Shelby Miller had publicly disclosed they were expecting a baby. As a result, some have speculated about the timing of their engagement in relation to the pregnancy. "That's why Trae proposed because it wasn't a planned thing," an insider reportedly told Side Action in April 2022, addressing rumors that Young and Miller were going to be parents.
Regardless, Young and Miller are elated about their upcoming nuptials set to take place in summer 2023, as he told the New York Post in June. While he is just as excited as his fiancee, Young has had less time to dedicate to wedding planning. "The engagement happened in the season, so I didn't really have a break," he told the publication. "I was so focused on basketball."
That doesn't mean Young is uninvolved in the process. "She will ask me little details here and there about what I like, but I'm kind of letting her do her thing," he said, adding he is particularly interested in the music portion. Young and Miller certainly have their hands full caring for son Tydus, but their baby will be about 1 year old when the big day comes around.