Inside Grace VanderWaal's Relationship With Simon Cowell Today
Grace VanderWaal strummed her way into viewers' hearts when she appeared on Season 11 of "America's Got Talent" in 2016, and fans of the show weren't the only ones enamored with the then-12-year-old ukulele player with a gift for writing quirky, original songs. Judge Howie Mandel was so impressed with her first performance that he slammed his hand down on the coveted Golden Buzzer, sending VanderWaal straight through to the live shows. "I think you are a living, beautiful, walking miracle," he told the young artist.
The first song VanderWaal performed was titled "I Don't Know My Name," but plenty of people would know hers after judge Simon Cowell paid her a huge compliment. "You know what I predict for you? I think you are the next Taylor Swift," he said. His remark seemed to bring the tween to the attention of Swift herself — after VanderWaal won the competition, she tweeted a video that showed her learning a congratulatory floral bouquet was a gift from Swift. In addition to the flowers and her $1 million cash prize, VanderWaal was awarded with a record deal. Conveniently enough, "AGT" creator Cowell owned his own label, Syco Music, so the offer came from him, per Billboard. "She's a very smart, calm, focused girl and I think she knows what she wants to achieve," Cowell said of VanderWaal.
While VanderWaal's career didn't rapidly reach the heights of some of her former labelmates, who included One Direction and Little Mix, Cowell thinks she did "AGT" a big favor.
Simon Cowell found what he was looking for in Grace VanderWaal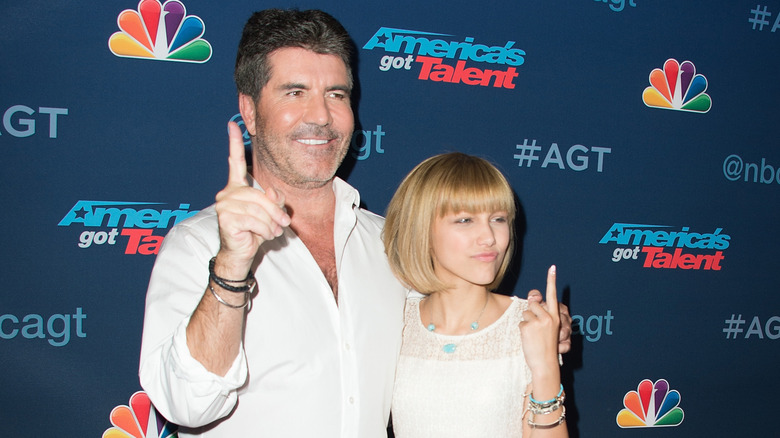 Jennifer Lourie/Getty Images
In 2017, Grace VanderWaal told USA Today that she almost turned down Simon Cowell's recording contract offer because her "America's Got Talent" experience had been so stressful, but she was glad that he convinced her to change her mind. After dropping two EPs and one full-length album, her working relationship with Cowell ended in 2020 when Syco Music shut down, per Music Week. However, VanderWaal continued to release music through Columbia Records, as reported by People.
Cowell might no longer have control over VanderWaal's career, but he has fond memories of their time together on "America's Got Talent." In July, the judge joined "AGT" host Terry Crews to look back at some of his favorite Golden Buzzer moments, and Cowell recalled that he was actually desperate to find a singer when VanderWaal came along. As he and Crews watched VanderWaal's performance, Cowell revealed that he got an added bonus. "I would say this is the moment where 'AGT,' in my opinion, became cool, because she was so cool," he stated.
Cowell pointed out that the audition opened up so many doors for VanderWaal, including one outside of music: She landed a role in the Disney+ movie "Stargirl." But when PopSugar asked VanderWaal what her most unforgettable moment on "AGT" was during a June Twitter Q&A, it was not the realization that her life was about to change forever. "Probably Simon giving me Voss water," she responded.
Grace VanderWaal changed her look and sound after her relationship with Syco ended
In 2021, Grace VanderWaal gave her image a massive overhaul. She chopped off all her hair, dyed it platinum blonde, and adopted a punk rock look in her music video for "Don't Assume What You Don't Know," in which nary a ukulele pluck can be heard. Per People, the alt-pop song was her first release since she parted ways with Simon Cowell's record label.
"The song is all about the fantasies of Hollywood and how I've personally witnessed the debunking of all those myths," VanderWaal told Nylon. She revealed that she seized the reins for her post-Syco releases and decided to focus solely on themes that are important to her, like pushing back against society's idea of how women should behave. VanderWaal acknowledged that some of her fans were outspokenly unhappy about her new look and sound, but she was far from devastated by their reactions. "It exhilarated me," she said, confessing that she actually enjoyed making her critics feel ill at ease.
E! News touched base with the artist in July, and while she revealed that growing up in the spotlight was far from a cakewalk, she gave "America's Got Talent" credit for making it possible for her to keep doing what she loves. "Now I'm sitting here years later still in the business," VanderWaal said. "I never would have thought I'd be doing that."