Everything Jenni 'JWoww' Farley Has Shared About Her Son's Autism Diagnosis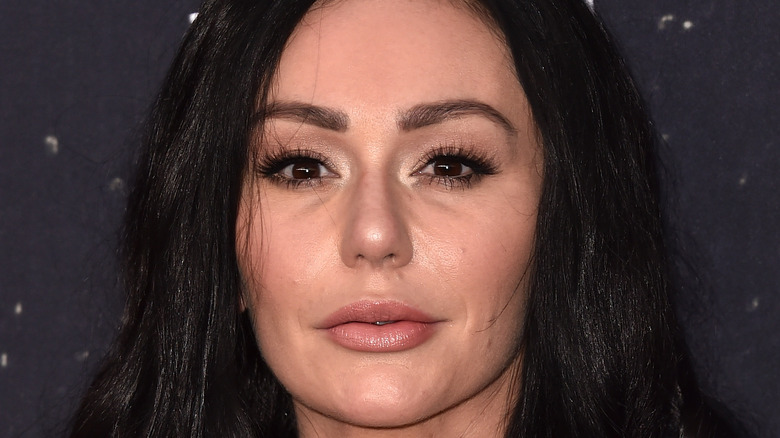 Alberto E. Rodriguez/Getty Images
In December 2009, "Jersey Shore" premiered and immediately becoming a pop culture phenomenon. The series documented the heavy boozing, brawling, bed-hopping, feuding, and backstabbing antics of a bunch of 20-somethings on the Jersey Shore, per IMDb. The show made household names out of Mike "The Situation" Sorrentino, Vinny Guadagnino, Nicole "Snooki" Polizzi, Sammi "Sweetheart" Giancola, Paul "Pauly D" DelVecchio, Ronnie Ortiz-Magro, Jenifer "JWoww" Farley, Deena Nicole Cortese, and Angelina Pivarnick.
It was all about the fist-pumping, Jaeger bombs, GTL, meatballs, and the contentious self-identification as "guidos and guidettes." As their fame grew, so did their notoriety, mug shots, and tabloid headlines. However, the DUIs, public drunkenness, assaults, and drunk and disorderly arrests just seemed to add to the show's popularity, despite taking a toll on the reality stars' mental wellbeing. "I've suffered from anxiety my whole life," Vinny explained in a Mental Health Action Day video. "When I was filming 'Jersey Shore,' I actually got so bad that I had to step away." JWoww similarly explained that when social media trolls became too much, she disengaged so that she could "mentally be on point."
With hard partying as the show's focus, it was hard to imagine the cast of "Jersey Shore" ever becoming grown-ups and engaging in real adulting. However, they did. Per People, JWoww is a mom to daughter Meilani Alexandra and son Greyson Valor Matthews. Since publicly announcing Greyson has autism, she's become an advocate — here's everything Jenni 'JWoww' Farley has shared about her son's autism diagnosis.
Jenni 'JWoww' Farley's son was diagnosed with autism at 2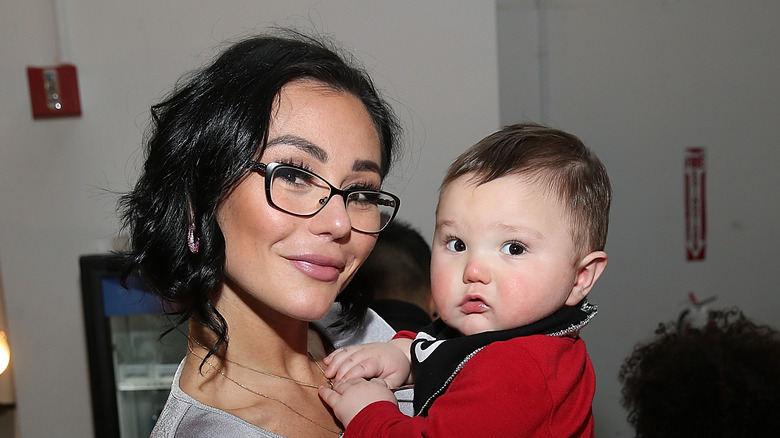 Bennett Raglin/Getty Images
In a 2021 Nicki Swift poll, Jenni "JWoww" Farley and Paul "Pauly D" DelVecchio were voted the most popular "Jersey Shore" stars. The straight-talking and loyal JWoww was always a fan favorite. When the gang reunited for "Jersey Shore: Family Vacation" in 2018, they took their kids along for the reality ride. "[JWoww's] a wife and mom of two who can fist bump while giving den mother feels," CafeMom raved. They praised her for "[reminding us there] is no one-size-fits-all approach to this parenting game."
In 2018, JWoww split from her husband, Roger Matthews, after three years of marriage. She's now a single mom to their daughter Meilani Alexandra and son Greyson Valor Matthews. It's in JWoww's character to go with the flow, and that trait became more apparent after Greyson was diagnosed with autism. "For seven hours a day, Monday through Friday, and a few hours on the weekends, too, Greyson works with therapists to master social, educational, and life skills. And he's crushing it," JWoww told Insider.
She explained they'd noticed some developmental differences in Greyson when he was 1. They took him to a doctor, but no red flags were raised. "I'd been told that sometimes boys develop slower, and we hoped he would eventually catch up," JWoww admitted. She said they took him back to the pediatrician after Greyson's development continued progressing at a slower rate. He was diagnosed with autism when he was 2.
Jenni 'JWoww' Farley is there for other autistic kids and their families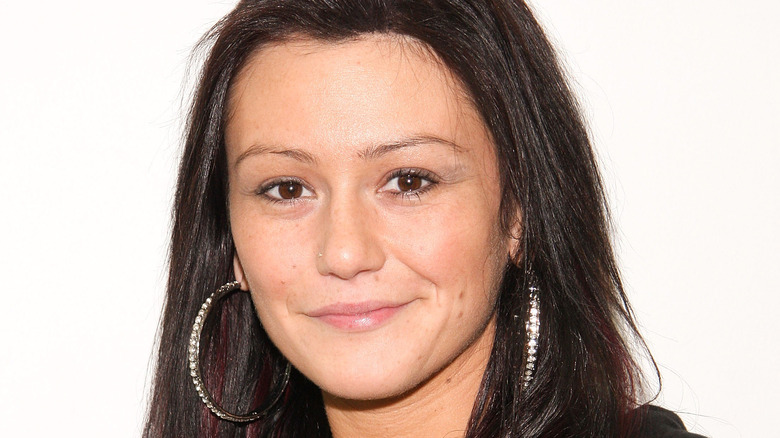 Janette Pellegrini/Getty Images
Despite significant progress being made over the years, there remains a lot of misinformation and stigma around autism. Per Spectrum News, "Autism was originally described as a form of childhood schizophrenia and the result of cold parenting." So, it's not surprising that some parents would be freaked-out if their child received a diagnosis. However, Jennifer "JWoww" Farley took her son Greyson Matthews' diagnosis as a positive. "We were able to enroll him in therapies that were much better suited to him," she told Insider. "There was also a big learning curve for us as parents." Part of the curve was developing an understanding of the adverse effects that sensory overload has on autistic children, the need for routine, quiet spaces, and reacting to social cues. 
JWoww discovered that regular medical insurance doesn't cover most autism-related treatment programs — leaving parents who can't afford extra insurance without aid or recourse. "I want families who have children with autism to know that they're not alone," she said. "It can be challenging, but I'm right there with you."
She now works with KultureCity, a non-profit that raises awareness of the needs of autistic children. They also teach organizations to provide spaces so those with sensory-processing disorders can self-regulate. JWoww urges parents to ignore the stigma that often still accompanies an autism diagnosis. "There's a whole army of doctors, therapists, and other parents, including me, ready and waiting to help," she vowed.