Amanza Smith Appeared On This Show Before Selling Sunset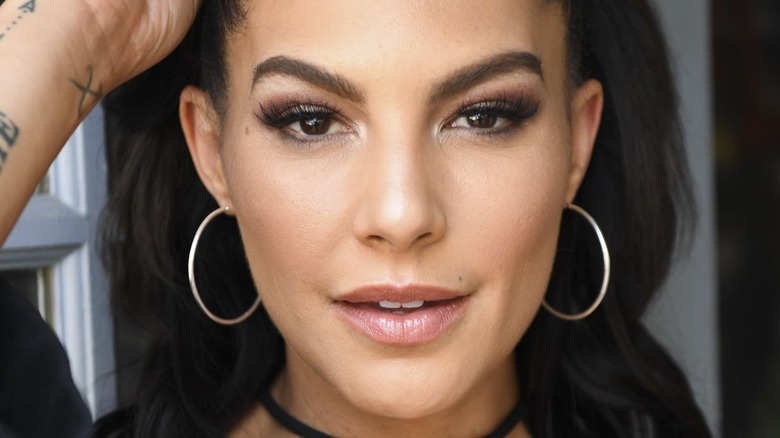 Michael Bezjian/Getty Images
For five seasons, "Selling Sunset" has featured a revolving door of beautiful realtors trying to score the next big sale in high-end real estate. Set at the high-profile Oppenheim Group firm in Los Angeles, the Netflix reality hit has included several real estate agents who were familiar to fans before putting their names on luxury listings.
When Chrishell Stause turned up as the new girl at the brokerage firm in Season 1, many fans recognized her from her past as a soap star on "All My Children" and "Days of Her Lives." (Stause was also married to "This Is Us" hunk Justin Hartley at the time, per People).
But other "Selling Sunset" stars were also familiar to fans. Heather Rae Young already had some movie credits on her résumé, per IMDb, and she was a former Playboy Playmate when she was hired by the Oppenheim Group. And when Season 2 newcomer Amanza Smith showed up at the firm, eagle-eyed fans may have recognized her from a long-running past gig on a popular TV show.
Amanza Smith appeared on a popular TV game show for years
Amanza Smith has a unique occupation on her résumé. Before she was an Oppenheim Group realtor, Smith was a suitcase model on the popular TV game show, "Deal or No Deal." Smith opened up money-baring briefcases in 53 episodes that aired between 2008 to 2019, and she was credited as "Briefcase Model #8, #19 and #20" on the show, per her IMDb page.
In an intro video from her "Deal or No Deal" days, Smith described herself as "silly, witty," and a "room parent" at her kids' school when she wasn't modeling or doing interior design work. She also revealed that she worked on two incarnations of the game show and was happy to be the older "nurturer" to the younger women during her second go-around.
According to TV Overmind, Smith once revealed that her favorite memory from being on "Deal or No Deal" was witnessing a contestant win a rare $1 million prize –- and it happened on her very first day as a suitcase model.
Amanza Smith just missed working with a future royal family member
Amanza Smith isn't the only celebrity who started out as a "Deal or No Deal" model. Over its long run, the Howie Mandel-fronted game show featured a bevy of beautiful briefcase girls, including Chrissy Teigen and Claudia Jordan, according to People. But it was a future royal bride that Smith just missed crossing paths with. Before she became the wife of Prince Harry, Meghan Markle was a suitcase model for two seasons on "Deal or No Deal."
Smith once joke about her missed opportunity to work with the royal — or perhaps become one herself. "She was on a season before me, and I always joke because I'm mixed, like, 'I was one season shy being a princess,'" Smith joked to Us Weekly when talking about Markle. "I don't think I would have fit in the royal palace," she added. "I have too many tattoos and yeah [and] I like to drink."
Even though she didn't marry into royalty in 2018 as Markle did, Smith was a queen when "Deal or No Deal" returned that same year. In a promo video for the show, the future "Selling Sunset" star said "Deal or No Deal" was her favorite to work on. "It was literally the most fun job I've ever done," Smith revealed.