The Sister Wife Christine Brown Says Ex-Husband Kody Prioritized Over Her
Things have gone from complicated to very complicated for the cast of "Sister Wives" in the past few years. The show, which follows a polygamous family in Utah, already promises complex drama, and infighting has become increasingly confusing as the family has broken apart. When the show began, the patriarch Kody Brown was married to Meri, Christine, and Janelle. A few years in, he married a fourth wife Robyn.
For a while, things seemed solid, but eventually, the relationships began to break down. First, things went sour between Kody and Meri, his first wife. "Meri and I are in an amicable relationship, but we've been literally separated for four or five years," Kody told ET in 2021. "We're amiable, we've had a real struggle ... I'm not mad anymore." Though not "romantically" together Kody and Meri remain spiritually married and amicably co-parent their kids. While Kody was eventually able to work things out with Meri, the same cannot be said for his third wife, Christine. For years, Christine has claimed that Kody doesn't prioritize their marriage — giving more attention to other wives, especially Robyn. Despite their strong religious beliefs, Christine filed for divorce.
With a new season finally set to air, we are at last getting some insight into what really went wrong between Christine and Kody and what wife came between them.
Christine is ready to move on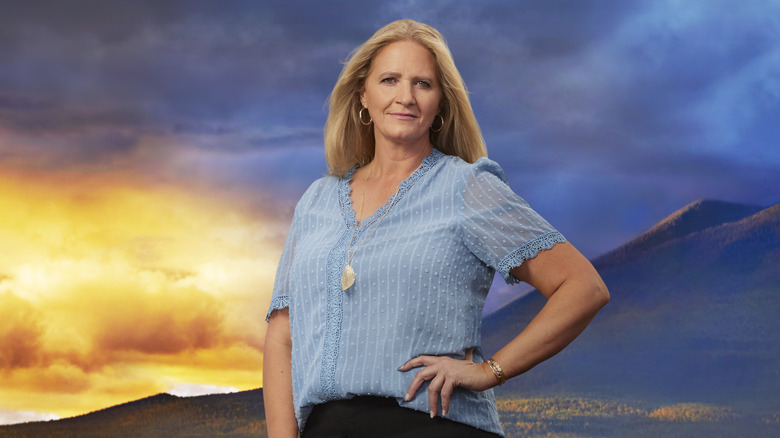 Courtesy of TLC
Though fans have known about the breakdown of Kody Brown and Christine Brown's marriage for months, we are finally getting to see what really happened thanks to the upcoming season of "Sister Wives." In a newly released trailer obtained by Nicki Swift, Christine seems to imply that Robyn, Kody's fourth wife, played a pivotal role in the breakdown of their relationship. "To Kody, Robyn is more important," she said, adding later, "I agreed to be a sister wife, but I agreed to be an equal wife." There has always been tension between Robyn — Kody's alleged favorite – and the other three wives. "The other wives can't compete against Robyn," a source told Us Weekly in November 2021. "Robyn and Kody are a dream couple. She has him wrapped around her finger."
During what appears to be a family meeting in which Christine tells the other wives of her decision to leave Kody, they all begin to sob. Kody, far from crying, appears furious at Christine. The trailer culminates in Kody yelling that Christine had failed to make their polygamous relationship work by refusing to be close with the other wives.
"This season will see the family divided like never before," a statement from TLC read. "Leaving one thing for certain: the Browns will never be the same." Along with the drama between Christine and the rest of the camp, the press release promised more conflict between Kody and Janelle, who abruptly moves off their property and into an RV. The new season premieres on September 11.