Sarah Hyland Hits Back At Social Media Haters After Nude Selfie Backlash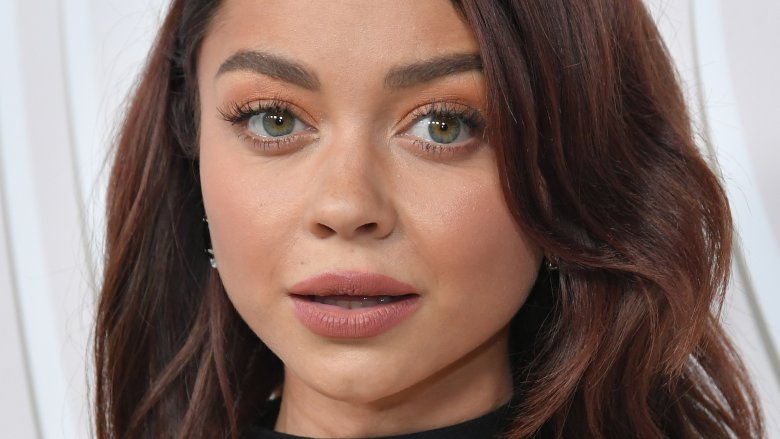 Getty Images
The Modern Family actress isn't interest in her fans' negativity.
On Monday, Nov. 13, 2017, Sarah Hyland shared a sweet photo of herself snuggling with her boyfriend, Bachelor in Paradise star Wells Adams, and her bloodhound, Carl. "Two more reasons to smile again," she captioned the shot. "My big🥄& furry🥄."
But apparently, some of Hyland's followers were quick to criticize the actress, who appeared to be naked in bed in the post.
"You can go out with whoever you want. But there are limits," one Instagram user penned in a direct message to Hyland. "Do not you know that some private things, must stay private, and not be shared with the whole world. KEEP YOUR SEXUAL LIFE PRIVATE, we do not necessarily need to know all the details of your personal life."
In response, Hyland hit back at the commenter and sent a message to her followers: She's not sorry for anything.
After sharing a screenshot of the rude message she'd received, Hyland wrote, "Not putting her on blast. She just brought to my attention that that picture I posted might have been inappropriate since we're in bed. So I just have to say I'm so sorry...FOR POSTING AN ADORABLE PICTURE BECAUSE CARL WAS ACTING LIKE THE NUGGETIEST [SNUGGLE] BUG! Couldn't let that moment pass without getting a picture."
Hyland continued by informing her fans that she'll decide what is and isn't "appropriate" to share about her relationship on social media. She also noted that, while she'd been criticized for appearing naked in the Instagram post, there was no actual evidence that she was indeed nude in the photo. "You can barely see any skin but it's ok for Instagram models to roll around in the sand ACTUALLY naked?" she pointed out. "My point is don't be hypocrites. Either be conservative on all fronts or FREE THE NIPPLE."
Well, there you go.
After breaking up with longtime boyfriend Dominic Sherwood in August 2017, Hyland got together with Adams, who she's been seeing "for months."
While we wait to see more cute photos of the pair, read all about the cast of Hyland's show, Modern Family.