Who Was LeAnn Rimes On The Masked Singer?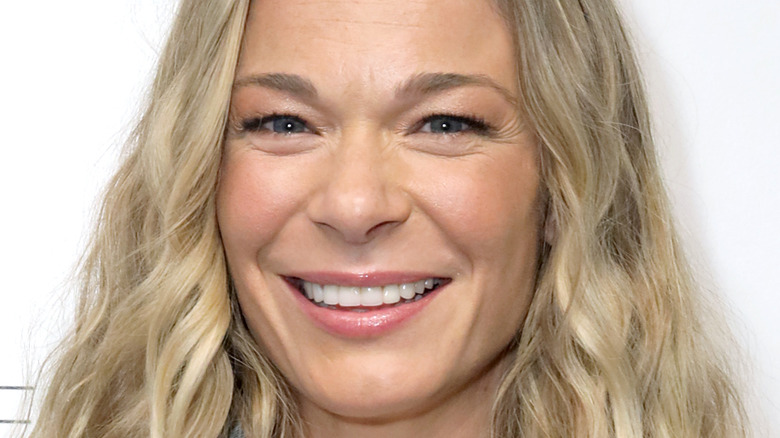 Rebecca Sapp/Getty Images
LeAnn Rimes rose to fame at a young age for her musical talents, but has also graced our screens throughout the years. As noted by her IMDb profile, she starred in her own television special, "LeAnn Rimes in Concert," in 1997 as well as starred in the autobiographical made-for-TV movie "Holiday in Your Heart" the same year. In 2000, she appeared on the big screen for "Coyote Ugly."
Retrospectively, Rimes shared she always felt the need to be a "superhuman" performer when she was younger — which had a negative impact on her well-being. "Being in the public eye from the time I was very young and having to override my humanness, I think, was a huge part of my experience with anxiety and depression and what was triggering it," she told Insider in July 2022. Rimes has continued to use her voice and platform, and she now hosts her own mental-health-focused podcast "Wholly Human." 
In 2020, the "Can't Fight The Moonlight" hitmaker participated in Season 4 of Fox's hit show "The Masked Singer" — and she made quite the impression on both the panel and viewers. But, what costume did she sing under?
LeAnn Rimes shined bright as Sun
Out of the many wild costumes LeAnn Rimes could have chosen to sing under on "The Masked Singer," she chose Sun. And with her powerful vocals, it's fair to say that Rimes shined bright from the very beginning. Sun's debut performance — a powerful rendition of Lizzo's ballad "Cuz I Love You" — instantly proved she was a frontrunner. As previously reported by Heavy, the panelists were initially confused about her identity. They guessed a whole range of names for who Sun could be, including Mandy Moore, Demi Lovato, and Katharine McPhee.
Weeks later, Sun sang a stunning version of Billie Eilish's "When The Party's Over," which left panelist Nicole Scherzinger in tears. "You have such a gift," the former Pussycat Dolls bandmate told Sun. "Just listening to you, all I could do is just exhale and just breathe ... You have a voice of the heavens." In that episode, Scherzinger insisted that Rimes could be under the mask.
Sun's talent was so impressive, that she made it all the way to the finale and was crowned the winner. Scherzinger stuck to her guns and said Rimes as her final guess. Jenny McCarthy also agreed and predicted she was the "How Do I Live" hitmaker. When it came down to unmasking Sun, they were proven to be correct. Rimes expressed she had "a blast" and said the show reminded her why she wanted to sing in the first place.
LeAnn Rimes was hesitant to participate in The Masked Singer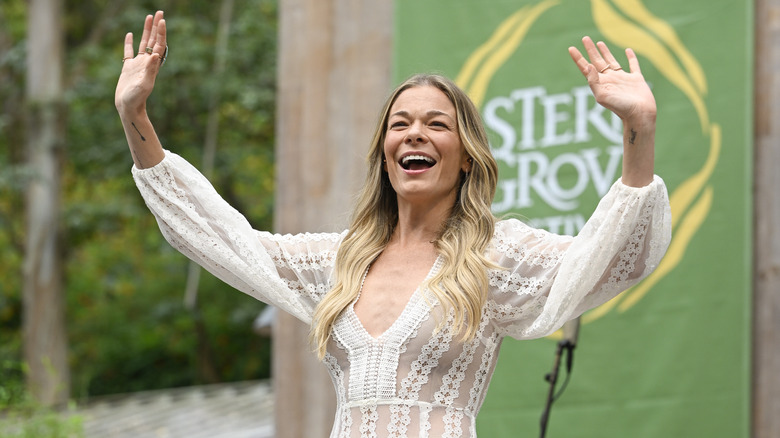 Steve Jennings/Getty Images
After winning "The Masked Singer," LeAnn Rimes took to Instagram to thank fans for their "sweet messages" and support while she was on the show hiding her identity. "I have absolutely had the best time shining some light in the world during a time of darkness," the "Life Goes On" singer said.
In an interview with Entertainment Weekly, Rimes shared she was hesitant to participate in "The Masked Singer" because she didn't know how to disguise her voice. "If I did, I probably wouldn't do it justice," she insisted. As for Rimes' breathtaking cover of Billie Eilish's song, "When The Party's Over," the country singer told the outlet she had been thinking of releasing a studio version of it. "We'll see what happens, because you're not the first person that's said that," she told the interviewer, who gave high praise for the performance. "So many have."
When asked by Extra TV why she agreed to participate in "The Masked Singer," Rimes explained she hadn't seen too much of the show prior to competing. Her reason for donning the costume and singing every week was due to her being "at home in sweats on the couch" during the COVID-19 pandemic. "It was great to bring joy to people," Rimes added. "It's such a joyous show."