Inside Lexi Rivera's Love Life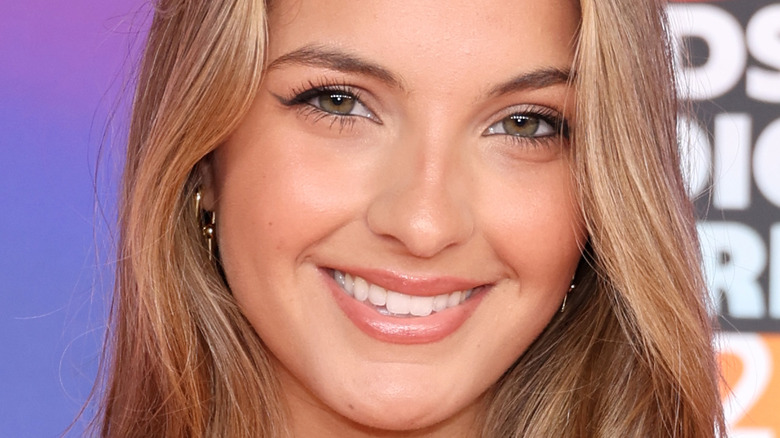 Matt Winkelmeyer/Getty Images
In just four years, Lexi Rivera has gone from simply being the younger sister of YouTube star Brent Rivera to being a social media sensation herself. Lexi joined YouTube in 2018 when she was just 17 years old, and since then, the vlogger, now 21, has established her own presence in the virtual world. 
Currently, Lexi has nearly 10 million subscribers on her YouTube channel, while her TikTok account is boasting a whopping 23 million followers. She has collaborated with a number of Internet personalities, including the unofficial king of TikTok himself, singer Jason Derulo. Just this year, Lexi also officially joined the ranks of online superstars Charli D'Amelio, Addison Rae, and Emma Chamberlain when she was nominated for Favorite Female Creator at the 2022 Nickelodeon Kid's Choice Awards. Regardless if the award ultimately went to D'Amelio (per Good Morning America), the South Carolina native is still obviously living the dream.
With her current fame, it would only be natural for fans to be curious about Lexi's personal life — more specifically her love life. They want to know: is she single or taken? 
Lexi Rivera used to date fellow YouTuber Ben Azelart
Fans of Lexi Rivera would know that the TikTok star used to be in a romantic relationship with fellow YouTuber Ben Azelart. They dated on-and-off for about three years before splitting up for good in late 2020. In a YouTube video announcing their breakup, Rivera and Azelart said they came to the mutual decision to go their separate ways after realizing how much they have grown apart in the past months. "We were 15 and 16 when this all started. We went through some of the most changing years of our live and I think just throughout those years, we changed as people," said Azelart. "Right now, we're just better off as friends." 
Fast forward to today, Rivera and Azelart are still pretty solid and in fact continue to show up in each other's vlogs despite the split. Last year, Rivera even released a video where she and Azelart gamely pranked their friends by telling them that they got back together. It ended up going viral, with the video earning more than 8.5 million views on YouTube. "I love how even though they broke up they still are comfortable being friends and do pranks like these," wrote one commenter in the comments. Meanwhile, another added, "This would be the best moment of my life because I really really really really really want Bexi back."
Lexi Rivera's rumored boyfriend
Since breaking up with Ben Azelart, Lexi Rivera has been linked to multiple guys. Per Hollywood Mask, she'd been rumored to have romantic ties with fellow content creator Dom Brack and social media star Hayes Grier, although the TikTok star denied this. In a YouTube video where she and her mother rated the guys she's dated "according to the Internet," Rivera called the rumors linking her to Brack as "a little absurd." As to Grier, she said she doesn't even have any idea who he is. "Do you know who Hayes Grier is?" Rivera asked her mom. "Because I've never met him."
Nonetheless, Rivera is believed by many fans to be in a romantic relationship with another YouTuber, Andrew Davila, to whom she appears to be very close. The gossip started in 2020, after Rivera posted a prank video where she and Davila jokingly told her ex that they were together. Although Rivera prefaced the vlog by saying that it was all made up — and that she and Davila are only "really good friends" — many were pretty convinced that their fake romance is, after all, true. Rivera herself has also added fuel to the dating rumors by sharing several sweet snaps of the pair on her Instagram account. "Dude, you guys are so dating after this photo," commented one fan in their most recent snap. Are they or are they not? Guess we'll just have to wait to find out.