YouTube Stars Who Completely Disappeared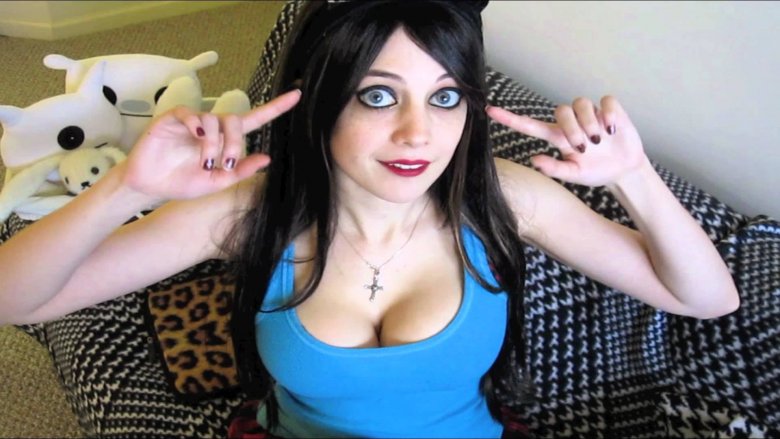 YouTube
Huge numbers of YouTube channels are abandoned by their creators every single day. That's not unusual. As of 2017, there are 1.3 billion YouTube users, and more than 300 hours of footage is uploaded to the website daily. That means competition on the Tube is fiercer than ever before. What is rare is when a YouTuber who has a substantial following goes missing out of the blue. From gun enthusiasts to vegan lifestyle gurus, the following YouTube stars completely disappeared.
RedKeyMon
When RedKeyMon suddenly stopped making videos at the height of his fame in May 2015, everyone thought he was dead because nobody in their right mind would walk away from such a successful channel. His last video "Awesome GTA Stunts And Fails #2" pulled in more than 25 million views! 
Kotetsu was one of many YouTubers who made a video about the gamer's disappearance, but he had to eat his words when the missing man himself popped up to set the record straight.
"Hey guys, first of all, I am still alive!" RedKeyMon said in July 2017, pinning his words to the top of the comments section of his last video. "Sorry for not giving any news. I apologize for this. I hate saying goodbye [which is] why I never did." The well-known Grand Theft Auto player explained that he had intended to just take a break, but before he knew it, too much time had passed and he lost all motivation. "Months stack up and you feel like it's too late to make a change," he said. "I think I never realised how much subscribers I have/had. I gained more than one million subs since my last video... Thanks for everything guys, the support, the love, the comments. It has been amazing and always will. Wishing you all the best of everything." 
He signed off on a hopeful note. "You never know," he said, leaving the door open for a possible return at some stage. 
Issa Tweimeh
Issa Tweimeh, an openly gay comedy vlogger of Arabic descent, had a torrid time growing up in California. The future internet star was teased in school about his sexuality and his weight, which prompted him to turn to YouTube for friends. 
"I just watched them all day," he told New York magazine about that period in his life, but Tweimeh was destined to become even more famous than many of his online idols.
Tweimeh started out on Vine when the now-defunct video sharing app was still in its infancy. His skits and lip-syncs rocketed him to the top of Vine's comedy section, and after a few years, he felt confident enough to make the move to YouTube. By late 2015, his Twaimz channel had more than 1 million subscribers, but the pressure of fame got to him. He suddenly disappeared, deactivating all of his social media accounts.
"The more videos I made, the more I was becoming like a character of myself," he told the magazine. "Every time I turned on the camera, it was like I was putting on this facade, and I wasn't really getting anything real out of it. It got to a point where it was too tiring for me to keep up the act." 
His self-exile didn't last. Twaimz returned to YouTube (using his real first name this time) with a new mission to spread positivity. As he told New York magazine: "Everybody needs that right now in the world we live in."
Kyle Myers
American Kyle Myers joined YouTube in 2010 and quickly rose to prominence playing a trigger-happy explosives nut who called himself Dmitri Potapoff and spoke with a so-called Russian accent on FPSRussia, which was once one of the top ten most subscribed channels on the platform. Myers worked alongside a gun shop owner by the name of Keith Ratliff in those days, though he was forced to go solo in 2013 after Ratliff was reportedly shot dead at his gun shop. 
Myers carried on running the channel after Ratliff's (still unsolved) murder. While viewership declined, FPSRussia was still pulling in serious views when it suddenly became inactive. The last video Myers uploaded was in April 2016–a flamethrower demonstration that was watched more than 3.2 million times. 
It's been radio silence since then on YouTube, but Myers resurfaced in 2017 amid reports that he'd been arrested on felony drugs charges. According to Georgia radio station WNEG, authorities raided Myers property after he allegedly received a substance known as Butane honey oil in the mail. They reportedly confiscated the drug and numerous weapons.
Essena O'Neill
At the age of 19, Australian model Essena O'Neill had the world of social media at her feet. The vegan vlogger boasted more than a million followers across several platforms, including Instagram and YouTube. Today, her Instagram feed only has a single picture on it (a photo of a Morley street art piece that says, "I like the real you more than the Instagram you,") and her YouTube channel only has three videos, the last of which ("Why I Really am Quitting) was uploaded in 2015.
Man people assumed her disappearance was some kind of publicity stunt that wouldn't last more than a couple of weeks, but O'Neill made good on her promise and practically vanished. 
"I found myself drowning in the illusion," she said (via The Cut.) "Social media isn't real. It's purely contrived images and edited clips ranked against each other. It's a system based on social approval, likes and dislikes, validation in views, success in followers. It's perfectly orchestrated judgement. And it consumed me."
Kevin Wu
The case of Kevin Wu was considered one of the most mysterious vanishing acts in YouTube history. Known on YouTube as KevJumba, Wu had the third-most subscribed channel in 2008, thanks to his self-deprecating vlogs and music video parodies. As the years passed he became less interested in YouTube and more focused on making it in Hollywood, but the comedian's fledgling acting career was tragically cut short.
In 2015, Wu was reportedly hit by a car in Los Angeles, breaking his spine and collapsing his lungs. He endure multiple surgeries and suffered mental health problems in the aftermath. "I was slowly losing the ability to gauge where I was," he told The Hollywood Reporter. "My mood started to swing because every time they found something wrong with my body, I was trying to downplay it." Considered a danger to himself, Wu was booked into a mental health facility.
At the time of this writing, Wu's YouTube channel is public again, but he now keeps his social media use to a minimum, often privatizing posts shortly after making them. There were rumors that Wu joined a cult during his recovery, but he insists the Buddhist organizations he became involved with are no such thing.
LisaNova
After graduating from the University of Colorado-Boulder, aspiring actress Lisa Donovan decided to head west in pursuit of the Hollywood dream. It was her creative partner who first introduced her to the idea of using YouTube as a launchpad for her career, and Donovan embraced the concept with open arms, deciding it was the perfect outlet for her brand of comedy. She created her channel in 2006, when the platform was still in its formative years, and before long her character, LisaNova, was making the main page on the regular.
The following year, the MADtv casting director saw one of her YouTube videos and asked her to try out for the show. She aced the audition and made her debut on the long-running sketch show in February 2007, but she continued contributing to her channel sporadically, often killing off and resurrecting her LisaNova character. 
In 2009, she founded Maker Studios with her brother, and in 2011, she stopped making videos–this time for real. Disney bought Maker (YouTube's first multi-channel network) for $500 million in 2014 and, with the exception of a random cameo as a flight attendant in 2015's The Wedding Ringer, Donovan hasn't been heard from since.
Yousef Erakat
Streamy Award-winner Yousef Erakat's main channel, fouseyTUBE, is massive. It has more than 10 million subscribers, but for a while, it looked as though it was dead and buried. 
The vlogger and prankster disappeared for a period of six months between 2016 and 2017 after his struggles with depression and mental illness become too much to juggle. The cause of his distress was actually YouTube itself, namely the impact people's comments were having on him.
"Every single day I chose not to pick up this camera because I'm terrified," he said in a since-deleted video (via TubeFilter.) "I'm terrified about what the world has to say about me, I'm terrified about how people perceive me, and I'm terrified of people's opinions. I'm terrified of reading anything about myself because I lost so much sense of who I am as a person that everything I started believing is what I read."
After taking some time to decompress, Erakat (who is of Palestinian descent) returned to YouTube with a new channel that features his parents and family, though it hasn't reached the same levels of viewership his other channels enjoy just yet. At the time of this writing, the KATS family vlog has a little more than 620,000 subs.
Hannah Minx
Hannah Wagner was one of YouTube's earliest weeaboos, known for dressing up as an anime character and giving high-pitched Japanese lessons on her channel, MissHannahMinx. She made her first video in 2009, a vlog about bicycles in Tokyo that amassed 450,000 views and set her on a path to YouTube stardom. She went on to build a large subscriber base (though some attributed her following to her provocative outfits more than anything else,) but in 2013, she suddenly vanished from social media without a trace.
The last video she uploaded to her channel (which still has more than 600,000 subscribers) was filmed at San Diego Comic Con in 2013. Her Twitter page hasn't been updated since the day she attended New York Comic Con that same year, which sparked rumors that she was missing and/or dead. 
Gazette Review discovered (via a Redditor with screenshots of her personal Facebook page) that Wagner was supposedly safe and sound, having left if all behind to start a family. According to the site, Hannah Wagner is now Hannah Osterhagen and is reportedly happily married with children.
Mac Freeman
Here's another first gen YouTuber who used to pull in views in the millions back in the day: Mac Freeman's channel, WasteTimeChasingCars, was created in 2006 and soon became one of the platform's go-to places for comedy shorts. In 2008, his videos "Kobe Bryant Can't Jump Like Me!" and "Lightsabers are Fun" went viral, catapulting him to new heights of online stardom. But in late 2012, after five years and 65 videos, he suddenly stopped uploading.
The comments section of the last video Freeman posted is full of people wondering what happened. His vanishing act has also become a topic of debate on Reddit to no avail. 
While most YouTubers who vanish do end up resurfacing at some stage, Freeman is one of the few who hasn't as of yet, much to the disappointment of his fans. "It is so sad to see someone like Mac just leave with no goodbye or at least a notice," said one of his faithful subscribers.