The Untold Truth Of Matt Damon And Ben Affleck's Friendship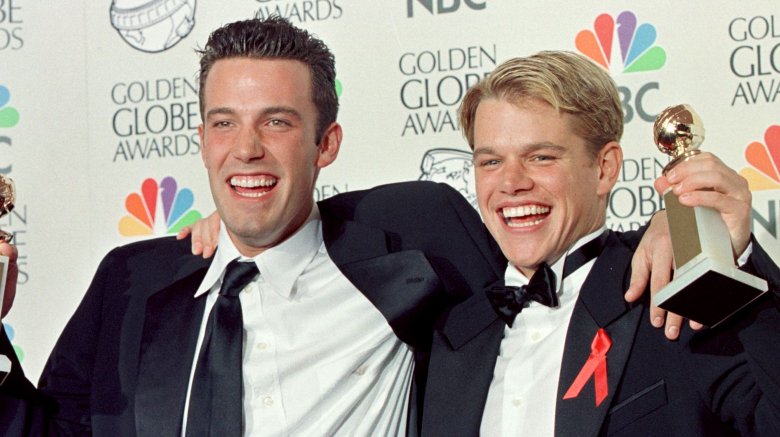 Getty Images
While Ben Affleck has had some documented difficulties making love last in the romance department over the years, his relationship with Matt Damon has seemingly never wavered. The two thesps rose to fame together thanks to their work on Good Will Hunting, which won them a shared Oscar for best screenplay, and they've remained best buddies ever since.
Their journey to lifelong friendship and allegiance to one another began long before they were thrust into the mainstream, so let's take a look at how Affleck and Damon became such a power (or as their fellow Red Sox fans might say, "pahwah") couple in Hollywood.
They brought Tinseltown to Beantown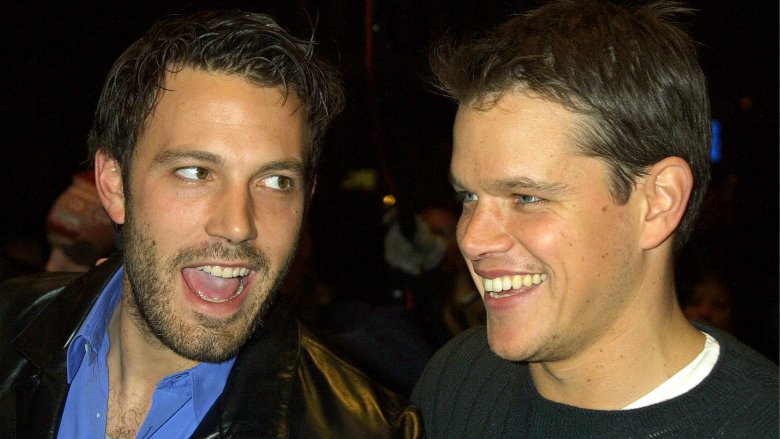 Getty Images
Affleck and Damon were still pretty young when the world fell in love with their endearingly energetic thank you speeches on the awards season circuit, at 26 and 28 years old respectively. But the two had already been pals for nearly two decades by that point. Yes, really.
The two claim they met when Affleck was only 8, and Damon was still just 10, as they grew up in the same neighborhood in Massachusetts and both loved baseball. What really drew them together, according to Damon, was their passion for performance. He told Entertainment Tonight, "We grew up together ... We were both in love with the same thing — acting and filmmaking. I think we fed on each other's obsession during really formative, important years and that bonded us for life." Not only did that early infatuation with the art of acting inform their initial bond, but it helped to keep both of them on track to make movie magic happen for themselves.
They motivated each other to pursue their shared passion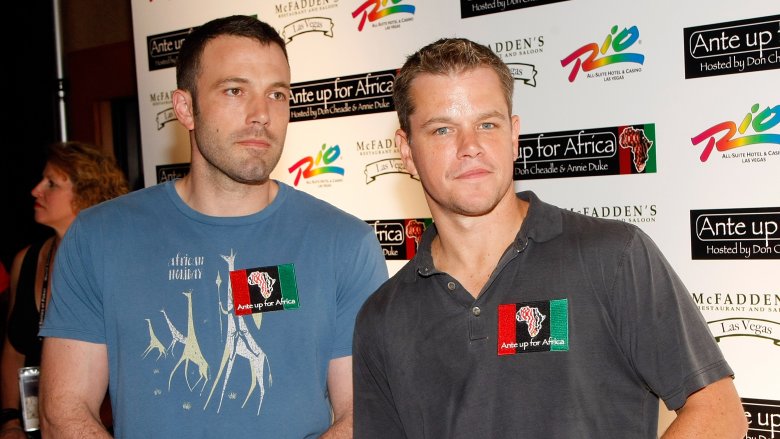 Getty Images
Although Affleck was arguably ahead of Damon in the way of gaining mainstream notoriety, thanks to his work in films like Dazed and Confused and Mallrats, it was Damon who first inspired Affleck to take his interest in film making seriously in their youth.
As Affleck told Parade Magazine, "Matt gave acting a framework, an integration into the social hierarchy at school. As a teenager, the natural thing is to have friends who have common interests and so you fit together seamlessly. Before Matt, I was by myself. Acting was a solo activity where I'd just go off and do something, act in a little TV show or something, and no one understood it. None of the other kids knew what it was I did, how it worked, or anything. All of a sudden I had this friend, Matt, and he gets it and wants to do it and thinks it's interesting and wants to talk about it. Soon both of us are doing it." It was then that they started tag-teaming auditions together as teens.
They hit the audition trail together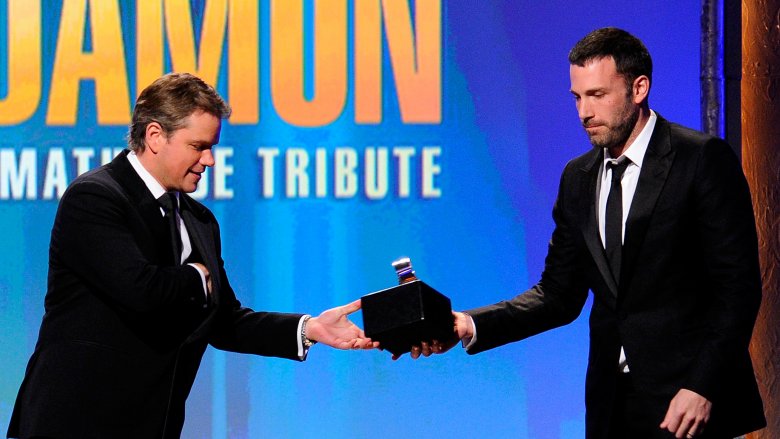 Getty Images
Long before either Affleck or Damon's names carried enough weight to earn roles of their own merit, the two joined forces to go out for potential parts. As Affleck told Parade, "When we were teenagers, like Matt was 16 and I was 14, we'd go together down to New York City [to audition for jobs]. We'd take the train. Or sometimes we'd even take the airplane, back when there was the Eastern Shuttle or People's Express. It cost like $20 to fly and you could smoke on the plane. We were smoking like idiots because we thought we were really supposed to be grown-up. It was pitiful." The two even pooled their earnings from local commercials into a shared bank account so that they could afford their travel fare for those auditions.
Damon told People (via The Daily Mail) that they were still dreaming big even then, when prospects were still pretty minimal, saying, "We used to have business lunches together in high school when we had no business to talk about." Soon enough, though, at least one of them would hit a major mile marker in his career development and didn't let his head get too big to help his old pal out.
Affleck got Damon his very first agent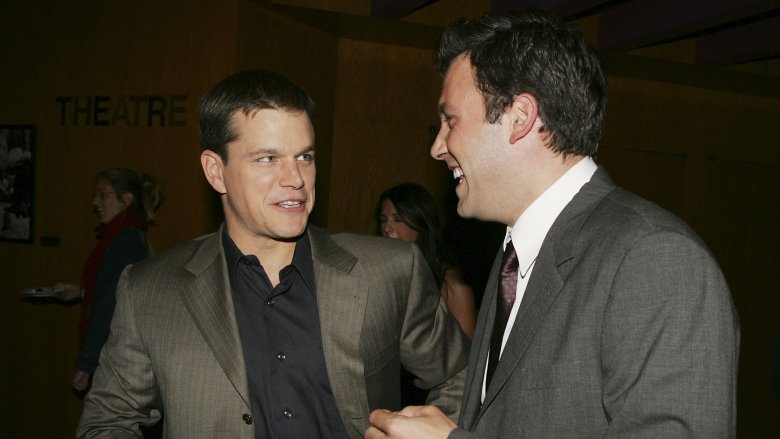 Getty Images
It's probably no coincidence that Affleck and Damon continue to work with the same talent agency to this day because they've never been shy about sharing representation. While Damon sought an education at Harvard University, Affleck dropped out of college early on to pursue his acting career in Los Angeles at just 18.
At the time, Affleck had already managed to get the ball rolling a bit, so Damon turned to his friend for help doing the same. As he told The Orlando Sentinel, "Ben was the local movie star on the block, and he introduced me to his agent in New York. I used the money we had made in a T.J. Maxx commercial to take the train to meet his agent." Soon after, Damon started earning more gigs like a part in the TV movie The Rising Son and alongside Affleck in School Ties, and that's when things took a turn for the better for both of them.
They shared the screen before anyone knew who they were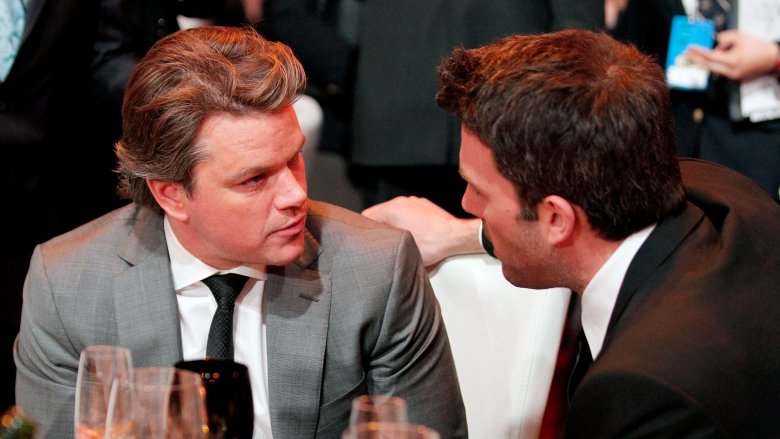 Getty Images
If you look closely at the crowd shots in Field of Dreams, you might see both Affleck and Damon starring their first shared silver screen adventure as baseball fans — a very meta role for each, indeed. But it was their appearance together in School Ties that would really get things started on their award-winning Hollywood history.
Damon took temporary leave of his education to appear in the movie alongside Affleck (and briefly returned to school again before leaving for good to pursue a meatier role in Geronimo: An American Legend). And it was during that time in LA that they began working on the movie that would launch both of their burgeoning careers to the next level.
Moving to Hollywood made all the difference
Although they were each making small strides, Affleck and Damon were still clinging to every opportunity when they both found themselves living in Los Angeles in their early 20s. Damon moved in with Affleck to shoot Geronimo, even sleeping on the floor, and had been working on a script in school that he wasn't sure would work but decided to float it by Affleck anyway.
Affleck told Boston Magazine, "Matt said, 'Look, will you help me write this? I'm not sure what it is or where to go.' So we started writing it sort of back and forth." They had ample time to work on the project because their professional projects were few and far between at the time. As Affleck told Today, "We were unemployed and we weren't writing the script on a deadline either. Nobody was expecting it, so we were just these two idiots in our basement writing this thing." They then presented it to producer Chris Moore, whom they had worked with on Glory Daze, and he was on board. All the duo wanted from Moore was the chance to star in it, but little did they know, they had something special on their hands.
The movie took a long time to come to fruition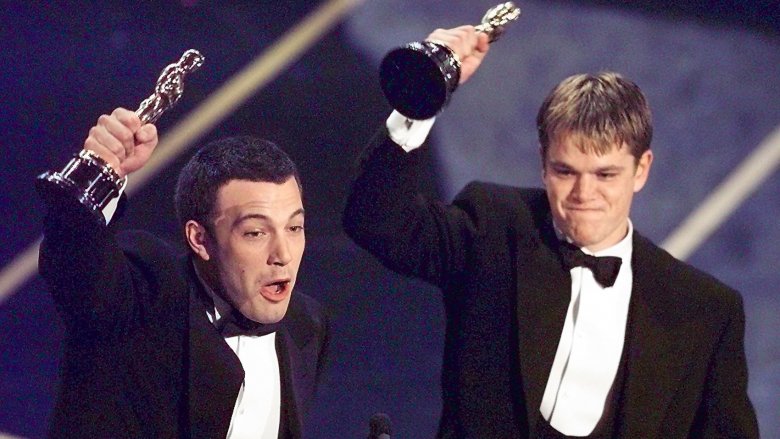 Getty Images
It might've seemed like Affleck and Damon were overnight sensations when Good Will Hunting finally hit theaters in 1997, but the duo had to practice extreme patience to see the project through. As Affleck told Boston Magazine, the two initially got ahead of themselves when it came to their salaries from the script sell, saying, "I remember it was printed in Daily Variety that we were going to get $600,000 on it. We had no credit, so we went to rent this house that was $3,000 a month, and we used a copy of the Daily Variety to get the place. I was like, 'I don't have credit, but this is who we are.' And the landlord was like, 'All right, sure.' We thought $600,000 would take care of us for 20 years, so we rented nicer apartments and each bought Jeep Cherokees. And we were completely broke in a year."
It took several years for the film to finally reach a production stage due to rewrites and a crucial studio shift from Castle Rock to Miramax, during which time they even relocated back to Boston. But once their acting careers started taking flight — with Damon starring in the title role of The Rainmaker— and Robin Williams signed on for the film, the movie finally got into motion, and the two were finally on their way to the big time.
There's a reason they struggled with the Harvey Weinstein allegations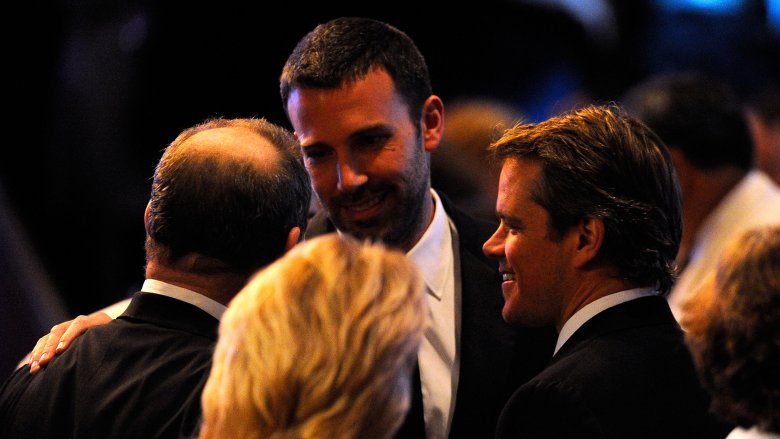 Getty Images
Getting Good Will Hunting to become anything more than a passion project committed to paper was difficult for Affleck and Damon. In fact, if it hadn't been for Harvey Weinstein, their movie may have never happened—it was the now-disgraced producer that bought and eventually ignited the green light for the film.
That relationship would come back to bite Damon years later, as he was ensnared in an apparent cover-up effort concerning some early allegations of Weinstein's inappropriate harassment behaviors. He's since condemned Weinstein's actions, after the producer was accused of sexually harassing dozens of women, and denied that he was willingly engaged in a silencing campaign; and Affleck has declared that he wants to be "part of the solution" against the spate of abuse that exists in the Hollywood circuit. But it only recently came to light that the pair knew about actress Gwyneth Paltrow's harrowing experience with the erstwhile mogul, and the two have been heavily criticized for not speaking up sooner, despite owing Weinstein one of their most critical career achievements.
They refuse to deny the gay rumors about them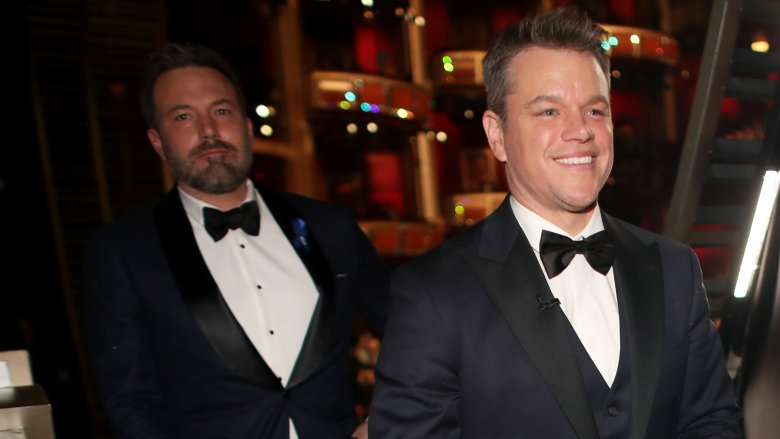 Getty Images
While their treatment of the Weinstein allegations has earned them understandable ire, there's one pernicious rumor that they've been right to refuse to comment on throughout their careers. Due to their longstanding relationship with one another, many perceived Affleck and Damon as carrying on a sly romance with one another from the get-go, despite the fact that they've since both married and born children with women.
However, there's a good reason the two refuse to address the matter. Damon revealed to Playboy Magazine, "I never denied those rumors because I was offended and didn't want to offend my friends who were gay—as if being gay were some kind of f***ing disease. It put me in a weird position in that sense. The whole thing was just gross."
They've been trying to work together again for years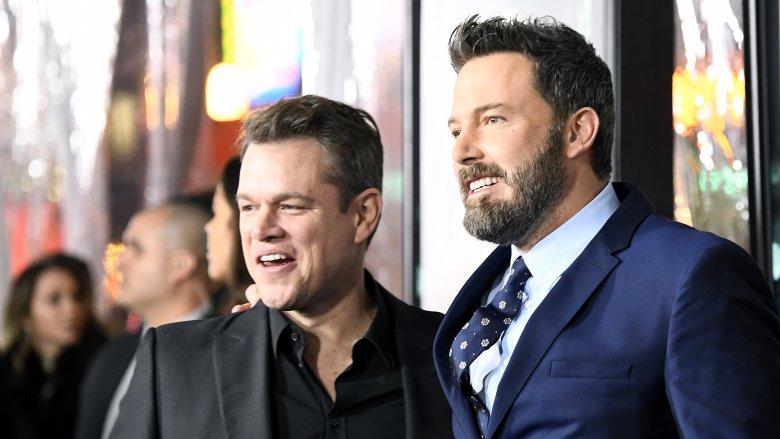 Getty Images
One of the other frequent questions Affleck and Damon seem to get in relation to one another is when they will appear on-screen together again, but the intention certainly seems to be there. The two launched a production company together and even lived on the same street at one time. They've been trying to get a Whitey Bulger biopic off the ground for years (which was thwarted by Johnny Depp's Black Mass), and they spearheaded HBO's Project Greenlight together on and off for a decade.
Damon has even insisted that he'd only do a superhero movie if Affleck directs it, telling The Independent, "I'd consider anything with the right director, but I can't imagine there are any superheroes left, I think they're all taken at the moment. If [Ben] was directing me, I'd jump on it in a New York minute. I'd love to work with Ben. The problem with Ben is every time he directs a movie he gives himself the best role in it, so until he's willing to give up the best role to one of his friends we're not going to get on with it." Damon did give Affleck's brother Casey Affleck the starring role in his passion project Manchester By the Sea, which led to him earning a Best Actor Oscar, so the Afflecks are somewhat indebted to Damon one good role. But Affleck has since decided to bow out of the DC Extended Universe, so the chances of Damon suiting up for that particular project are now slim to none.
They've still got each other's backs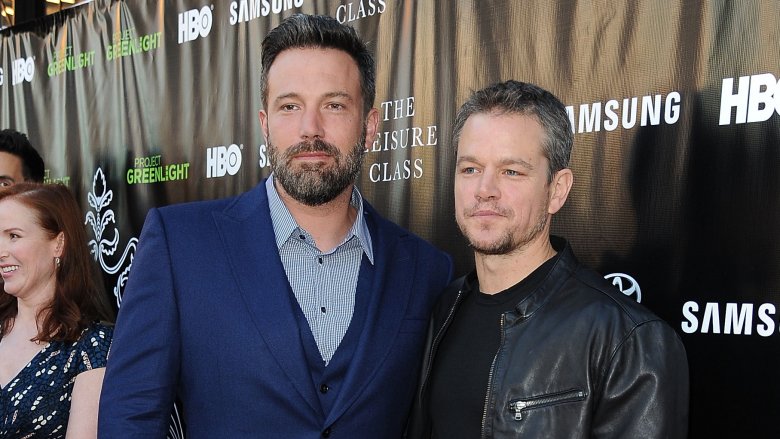 Getty Images
While Damon has been no stranger to controversy over the course of his career, it's Affleck whose personal life has become so smattered across the covers of tabloids. Through his public struggles with substance abuse and divorce from long-time wife Jennifer Garner, Damon has consistently maintained a posture of positivity for his friend and even avers that any negative perceptions of Damon are wildly misplaced.
He told The Hollywood Reporter, "There's nobody who's more misunderstood. Ten years ago, the public image of him could not have been farther apart from who he actually is. It was like he was being cast in a role, that he was a talentless kind of meathead, with his whole relationship with Jennifer Lopez. He just got cast as this person that he wasn't. It was just really painful. It was painful to be his friend, because it wasn't fair, you know? To my mind, nobody really got him at all. And through his work, he climbed from the bottom of the mountain all the way back up to the top and past where either of us had ever been." Although Affleck hasn't quite had to return the favor as far as damage control goes, there's hardly any room for doubt that he would. Because these two, even decades after each became household names, are clearly still just inseparable spirits who will always carry a torch for one another.