What We Know About Charli XCX's Love Life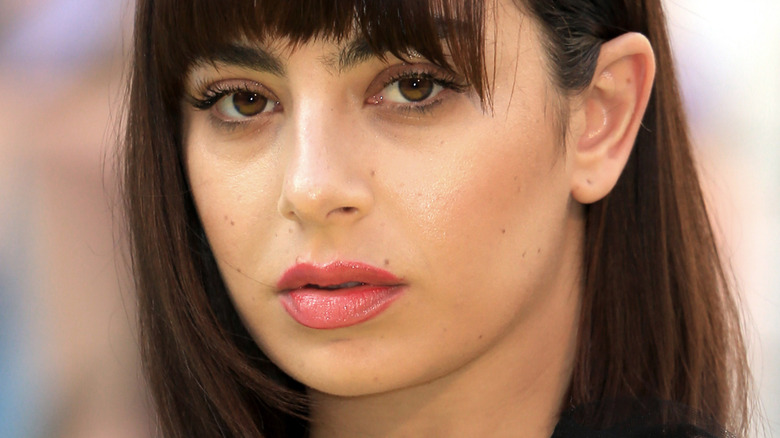 Cubankite/Shutterstock
As one of music's most prolific songwriters, it comes as no surprise that Charli XCX has written songs about past relationships. Even though the British singer appears to keep her personal life as private as possible, she has been open to discussing what inspires her lyrics.
After the release of her debut album, "True Romance," in 2013, XCX told MusicRadar that she decided to go with that title due to the songs detail her experiences with love and romance. The "Beg For You" hitmaker explained, "I've come to the realization that you really can't have a romance that's true without having all the other awful moments, where you cry and you're thrashing about ... Then you have those other moments when you're walking on a cloud, so that's the trade-off." 
In an interview with Renowned for Sound, XCX described the feeling of love as "schizophrenic." She insisted she writes "emotional pop music" and envisions her songs as the color purple, stating that they are "rich and lush and romantic."
Even though XCX doesn't flaunt her relationships to the public, that doesn't mean her boyfriends can't be tracked down.
Charli XCX ex-boyfriend directed some of her early music videos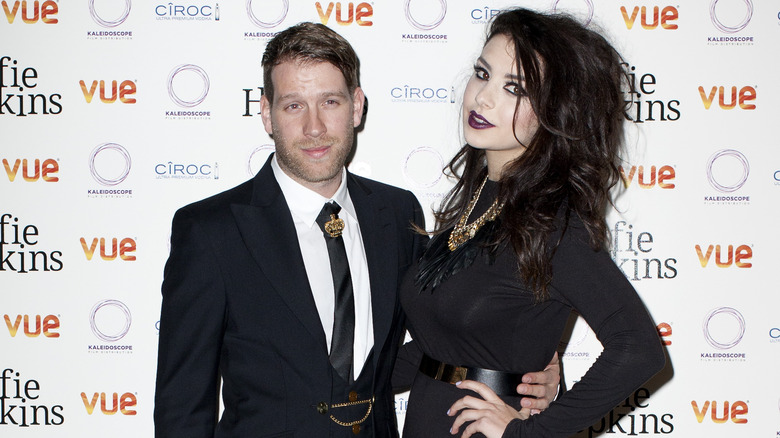 John Phillips/Getty Images
Charli XCX has never been one to share too much about her ex-boyfriends. However, she did make a red carpet appearance with British director Ryan Andrews during their relationship. As seen in the snapshot above, the pair posed together in 2012 at the "Elfie Hopkins" premiere in London. It isn't clear when XCX and Andrews first formed a romance, but it has been known that they had a close working relationship. 
In 2013, XCX spent time with Andrews while performing in New York. While Grantland documented her time in the city, it was noted by the outlet that she "play-wrestles with her videographer boyfriend, Ryan." In an October 2014 cover story with Billboard, it was revealed that Andrews had directed five of her music videos. At the time of the story, it was also announced that they had split. Nevertheless, Andrews remained supportive of his ex after she started to blow up. "So proud of @charli_xcx for her ema performance last night," he tweeted. "All the hard work we did over the years has really paid off. She's on fire."
Following her relationship with Andrews, XCX dated video game producer Huck Kwong for seven years, according to The Sun. During a chat with Zane Lowe for Apple Music (via Daily Mail) in 2020, XCX admitted that spending time with Kwong in quarantine during the coronavirus pandemic "saved their relationship." She added, "I'm extremely lucky that it has brought us physically close together."
Charli XCX is dating George Daniel from The 1975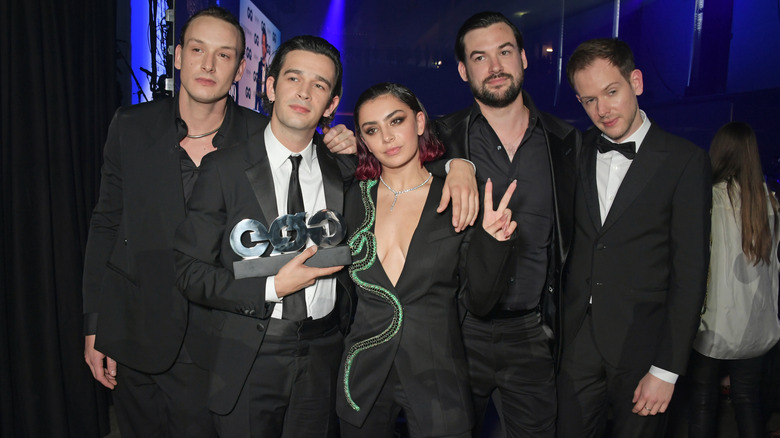 David M. Benett/Getty Images
In May 2020, Charli XCX continued to gush about her relationship with Huck Kwong. While sharing a photo on Instagram that he took of her, the "Boom Clap" hitmaker expressed she felt "extremely lucky and privileged that I have found myself in a situation where I'm quarantined with him and 2 other people I care about deeply." Their relationship wasn't to last, however. Even though fans weren't told about their split, it has since been revealed that XCX has moved on with fellow British musician George Daniel (pictured above, far left).
Daniel is one-fourth of the indie band The 1975 and previously worked with XCX on the single "Spinning" in 2021 and later on helped write and produce her songs "Crash" and "Hot Girl (Bodies Bodies Bodies)." As previously reported by the Daily Mail, their relationship was said to be made official when they enjoyed a vacation in May 2022. As seen in paparazzi photos, they had been photographed hanging out in New York two months prior. In June, their romance proved to be going strong when they were captured packing on the PDA on a boat while on another holiday in Italy together, per Page Six.