The Famous Actor Who Introduced Catherine Zeta-Jones To Michael Douglas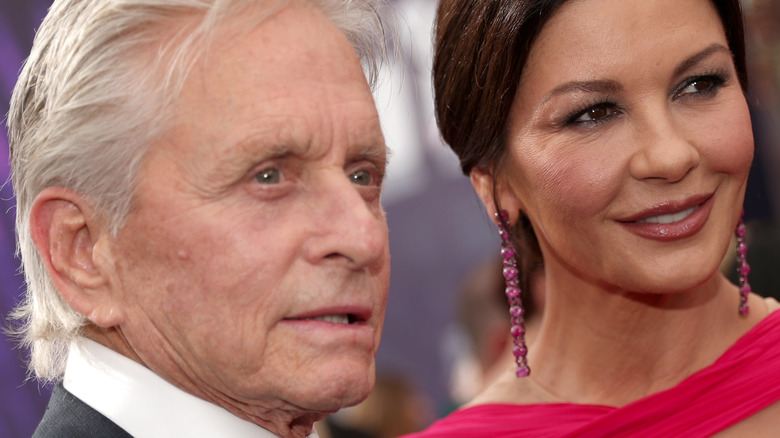 Rich Polk/Getty Images
Michael Douglas and Catherine Zeta-Jones have weathered many storms during their marriage, becoming one of Hollywood's most enduring couples after more than two decades of working hard to help their relationship succeed. "Like a lovely orchid, or anything else that's nurtured, marriage prospers and grows, but if it's ignored, it withers," Douglas told People in 2020.
In 2013, Douglas and Zeta-Jones had to put forth a lot of effort to reinvigorate their relationship. Their marriage appeared to be at risk of collapsing completely, with their rep telling Us Weekly that the couple had decided that they needed a marital intermission. In the two years before the break, Zeta-Jones had checked herself into a psychiatric facility after being diagnosed with bipolar II disorder, per The Guardian, and Douglas had undergone treatment for throat cancer. Zeta-Jones admitted that watching Douglas struggle with his grueling chemotherapy and radiation treatments was tough, telling People (via CBS News), "I know maybe I should be stronger, but emotionally I just don't want to see that."
While he was trying to eradicate the cancer, Douglas received more bad news when his ex-wife, Diandra Luker, decided to sue him, claiming that she was owed a cut of the profits from "Wall Street: Money Never Sleeps," per Harper's Bazaar. At the time, their son Cameron was serving a prison sentence on drug charges. Douglas and Zeta-Jones' marriage ultimately withstood all of these trials, but their awkward first encounter did not have Zeta-Jones convinced that Douglas was marriage material. 
Michael Douglas didn't make a great first impression on Catherine Zeta-Jones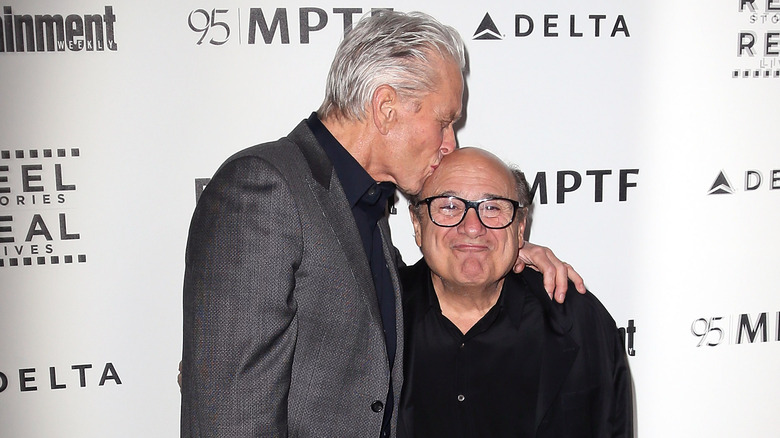 David Livingston/Getty Images
Michael Douglas was raised by parents in the biz: "Spartacus" star Kirk Douglas and "Planes, Trains & Automobiles" actor Diana Douglas. Catherine Zeta-Jones, however, came from a working-class background, and being born in Swansea, Wales, made her journey to Hollywood even more challenging, per The New Yorker. But she climbed the ladder that was available to her, eventually landing her breakout role in 1998's "The Mask of Zorro." Speaking to Bustle, Zeta-Jones revealed that the movie sparked Michael's interest in her.
Decades earlier, Michael met another actor whom he would grow to care deeply about: Danny DeVito. Speaking to Cigar Aficionado, Michael recalled how DeVito approached him on the beach in the late '60s and offered him a joint. "That was a beginning of a long, long friendship," said Michael. Per People, DeVito actually orchestrated Michael's meeting with Zeta-Jones, which took place at the Deauville Film Festival. Unfortunately, Michael made a big blunder. "After she told me she loved golf, I told her, 'I'm going to be the father of your children,'" Michael recalled in an "On Air with Ryan Seacrest" interview. "Maybe I was a little presumptuous."
Zeta-Jones made a hasty exit, but Michael didn't give up. Zeta-Jones flew to the Isle of Mull after their disastrous first meeting, and she told The New Yorker of her arrival, "There was a big bouquet of flowers saying 'I'm sorry if I scared you. Love, Michael Douglas.'"
Catherine Zeta-Jones doesn't care about that age gap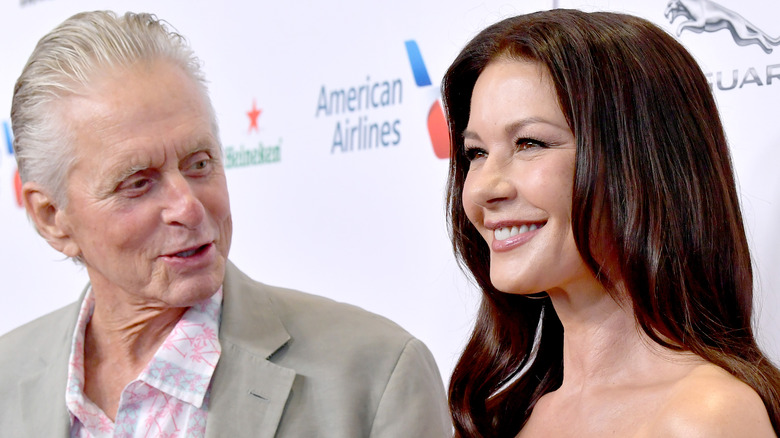 Amy Sussman/Getty Images
When Michael Douglas wed Catherine Zeta-Jones in 2003, he was 56 and she was 31, per BBC News. Over the years, much ado has been made about their significant age gap of 25 years, but Zeta-Jones doesn't seem to mind the perpetually raised eyebrows. "[Douglas] never ever makes me feel inferior or says something like, 'You were just being born when I was learning this,'" Zeta-Jones told People three years into their marriage.
However, in 2001, she did confess to The Mirror that she was feeling her husband's biological clock ticking. She and Douglas had welcomed their first child, Dylan, in August 2000, and Zeta-Jones revealed that she didn't want her son to be an only child. The couple's daughter, Carys, joined the family in 2003. While he was undergoing cancer treatment in 2010, Douglas told The Guardian, "I never anticipated starting a family at my age. I'm genuinely happy to let Catherine work, while I stay at home with the children. I cherish this time."
The couple has also talked about how they keep the romance alive. "We've never, ever lost our sense of humor, and we enjoy each other's company," Zeta-Jones told WSJ Magazine in 2021. As for Douglas, he told AARP in 2010 that he had learned to put his family ahead of his career and added, "Some wonderful enhancements have happened in the last few years — Viagra, Cialis — that can make us all feel younger."