Tom Cruise Was Rumored To Have A Fling With This Risky Business Co-Star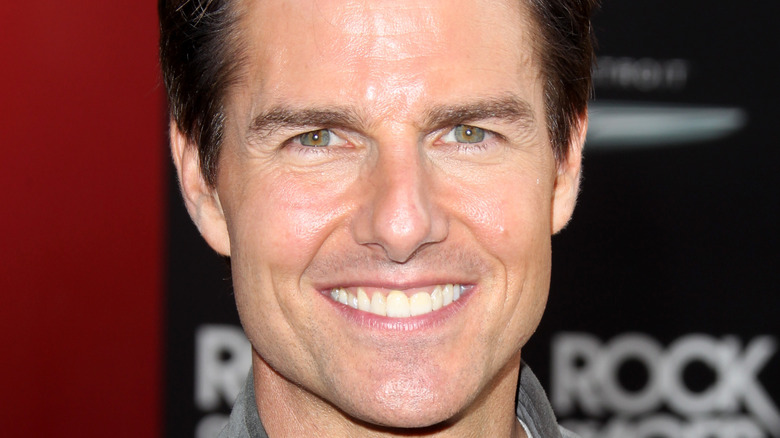 Kathy Hutchins/Shutterstock
In 1983, Tom Cruise starred in "Risky Business," a comedy that would help propel his career into superstardom. Cruise played Joel, an overachieving high school student who falls into a complicated relationship with Rebecca De Mornay's Lana, a prostitute who helps show him the world on the wrong side of the tracks. The most iconic scene in the beloved movie involved Cruise's Joel jamming out to Bob Seger's "Old Time Rock and Roll" in his underwear and a dress shirt. It was the actor's idea to slide into frame on the hardwood floor. "I just ad-libbed that," the "Top Gun" star said while appearing on the talk show "The Project" in 2017. "What I did was I dusted the floor and then put sticky [tape] on the other side so I would get center frame on that and wore the socks," he added.
Part of what made "Risky Business" such a success was the on-screen chemistry between the two leads. Not only did it help boost Cruise's career, but it was De Mornay's first big break. "I had only been auditioning for six months — which is nothing — when I got the female lead in a feature film that went on to become a monster hit," she told the Los Angeles Times in 1993.
Years later, Cruise famously married Nicole Kidman and Katie Holmes, but before those marriages, he made headlines for dating his "Risky Business" co-star who was romantically-linked to another Hollywood actor during filming. 
Rebecca De Mornay rejected Tom Cruise at first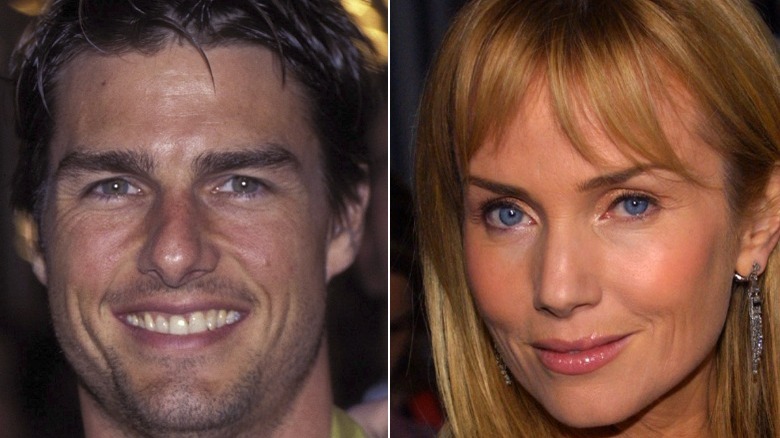 Frederick M. Brown & Patrick Riviere/Getty
The on-screen romance between Tom Cruise and Rebecca De Mornay would bleed over into a real life tryst, but it was not an instant connection. Fellow "Risky Business" co-star Curtis Armstrong spilled the tea about the two leads shacking up. "It's no secret that Tom engaged in an intense affair during the shooting with De Mornay," Armstrong wrote in his 2017 memoir "Revenge of the Nerd," via The Hollywood Reporter. Although the "Cocktail" actor expressed interest in De Mornay, the attraction was not mutual at first. That led Cruise to spend time with other women while filming. "With Rebecca inaccessible, he started cutting a wide swath through the local talent," Armstrong revealed.
At the time, De Mornay was dating actor Harry Dean Stanton, which was a major hurdle for Cruise. "It must have been a little galling to have your heart set on f***ing your co-star, and just ... her significant other comes popping up," Armstrong wrote in his memoir.
Besides being involved with another man, "The Hand That Rocks the Cradle" star was not smitten by Cruise. "I will say that I thought he was very annoying when we first started," De Mornay told Celebrity Page in 2018. Eventually, she decided to give the "Rain Man" actor a shot. "But he came to grow on me cause we wound up together for two and a half years after that film," she added. After that relationship ended, Cruise moved on with a famous singer. 
Tom Cruise moved on to other high-profile relationships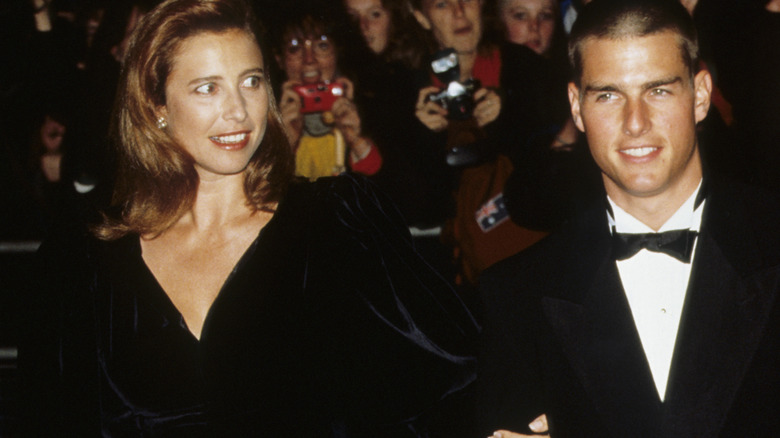 Georges De Keerle/Getty Images
Rebecca De Mornay's romance with Tom Cruise had a profound impact on her relationship with her ex-boyfriend, Harry Dean Stanton. While the two broke up once she started dating Cruise, it eventually led them to a life-long bond. "Harry Dean and I are best friends, and Tom and I don't talk," the "Backdraft" actor told Vanity Fair in 2017. She was effusive while discussing Stanton as an actor, and as a companion, and discussed how breaking up with her "Risky Business" co-star led to a reunion with Stanton. "He became my closest friend, coincidentally, right after I broke up with Tom two-and-a-half years later," De Mornay said.
Cruise's relationship with De Mornay was his first foray into high-profile romance, but was far from his last. After parting ways with his former co-star, Cruise dated one of the most famous singers in the world, Cher. The pair originally met at the wedding of Sean Penn and Madonna in 1985, and reconnected at a benefit held at the White House. "We didn't go out till way later, but there definitely was a connection there," the "I Found Someone" singer told the Daily Mail in 2018.
Not long after dating Cher, Cruise became involved with — and eventually married — actor Mimi Rogers. They tied the knot in 1987, and divorced a few years later in 1990. The "Edge Of Tomorrow" star and Rogers reportedly had different aspirations. "He outgrew her," author Wensley Clarkson, who wrote "Tom Cruise Unauthorized," told Entertainment Weekly in 2001.