Who Is Kate Winslet's Husband, Edward Abel Smith?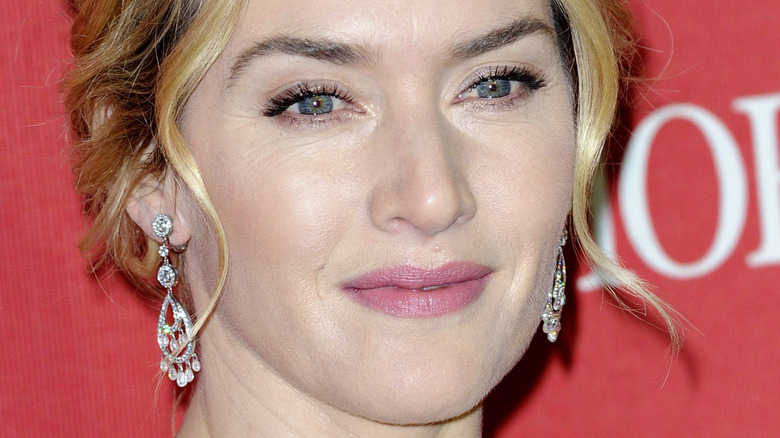 Tinseltown/Shutterstock
Kate Winslet's love life has been eventful. One of her first experiences with relationships was marked by death. In 1997, the "Titanic" star grieved her ex-boyfriend, actor Stephen Tredre, who died from bone cancer, according to Today. While they broke up in 1995, they remained close up until the end. A year after Tredre's death, Winslet married Jim Threapleton, an English filmmaker whom she met while filming "Hideous Kinky," The Guardian reported. 
Winslet fell for him hard and fast. "Believe me, before I met Jim I was very much, 'Oh I don't believe in marriage' ... but the way I feel about it it's something that had to happen between me and Jim," she told the outlet in 1999, when she was 23. But Winslet and Threapleton's marriage didn't last. A year after welcoming their daughter Mia, they divorced in 2001, BBC reported. "It was a terrible time. My relationship with Mia's dad was a mess," she told Index Magazine in 2004.
Winslet began dating Sam Mendes shortly after. She married the British director in May 2003 and celebrated the birth of their son, Joe, that December, The Guardian noted. Unlike her divorce from Threapleton, Winslet's second marriage ended amicably in 2010, though it happened amid rumors Mendes cheated with Rebecca Hall. "However hard it's been for me, it's been equally hard for him," she told Harper's Bazaar U.K. (via Us Weekly). Two years later, Winslet married Edward Abel Smith, who is not exactly well-known, but definitely has some famous links.
Kate Winslet's husband is related to Richard Branson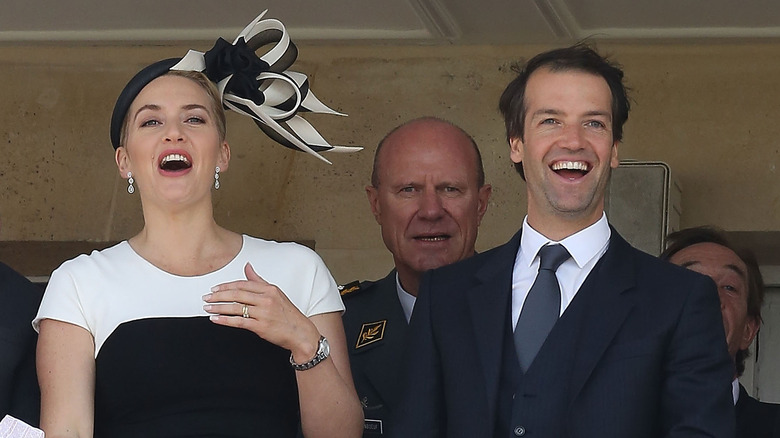 Marc Piasecki/Getty Images
Edward Abel Smith is the nephew of Richard Branson, the British business magnete behind the conglomerate Virgin Group, Daily Mail reported. Kate Winslet's husband is the son of Branson's sister, Lindy, with her first husband, who is also a businessman with links to Mesopotamia Petroleum Company. Because Smith's parents divorced when he was a toddler, he was raised by his artist mother and stepfather in an environment that encouraged his creativity. But the business genes (and, well, connections) prevailed.
When he married Winslet in December 2012, Smith was the Head of Marketing, Promotion and Astronaut Experience at his uncle's Virgin Galactic, according to Time. If the title sounds a bit unique, that's because Smith came up with it himself, the magazine noted. While it is unclear whether he still offers services at Virgin, Smith shifted his focus to caring for his family after Winslet gave birth to their son, Bear, in December 2013. "He's the superhot, superhuman, stay-at-home dad," she told The New York Times in 2021.
Winslet met Smith while escaping a fire. They were both vacationing at Branson's villa on the British Virgin Islands in 2011 when the house burned down, she told Entertainment Tonight. Literal and figurative sparks flew all around Smith and Winslet as they ran toward safety. Their appreciation for the story is strong. So much so they middle-named their son Blaze. "We wanted something of the fire," she said on "The Ellen DeGeneres Show."
Edward Abel Smith was formerly known as Ned Rocknroll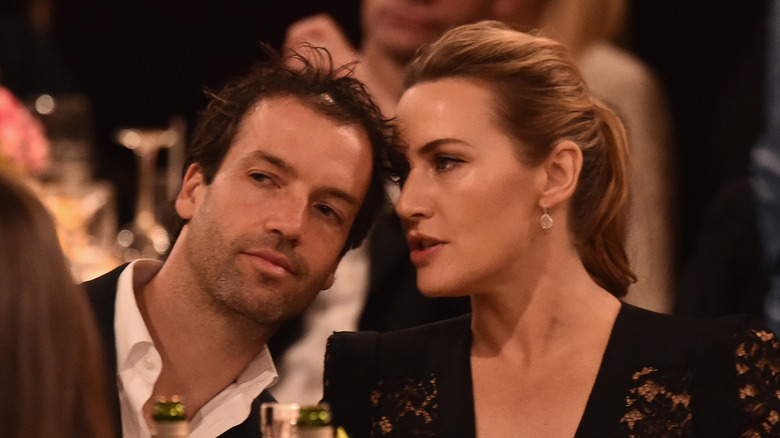 Frazer Harrison/Getty Images
When Kate Winslet married a third time, she didn't say "I do" to Edward Abel Smith. She read her vows to Ned Rocknroll. Showing that eccentricity runs in the Branson family, Smith legally changed his name in 2008 in an attempt to liven things up, according to The Sun. "It was always a bit of a joke," a source told the outlet. "He is a very happy-go-lucky person. He never takes life that seriously." Smith proved it wasn't just a spur-of-the-moment decision. He kept the name for more than a decade, reverting back to his birth name only in 2019.
His decision was influenced by his relationship with Winslet. "When he changed his name to Rocknroll, I don't think he had anticipated what might happen if he should have a girlfriend whose name was Kate Winslet and who was quite well-known ... it was a little tricky," she said on "Jimmy Kimmel Live" in 2021. The situation became even more complicated after he became a father. "I got to the point where I'm like, you know, I'm filling in doctor's forms and it says mother's name and father's name, and I'm like, 'Honey ... are we going to keep doing this?'"
When Smith dropped Ned Rocknroll, he used the occasion to add a new middle name, showing changing names is just his thing. "He added 'Winslet' ... just simply because the children have Winslet," she told The New York Times.