Inside Shiloh Jolie-Pitt And Millie Bobby Brown's Friendship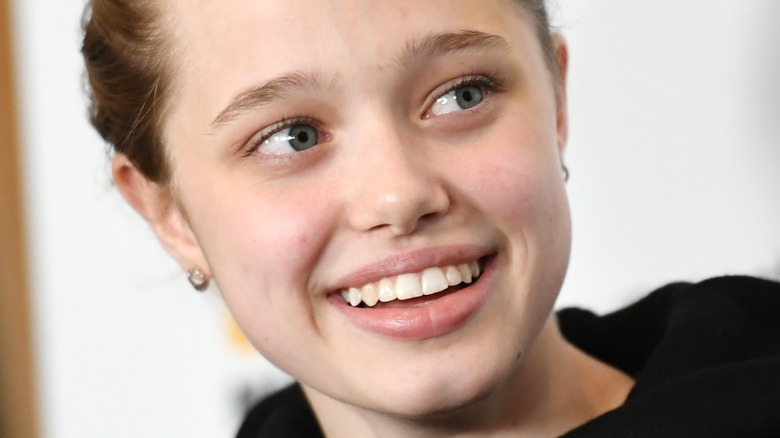 Jc Olivera/Getty Images
Growing up in the limelight can really turn a kid's life upside down, as "Stranger Things" star Millie Bobby Brown can attest. The young actor's online experience with abusive internet trolls got so distressing, in fact, that she eventually deleted some of her social media accounts and started seeing a therapist. "It's really hard to be hated on when you don't know who you are yet. So it's like, 'What do they hate about me?'" Brown told Allure. "Then you just start shutting down because you're like, 'Who am I meant to be? Who do they need me to be for them?' Then I started to grow more, and my family and friends really helped. It helped to be able to understand that I don't need to be anything they said that I need to be. I just have to develop within myself."
Brad Pitt and Angelina Jolie's children — Maddox, Pax, Zahara, Shiloh, Knox, and Vivienne — have similarly found themselves living under a microscope, and it's the only life they've ever known. In 2014, Jolie told People that she and Pitt had hired cybersecurity experts to better protect their brood from the dregs of the digital world, but they still ended up being exposed to some upsetting online gossip. "The children see lies about themselves in the media, but I remind them that they know their own truth and their own minds," Jolie told Vogue India.
Because Brown and Shiloh have both experienced the strange phenomenon of being so famous that someone somewhere is likely always saying something about them online, perhaps it shouldn't come as that much of a surprise that they gravitated toward one another. Fame can be alienating, after all, and bonding with someone in the same boat might make it just a bit more bearable.
Millie Bobby Brown is BFFs with Shiloh and Zahara Jolie-Pitt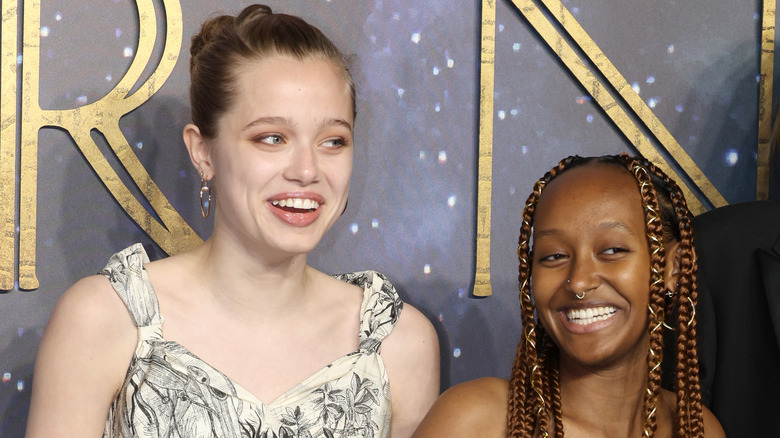 Tim P. Whitby/Getty Images
It's not uncommon for celebrity kids to befriend other children with famous parents, but Shiloh Jolie-Pitt's inner circle includes at least one confidant whose DNA didn't come into play when she became a household name. In 2018, Shiloh was spotted chatting with "Stranger Things" star Millie Bobby Brown at a Starbucks. An Instagram video shared on a fan account shows Brown, Shiloh, and her older sister Zahara Jolie-Pitt seemingly waiting for their orders at the counter together.
The group outing wasn't a one-time thing, either. According to HollywoodLife, when the trio of besties grabbed lunch together in 2019, Brown was photographed placing her hand on Shiloh's back while walking hand-in-hand with Zahara. Days earlier, the two Jolie-Pitt siblings had also seemingly scored an invite to a party celebrating the Season 3 premiere of "Stranger Things." Brown was so tight with Zahara and Shiloh that she even gave them an Instagram shoutout on National Best Friend Day, captioning a photo of her and her crew, "Best friends 4L."
We aren't certain how Brown met the Jolie-Pitts, but a 2019 Variety report listed the actor as part of the cast of the Marvel movie "Eternals," which starred Shiloh and Zahara's mother, Angelina Jolie, as a superhero (just like Brown's Eleven!). However, Brown later denied her involvement in the film during an Instagram Live, according to ComicBook.
Did Millie Bobby Brown name a makeup product after Shiloh Jolie-Pitt?
While talking to Bustle about her line of beauty products, Florence by Mills, Millie Bobby Brown revealed that she surprised the members of her friend group by using them for inspiration when naming her blushes. "When you pick a blush, you feel like you're picking a best friend, so I'm like, 'Ooh, ahh! I feel like I'm cheating!'" Brown quipped. A Twitter user speculated that one of the shades, Shy Shi, was a cute tribute to Shiloh Jolie-Pitt. The internet sleuth shared a video of Brown explaining, "I named this one Shy Shi after one of my closest friends, and she's also very shy."
But according to Angelina Jolie, her oldest biological daughter can be pretty outgoing, too. In a 2010 Vanity Fair interview, Jolie described Shiloh as "goofy and verbal, the early signs of a performer."
Shiloh has since fulfilled her passion for performing by taking dance classes at Millennium Dance Complex, per People, and a clip of the teen dancing to Lizzo's "About Damn Time" has racked up more than 2.7 million views on YouTube. Being a viral dancing sensation is something she has in common with her BFF — in a collection of videos shared on her Instagram account, Brown can be seen dancing to different songs while dressed as her "Stranger Things" character. That post has more than 7.8 million likes, so we have a feeling these two pals would break the internet if they ever filmed a dance collab.