How Much America's Next Top Model Contestants Really Get Paid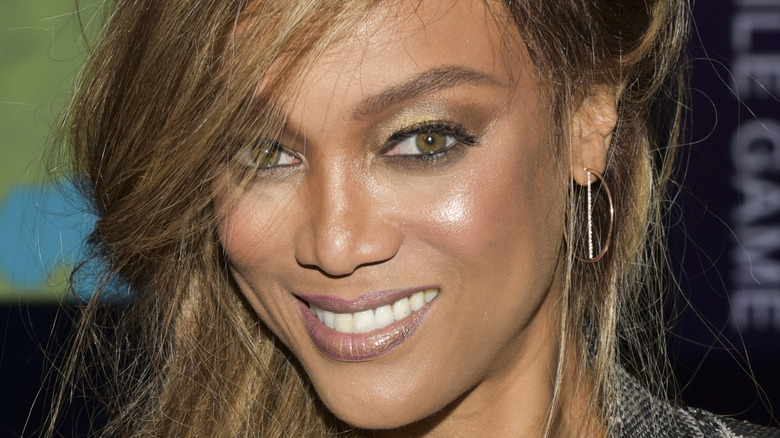 Rodin Eckenroth/Getty Images
Tyra Banks' "America's Next Top Model" was a hit show on television for over a decade. As the years went on, the prizes changed from time to time. As noted by People, Cycle 2 winner Yoanna House was presented with a contract with top agency IMG Models, a fashion spread for Jane magazine as well as a catalog cover for Sephora cosmetics.
Cycle 18, also known as the "British Invasion," saw Sophie Sumner take home the winning title. During an online chat with Jay Manuel, who served as the show's creative director for the first 18 cycles, in 2020, Sumner went into detail about the prizes she won. "I didn't get them all," she revealed to Manuel. Sumner explained she won $100,000 but didn't receive the full amount because the tax was taken off of it. Sumner was told she was supposed to have a contract with clothing company Forever 21, but didn't recall doing much with the brand. "I'm sure I was supposed to do a campaign," she said. Sumner was told she was going to be a host for Extra, but only took part in one job for them and questioned whether the Dream Come True fragrance she became the face of ever hit shelves.
Winners not getting their promised prizes sounds bad enough, but the paltry amount contestants are paid while on the show has also raised quite a few eyebrows.
Cycle 9's Sarah Hartshorne said the models 'were not paid a penny'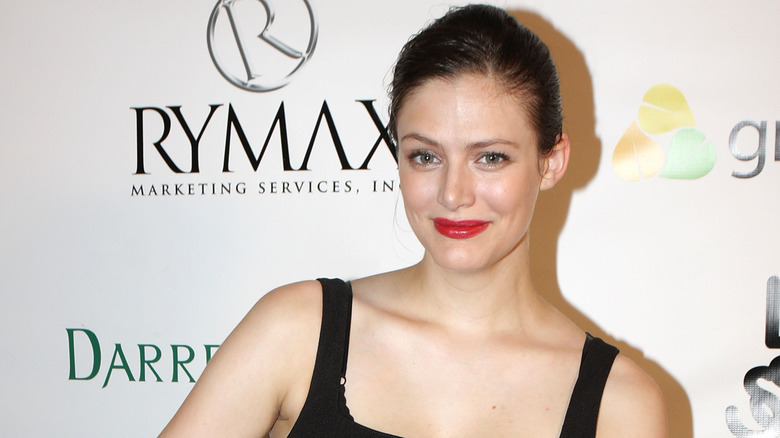 Jerritt Clark/Getty Images
With a show as successful as "America's Next Top Model," you would think the aspiring models that participate in the competition would be receiving a fair paycheck. That's where you're wrong. Cycle 9 contestant Sarah Hartshorne (pictured above), put the reality show on blast when she told the New York Post in December 2021 that the models "were not paid at all for being on the show." However, they were given a low sum for food. "We were given a $38 daily cash stipend that we had to use to pay for our own food," Hartshorne continued. With that being said, she noted that the producers "didn't even give us a microwave to heat the food up." Ouch!
Understandably, fans of "ANTM" were outraged when they found this information out, as the show likely had the budget and finances to treat their contestants better. In 2019, Forbes noted that Banks earned a whopping $30 million from June 2008 to June 2009 from her multiple TV endeavors — making her the highest paid woman in prime-time TV at the time. "The fact that girls on ANTM were getting paid $40 an episode and Tyra and them judges were making BANK, is kinda sick," one user tweeted. "WHAT!?!?!? They was unwillingly shaving they heads, and getting sent home the next day for $40 a day!!!" another person shared. "Wowwww! That's ALL!?!?" a third fan remarked.
Many contestants have expressed their disappointment with the show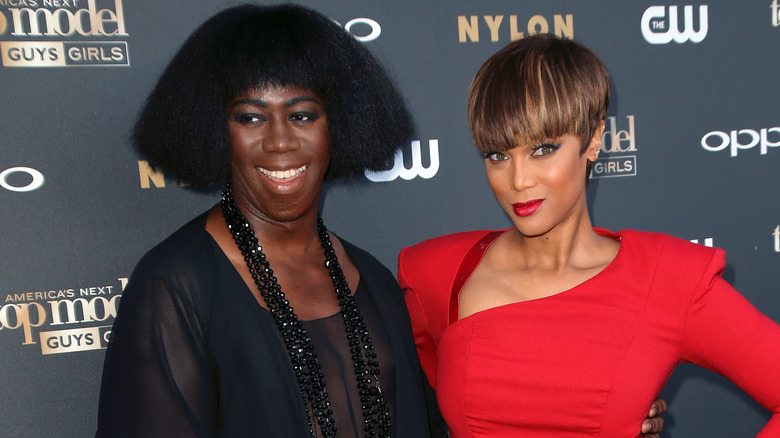 David Livingston/Getty Images
Sarah Hartshorne isn't the first person to come forward and expose "America's Next Top Model." In an exclusive interview with the Daily Mail in 2015, Cycle 14 contestant Angelea Preston revealed that meeting Tyra Banks didn't live up to her expectations, insisting that the "Coyote Ugly" actor never spoke to any of the contestants when the cameras weren't rolling. Cycle 21 alum Winnie Harlow may have a huge modeling career today, but she doesn't credit "America's Next Top Model" for helping her achieve her dreams. During a televised appearance on "Watch What Happens Live with Andy Cohen" in 2018, she boldly stated that the show "doesn't really do anything for any models career, realistically."
Lisa D'Amato, who participated in Cycle 5 and later on won "ANTM: All Stars," shared an Instagram video that the producers forced her to open up about the mental, physical, and sexual abuse she had to face as a child. Not only that, D'Amato said that Banks took advantage of her previous trauma sorely for the show's benefit. "I don't know how you sleep at night," she expressed directly to Banks. "You knew very well the horrible trauma that my mom inflicted on me, and you also talk so much about how you wouldn't be where you are without your mother and how powerful she is."
In an interview on "Watch What Happens Live with Andy Cohen," Banks referred to all the contestants as her "babies," claiming that she has "nothing but love" for them.