Pink And Kelly Clarkson Open The 2017 American Music Awards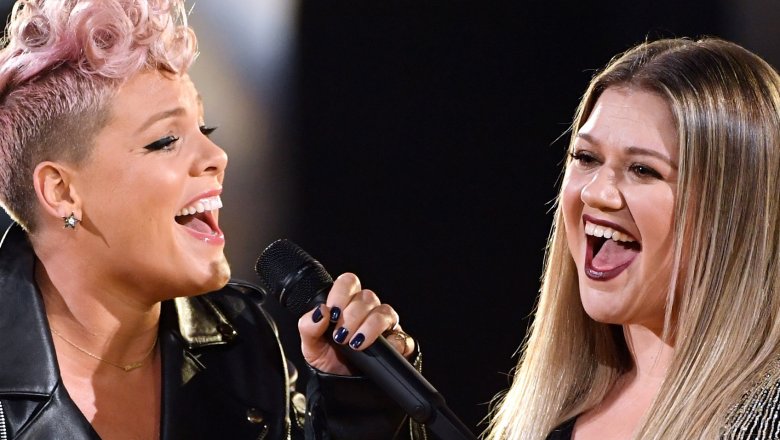 Getty Images
Pink and Kelly Clarkson opened up the 2017 American Music Awards with a whole lot of girl power.
The AMAs is one of the biggest nights in music and, with some of the biggest names in the industry in attendance, a show-stopping opener was a must—and Pink and Clarkson did not disappoint. For the superstars first collaboration ever, they performed a moody cover of R.E.M's hit song "Everybody Hurts."
Before the show, the pop stars took to social media to gush about each other.
If anyone was wondering what @Pink is like in person, she's the greatest human ever and I love her even more now after meeting/singing with her at #AMA's rehearsal 😊 ....can't wait for y'all to see our silk routine tomorrow 😜 #picturemehangin 🤣

— Kelly Clarkson (@kelly_clarkson) November 19, 2017
This woman has a direct line to outer space with that voice. I feel lucky to stand next to her when she sings. Tonight will be an honor for me @kelly_clarkson #AMAs2017 pic.twitter.com/OU2LKZI4jW

— P!nk (@Pink) November 19, 2017
The match-up made in heaven comes just a few weeks after Clarkson made it clear that she was more than interested in sharing the stage with fellow pop diva Pink.  
"I'm a huge fan of Pink," Clarkson told EW editor-in-chief Henry Goldblatt in November 2017. "I haven't had the chance yet to work with her. I think if you project it enough, it might happen, right?"
Well, it looks like Clarkson spoke her wish into existence, and the AMAs were all the better for it.