Here's What Kim Zolciak-Biermann Looks Like Without Makeup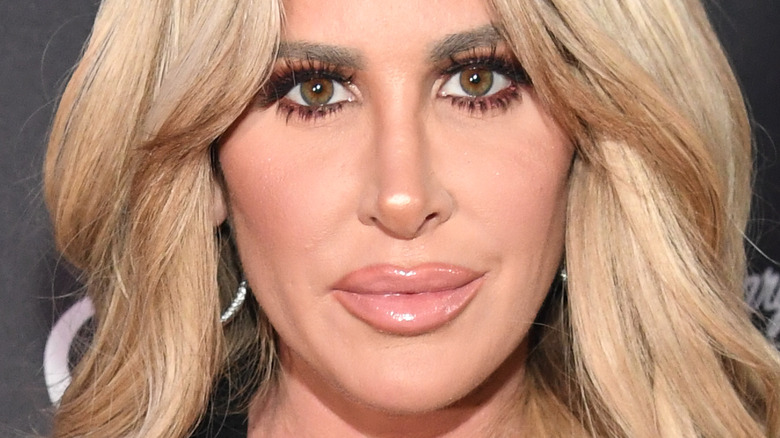 Paras Griffin/Getty Images
If there are two things Kim Zolciak-Biermann is famous for, it's her shady remarks and her uber-glam look. "The Real Housewives of Atlanta" veteran turned former "Don't Be Tardy" star has had some of the sassiest comebacks in the Bravo show's history, all while keeping herself fully made up and super stylish pretty much at all times. Her daughters, Brielle Biermann and Ariana Biermann, follow in her footsteps too, so much so that the family spend an eye watering amount on glam when the cameras are rolling. "It's a couple thousand dollars a day, for sure," told Entertainment Tonight in 2020 of how much the Biermann clan spend on having their hair and makeup done, admitting that doesn't even cover the budget for wigs and clothes. In fact, Brielle was wearing about $8,000 worth of hair on her head at the time of the joint interview with her mom. Woah!
It may surprise you to learn then that Kim actually isn't a fan of all that time spent getting glam — to the point she actually wears wigs to make doing her hair much easier. "It's a lot easier to just have the wig curled over here and then put on my head. I hate doing my makeup, like sitting there for an hour and then another hour for my hair? No! I'm not doing it," she told Entertainment Tonight in 2016. But what does this reality star actually look like without the hours in the hair and makeup chair?
Kim Zolciak-Biermann's makeup-free selfies
Despite all the effort Kim Zolciak-Biermann and the Biermann family usually go through to get themselves looking like the glamorous reality stars we know when the cameras are rolling, Kim has actually appeared in front of the camera before without spending thousands on hair and makeup. It may be a rarer occasion, but Kim has gone sans makeup a few times on social media before, like in March 2019 when she shared a car selfie on Instagram as she licked her lips. Kim appeared to be in the vehicle with her husband, Kroy Biermann, and their kids, turning the camera on herself to flaunt her blemish-free completion and plump lips. "Good morning!!!" she captioned the snap, alongside a sunshine emoji.
But that's not the only time Kim has given us a glimpse at what she looks like on her makeup-free days. In September 2018, the reality star also went bared faced on Instagram, this time posting an Instagram Story after a dip in the pool. The "Don't Be Tardy" star was dripping wet as she held on to a red solo cup that matched her red bandeau bikini top. Kim gave the camera a slight smile and had her locks pushed back with the pool water, telling fans via the caption of the snap, which you can still see via People, "Just one of those days." Just one of those stunning days, for sure!
Kim Zolciak-Biermann is a makeup mogul
As for how Kim Zolciak-Biermann keeps herself looking so stunning without the cosmetics, she actually went makeup-free to reveal some of her beauty tips and tricks. Posting to Facebook in September 2021, Kim — who has been pretty honest about her plastic surgeries over the years — revealed that she uses a Jade massage tool on her face and body to keep her skin looking flawless.
But don't let all that time without makeup on social media fool you. Kim is still a big fan of cosmetics, so much so that she even launched her own line, KAB Cosmetics, with her daughters, Ariana Biermann and Brielle Biermann. "I want women to know you can still be a mom and be beautiful and do your hair, do your makeup, get dressed up. Just because you're a mom doesn't mean you have to let it go. That's what I want women to understand," Kim explained to In The Know by Yahoo! of how her real life experiences tied into her family business venture. "All of these things that I'm so passionate about [are] because I have six kids and I still want to feel beautiful and I think people genuinely hate that," she added.