Malia Obama Spotted Locking Lips With Campus Cutie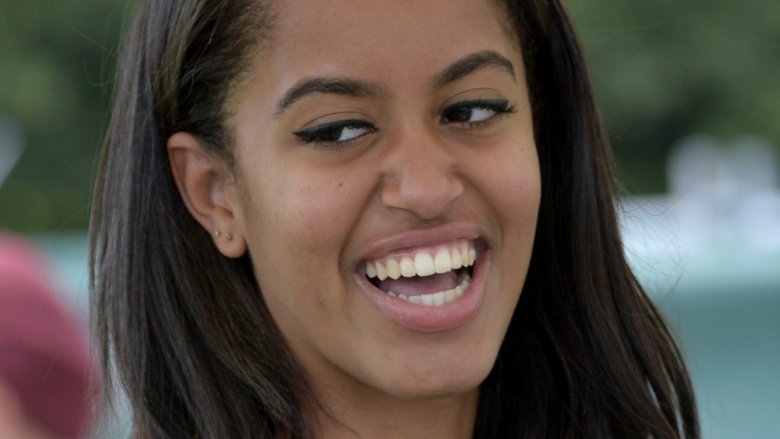 Looks like the eldest daughter of former president Barack Obama has snagged herself a new beau.
TMZ reports that Malia Obama was spotted kissing a young man during a tailgate party on Saturday, Nov. 18, 2017. In fact, the two appeared to be full-on making out before a Harvard vs. Yale football game in New Haven, Conn. And they clearly didn't care who was watching them lock lips.
While we don't know much about Malia's current relationship status or the identity of the boy in question, it'd appear that the former First Daughter has been getting friendly with her classmates. But whether this new romance is a serious commitment or a fun fling is anybody's guess at this point. However, chances are Malia's new guy is Team Harvard, judging by his crimson-colored shirt.
As previously reported by the Boston Globe, Malia, a member of the class of 2021, moved into a freshman dorm on Harvard University's campus in late August 2017. It's unknown if she's chosen a major, but, given her past internships on the set of Lena Dunham's Girls and at The Weinstein Company, it wouldn't be too surprising to hear that she's pursuing an education in entertainment or media business.
But, while she may not have a career goal in mind just yet, it appears that Malia has been open to trying new things—including smoking. In photos obtained by TMZ, the 19-year-old can be seen handling what looks like a cigarette as she chats with her maybe-boyfriend. Given that her mother, Michelle, apparently disapproved of husband Barack's smoking habits (via Politico), we'd doubt that Malia's parents would be happy to learn about her new vice.
While we wait for more details about Malia's campus crush, read up on the untold truth about Malia and her younger sister, Sasha.