What We Know About Barron And Ivanka Trump's Relationship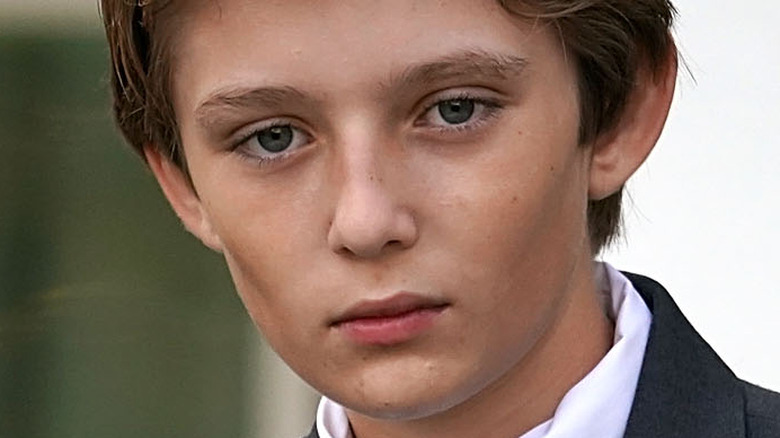 Chip Somodevilla/Getty Images
Several of Donald Trump's five children played high-profile roles during his presidential term between 2017 and 2021. But only Barron Trump actually lived at the White House. Born in March 2006 to Donald's third and current wife Melania Trump, Barron was only 10 years old when his father assumed his role as president. All of Donald's other heirs were already adults, with the second youngest, Tiffany Trump, being 23 then. As such, Barron's preteen and early teenage years differed vastly from that of his siblings. 
Knowing the challenges the change would entail, Donald and Melania made clear they'd keep Barron out of the public eye throughout their presidential campaigning. "I keep him balanced and just have his childhood as normal as possible ... I just want to have him out of the spotlight for now," Melania told ABC News in 2016. From the beginning, Melania showed her priority was to ensure her son's life wasn't too impacted by Donald's political plans. Before Donald was elected, Melania shared her intention to stay in New York with Barron until the end of the school year, Us Weekly reported. 
The Trumps largely accomplished that goal. During Donald's presidency, the public became much more familiar with Donald and the late Ivana Trump's offspring. That's particularly true for Ivanka Trump, whose relationship with Donald has drawn much attention through the years. Ivanka's relationship with some of the other Trumps seems less affectionate, though she might have a soft spot for her baby brother. Or does she?
Ivanka Trump has publicly stood up for Barron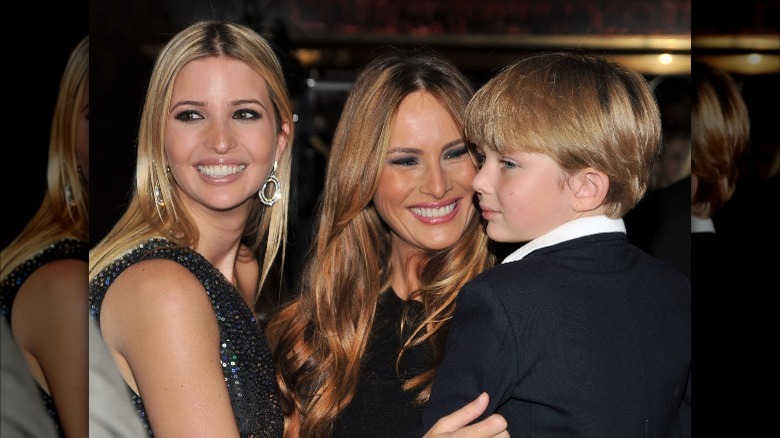 Andrew H. Walker/Getty Images
Ivanka Trump showed her protective side in September 2017 when she publicly stood up for Barron Trump. "Melania [Trump] and my father are trying to make that transition as seamless as possible in difficult circumstances," the former senior advisor to the president told Dr. Oz in an interview (via People). "Barron should be off limits," Ivanka said. "I think talking about an 11-year-old's T-shirt, or pants, or attire ... he's a young boy trying his best to acclimate in a surreal environment."
Ivanka's remarks came about a month after conservative site the Daily Caller criticized the choice of clothes of Donald Trump's youngest child during his father's first year in office. "One thing that isn't normal though is the way he dresses when he joins his parents for a public appearance," the author argued in August 2017, adding: "It's about time the president's son starts dressing the part." The article included photos of Barron in a red, shark-themed T-shirt paired with khaki shorts.
Ivanka had previously praised Barron when "Saturday Night Life" writer Katie Rich tweeted the boy would be "this country's first homeschool shooter" on the day of Donald's inauguration in January 2017, according to The New York Times. NBC suspended Rich following the incident. Taking to Twitter, Ivanka shared a clip from the event showing Barron playing with her then-infant son Theodore. "My youngest brother proves he's a baby whisperer — while my father signs his first executive orders," she remarked.
Ivanka Trump encouraged Barron's interactions with her son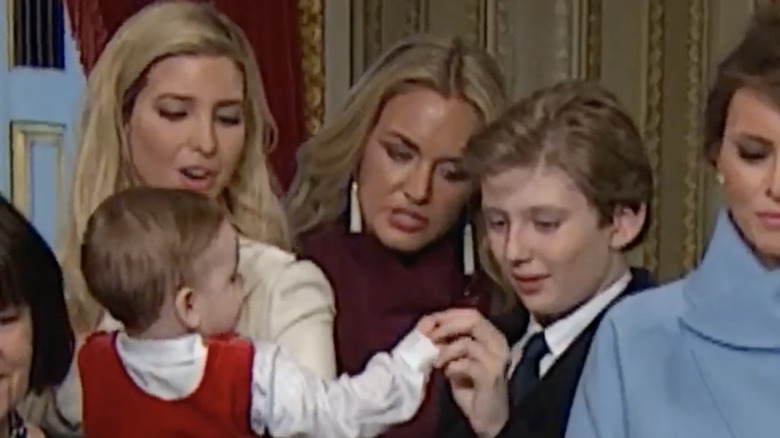 Jeff Swensen/Getty Images
The controversy surrounding the "Saturday Night Live" writer wasn't the only one involving Donald Trump's youngest child to emerge from his inauguration. A widely-shared NBC clip of Barron Trump engaging Ivanka Trump's son drew criticism from social media users. For many, Barron's playing peek-a-boo with Theodore and his attempts to have the baby high-five him came across as awkward and out of place. "That is one weird kid. No way he's only 10 years old. He's too big," one Twitter user commented. "Why does his mother look like she's scared of what he's doing?"
Others also accused Ivanka of appearing to be uncomfortable in Barron's presence, Express noted. "His mother looks mortified," one critic tweeted. When Ivanka retweeted the clip three days later, she both showed support for her baby brother amid the Katie Rich debacle and squashed speculation she dislikes Barron. In her defense, she does seem to encourage the interaction between her son and Barron, even turning her torso in his direction to give Theodore a better view of his uncle. Ivanka also bounced and talked to Theodore to stimulate his response.
While Ivanka and Barron's 24-year age gap has likely prevented them from sharing many bonding moments, the two look comfortable around each other. And Ivanka has shown occasional public affection for the boy. In April 2010, Ivanka gushed over the then-4-year-old's appearance on "Celebrity Apprentice" by tweeting: "Isn't Barron adorable!! He's got a great golf swing too!"