Why Dog The Bounty Hunter Is Hesitant To Get Involved In Search For Kiely Rodni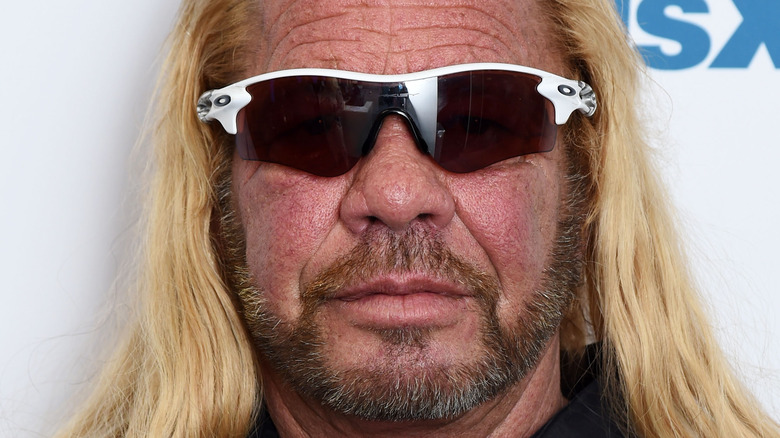 Ilya S. Savenok/Getty Images
Dog the Bounty Hunter gained widespread fame and recognition through his A&E reality television series, which followed him on bounty-hunting excursions. Although the show was canceled in 2012, per The Hollywood Reporter, Dog remained in the public consciousness thanks to a few spin-off features and specials. Those who didn't know him from television perhaps encountered him on the news when he became involved in the case of Gabby Petito's disappearance.
As reported by ABC 7, Dog got involved with the investigation in September 2021 when he began following up on tips he received. Soon after, videos of the reality star were featured on the news, participating in activities like protests outside of the home of Petito's alleged killer.
Now, some in the public are calling on Dog to take on a new case, even going as far as to supply him with tips. As People reported, 16-year-old Kiely Rodni vanished after leaving a high school party. Her phone pinged near the party's campground in the early morning hours of August 6, and she hasn't been heard from since. Many have called for Dog to use his hunting skills, but he isn't on board yet.
Dog received backlash for his involvement in the Gabby Petito case
In an interview with NBC Bay Area, Kiely Rodni's mom expressed her appreciation for the community support they've had throughout their search efforts. According to ABC News, the FBI has received over 1,200 tips, while the local police shared (per the New York Post) that they've invested more than 9,000 man hours into the search.
With such a large-scale investigation, it makes sense that Dog the Bounty Hunter may want to lend a hand. He opened up to TMZ that he's receiving many tips and emails encouraging him to join the investigation. However, backlash from his involvement in the Gabby Petito case has made him hesitant. Many felt the star was "meddling" in the investigation, and Dog's representatives reported him feeling as though "no good deed [goes] unpunished."
However, for those who think his involvement in the case could make a difference, there's still hope. TMZ's sources said that Dog developed new guidelines for involvement. If a family member or law enforcement invites him to join the hunt, he will. He also said that if 21 days pass after the disappearance with no answers, he'll step in. Notably, Dog shared that this timeline is when many missing persons cases become cold cases.