Where Is Manti Te'o's Catfisher Naya Tuiasosopo Now?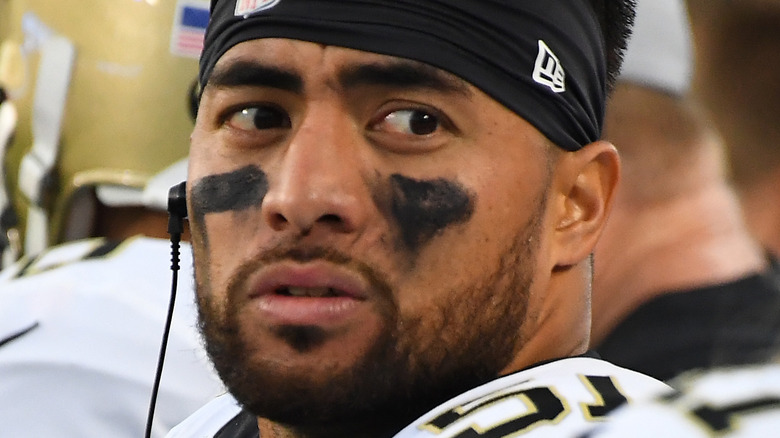 Jayne Kamin-oncea/Getty Images
Manti Te'o's catfishing debacle has been brought back into the spotlight following the release of the Netflix documentary "Untold: The Girlfriend Who Didn't Exist." The incident, which occured in 2012, saw the former Notre Dame football star fall victim to an elaborate dating hoax perpetrated by Ronaiah Tuiasosopo — a former childhood friend of Te'o's. According to ABC News, the dating scheme began after Tuiasosopo sent Te'o a Facebook message pretending to be a Stanford University student named Lennay Kekua. Despite never meeting in person, the two eventually became an item, until things took an unexpected turn. In April 2012, Te'o was notified by Kekua's fictional brother, Noa, that she was involved in a serious car accident. Later that year, Te'o receives the devastating news that his grandmother has passed away. A day later, Tuiasosopo attempted to end the dating hoax by faking Kekua's death.
In interviews at the time, Te'o — who was a Heisman Trophy finalist — spoke candidly about the loss of his grandmother and girlfriend. "There's nothing I could say to explain it unless somebody's been there before, they've experienced loss, especially a loss of someone who's always there, someone you communicated with every day," Te'o told ESPN in 2012. "It's just hard." Months later, the athlete received a call from Kekua saying that she was not dead and that her real name was "Leah."
Shortly after, Deadspin published an explosive exposé detailing the hoax. Interest in Te'o's story has grown following the release of the new documentary, leaving some to wonder where Tuiasosopo is today.
Ronaiah Tuiasosopo lives a private life now
Following the shocking revelation that Ronaiah Tuiasosopo was behind the fake persona that catfished Manti Te'o, Tuiasosopo spoke out about the hoax during an appearance on "Dr. Phil" in 2013. "As twisted and confusing as it may be, yeah. I cared for this person," Tuiasosopo claimed. "I did all that I could to make this person a better person even if I want getting anything about it." Tuiasosopo went on to explain that he decided to delete the profile after getting into a heated argument with Te'o. He also confirmed that the former Notre Dame linebacker had no involvement in the scheme. In 2014, Tuiasosopo returned to Dr. Phil's daytime program and revealed that she had sought the help of a professional counselor.
Since the scandal, Tuiasosopo has come out as a transgender woman, as revealed in Netflix's "Untold: The Girlfriend Who Didn't Exist." Tuiasosopo — who now goes by Naya — revealed in the documentary that the catfishing ordeal helped her come to terms with her sexuality.
According to the Mirror, Tuiasosopo currently lives in Southern California and works as an assistant store manager at Lowe's Home Improvement. Naya has seemingly chosen to live out of the spotlight, as her Instagram account is unavailable to the public.
The woman who had her pictures stolen
Amid the fallout from Manti Te'o's catfishing scandal, it was revealed that the images used by Ronaiah Tuiasosopo belonged to a woman named Diane O'Meara. O'Meara opened up about the experience during a 2013 interview with CNN. "I'm still trying to wrap my head around this entire confusing situation myself," O'Meara said. "If Manti is really innocent in this entire situation, I empathize with him because I assume we would have the same emotions — frustration, anger, confusion." O'Meara, who is a graduate of California State University, went on to explain that the ordeal was particularly frustrating because she was also in a committed relationship at the time.
O'Meara also spoke with TODAY about the troubling hoax and explained that she and Tuiasosopo attended the same high school but had minimal interactions during that time. She went on to reveal that Tuiasosopo tricked her into sending additional photos of herself by fabricating a story about a relative being injured in a car accident.