The Truth About Manti Te'o's Wife, Jovi Nicole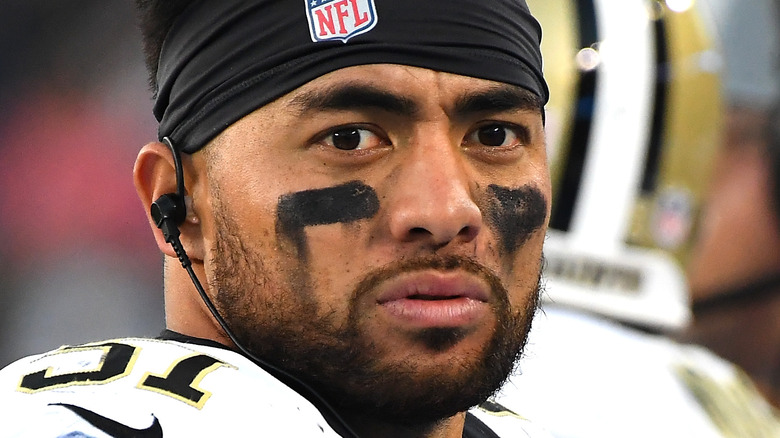 Jayne Kamin-oncea/Getty Images
Back in 2013, American football player Manti Te'o became the subject of national headlines after it was revealed that his then-girlfriend, a certain Lennay Kekua, didn't exist. An investigative report by Deadspin claimed that Kekua — whom Te'o supposedly dated for several months until she died from leukemia in 2012 — was actually a fake persona created by Ronaiah "Naya" Tuiasosopo. (Tuiasosopo has since come out as a transgender woman).
The star athlete eventually confirmed the allegations to ESPN, saying that Tuiasosopo herself had called him and confessed to the catfishing prank. He also claimed his innocence, stating that he played no part in the bizarre, elaborate hoax — but did admit to making up stories about his fake relationship to save himself from, well, further embarrassment. "I knew that it was crazy that I was with somebody that I didn't meet," he said. "So I kind of tailored my stories to have people think that, yeah, he met her before she passed away. So that people wouldn't think that I was some crazy dude."
The explosive revelation proved to be a huge obstacle in Te'o's fairytale career in sports and, per Metro, almost ruined his chance to enter the National Football League (NFL), although he was eventually drafted. Several years later, Te'o also found real love through his very real wife, Jovi Nicole Engbino, whom he married in August 2020 after nearly five years of dating. Here's what we know about her.
Manti Te'o's wife is a fitness buff and aspiring aesthetician
Based on her Instagram profile, Manti Te'o's wife, Jovi Nicole Engbino, is a fitness influencer. She's also currently studying to become a nurse injector, or a nurse "who specializes in providing aesthetic beauty services such as Botox neurotoxin injections and dermal fillers," per Nursing CE Central. She's admitted to getting Botox herself as well as lip fillers, and previously worked at a renowned medical spa in La Jolla in San Diego, California. She and Te'o are currently based in Utah.
The pair, who's been together since 2015 (per TMZ), got engaged in February 2020 in Aspen, Colorado. They then tied the knot at a beach wedding in La Jolla, California on August 29 that same year. Both Engbino and Te'o announced the wonderful news to their fans on social media. "Yesterday I got to marry my best friend and the love of my life in an intimate beach ceremony. Although this was not how we envisioned our ceremony, it was perfect," wrote Engbino of their COVID-19 safe nuptials. For his part, Te'o said, "I couldn't give you the world but I think I did better... I gave you my last name and it looks good on you Mrs. Te'o."
Manti Te'o and his wife will soon be a family of four
In January 2021, former Notre Dame star Manti Te'o and his wife Jovi Nicole Engbino announced that they were expecting their first child together. "The blessings keep coming. Forever grateful. Baby Te'o coming this summer," Te'o said in his post announcing his wife's pregnancy. He and Engbino eventually welcomed their daughter Hiro to the world on August 12, 2021. Fast forward a year, as Te'o appeared on CBS to promote the new Netflix documentary about his catfishing scandal, the footballer happily revealed that he and his wife will soon be a family of four. "I'm a loving husband. I got a great wife. I have a daughter and we have a son on the way," he announced.
Speaking of his new documentary, Te'o said he is "extremely humbled" by the love and support he's received since "Untold: The Girlfriend Who Didn't Exist" dropped on Netflix on August 16. He said he dedicates the two-part series to everyone who has supported and stood up for him throughout all these years, most especially his family. "Thank you for your unwavering love and support. You have no idea what that has meant to me the past 10 years," he wrote. "Thank you for all [the] lessons. Thank you for all the hard times. ...  Thank you for it all. It was all meant for me."