What Happened To Dakota Johnson's Tooth Gap?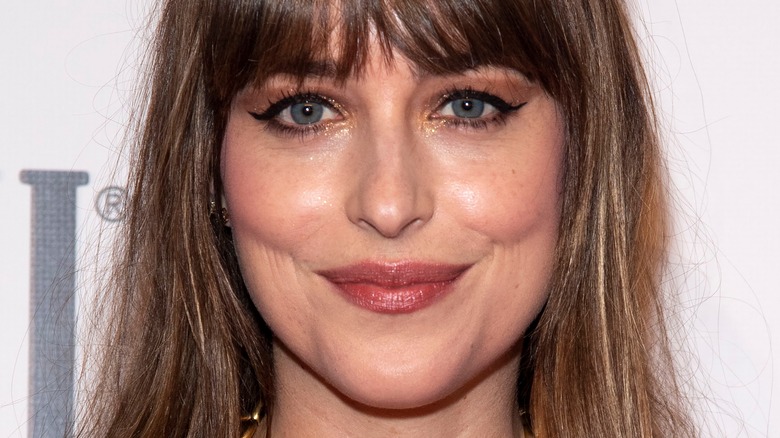 Ron Adar/Shutterstock
Dakota Johnson was born to be a star — literally! Daughter to actors Don Johnson and Melanie Griffith, she has been in the entertainment industry for years. As Dakota previously shared in an interview with W Magazine, she was "zero [years] old" when she got her start. "Nothing old. Zero old. I couldn't wait because I grew up on set," she revealed. "My parents were always working with amazing artists, and I just loved it. I wanted to be a part of it so badly." Being in the spotlight is something that comes naturally to Dakota, however, her parents weren't always supportive. "They discouraged [me from being an actor]," she continued. Despite their concerns, the brunette beauty insisted on pursuing her passion.
Dakota's first foray into film came with a minor role in "Crazy in Alabama," a dark comedy that also starred her mother. Per IMDb, Dakota's next role came more than 10 years later. While these roles played an important part in establishing her career, it wasn't until her breakout performance in the "Fifty Shades" franchise that Dakota truly found her footing in Hollywood.
Over the years, we have watched Dakota blossom into a major household name who's both aspirational and relatable. Being a major player in the limelight also means all eyes are on you in terms of your career and personal life, including beauty standards. Fans of the star adore her down-to-earth demeanor, but when the star made a change to her appearance, there were questions.
Dakota Johnson's tooth gap closed naturally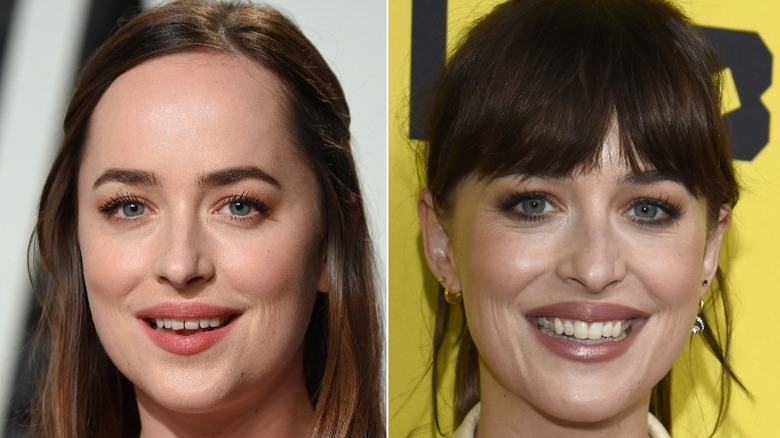 Tim Mosenfelder & Anthony Harvey/Getty
Dakota Johnson may be considered an A-list celebrity, but the "Beastly" alum is just like us! While some might stand out more than others, everyone has unique features that set us apart. In some cases, these features are so pronounced that they become who you are. For Johnson, it was her endearing tooth gap! After more than two decades in the industry, fans were shocked when Johnson rocked a new smile — a smile that was, in fact, lacking her pronounced tooth gap. 
And, as it turns out, she didn't do this on purpose. "I had a permanent retainer since I was like 13 and it was just glued to the back of my teeth," she revealed on "The Tonight Show Starring Jimmy Fallon" in August 2019. "And I was having a lot of neck problems recently so my orthodontist decided it would be a good idea to take it off and see if my jaw sort of expanded." And that's when her beloved tooth gap closed on its own, leaving many fans mourning its disappearance.
A disappointed fan took to Twitter in September 2020 and commented, "Bummer. I think Dakota's 'Gap tooth' was charming. She stood out and was pretty and different from other actors. She is STILL pretty ... her 'Gap tooth' was Dakota. Perfection is NOT always the right thing ... but if she's happier now with the change then good for her." The star later revealed she was "sad about it, too." Who knows, maybe a gap will make its return.
Dakota Johnson's trying to get her gap back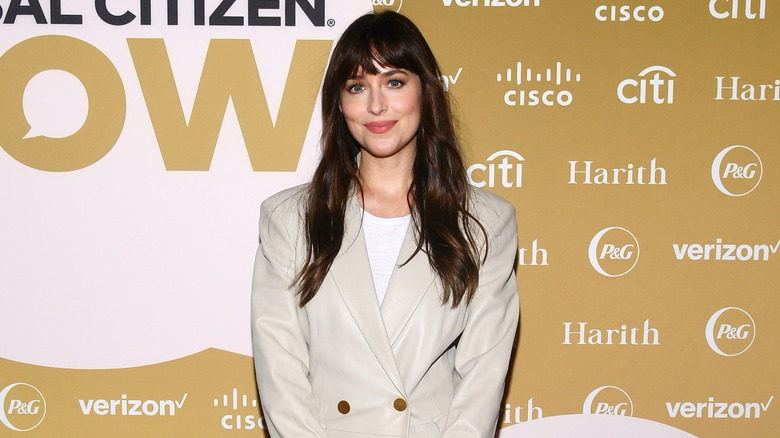 Dave Kotinsky/Getty Images
Dakota Johnson is definitely mourning the loss of her highly publicized feature and has had to make a few lifestyle changes to accommodate. "I have to deal with a whole new world of problems," she teased during her August 2019 appearance on "The Tonight Show Starring Jimmy Fallon," noting that she now gets food stuck where the gap used to be. "Before it would just slide right through." In an interview with InStyle in February 2020, the "How to Be Single" star also admitted that she's "trying to get my gap back."
This isn't the first time the "Peanut Butter Falcon" actor has opened up about her gap. In a February 2017 video for Vanity Fair titled "How Much Stuff Can Dakota Johnson Fit in Her Gap Teeth?," she commented that fitting things into her gap tooth "is her only skill" and proceeded to insert a few everyday items into her gap. In the hilarious clip, you can hear Johnson's father comment in the background, "What a great skill. I think you can go far with that."
All jokes aside, it appears that the gap is a part of her identity and is severely missed. Here's hoping that mourning the loss of her famed gap will be a thing of the past as it (potentially) makes a grand return.