Avril Lavigne Called Christina Aguilera Mean After An Awkward Snub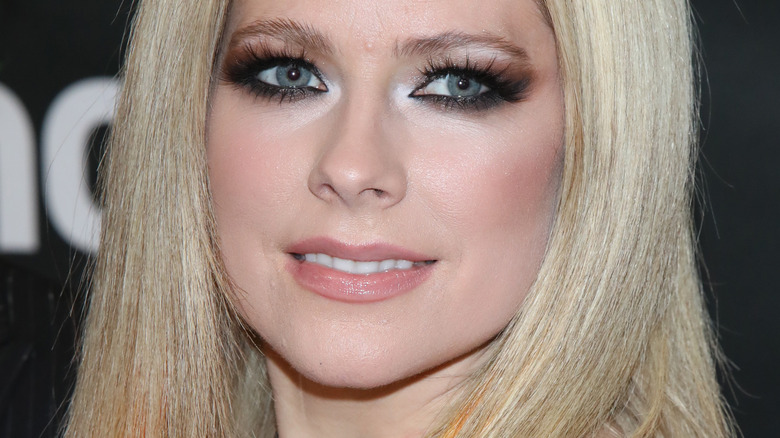 Jeremy Chan/Getty Images
Christina Aguilera has had her fair share of feuds over the years. One that remains particularly memorable was when she was beefing with British celebrity Kelly Osbourne.
As explained in an interview with Osbourne, Aguilera and the reality star first got off on a bad note after the two were recording music in the same building. Admitting that both she and Aguilera were going through a hard time in their lives, Osbourne claimed that Aguilera kicked down her door and called her a "fat b****." In return, Osbourne "spat on her car." From there, Osbourne stated their feud "exploded." Years later, Osbourne said she "doesn't have beef with anybody" and reminded fans that Aguilera ended up purchasing the home her family's reality show, "The Osbournes," was filmed. 
Another person who Aguilera rubbed the wrong way once was R&B superstar Mary J. Blige. In a vintage clip, the "No More Drama" singer boldly stated, "I don't like her because she has a nasty attitude." Blige recalled the time she went to greet Aguilera and explained that Aguilera put out her hand for Blige to kiss it. "Britney Spears can't sing like you but she will go further than you because she knows how to respect and treat her people," Blige added.
Many stars have been on the wrong end of Aguilera's diva treatment, including Canadian pop-punk princess Avril Lavigne.
Christina Aguilera didn't give Avril Lavigne a warm welcome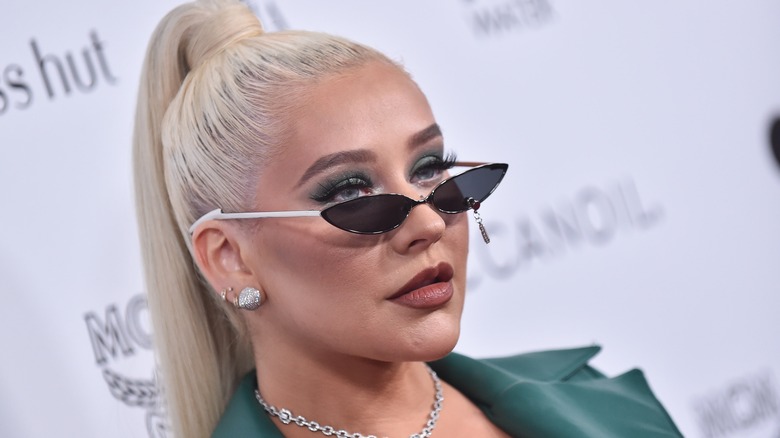 DFree/Shutterstock
In 2011, Avril Lavigne paid the U.K. a visit to present Justin Bieber with the BRIT Award for International Breakthrough Act alongside Will Young. While appearing at the BRITs aftershow party, Lavigne and Young sat down to do a mini interview with Dave Berry. Despite having met a lot of high-profile stars in her career, Lavigne admitted to fanning out when she approached Culture Club frontman Boy George at the event. In one of Lavigne's online vlogs, the moment was documented. The "I'm With You" hitmaker informed viewers that he was "super nice" to both her and Young. However, Lavigne quickly let slip that wasn't the case when she previously bumped into fellow singer Christina Aguilera. "Unlike Christina Aguilera, who was really mean to me when I said hi to her," Lavigne blurted out.
"You know what, I said to my friends, 'I'm gonna go over to Boy George and hopefully he won't pull a Christina on me.'" Lavigne continued before saying that she was pleasantly surprised by George's welcoming attitude. When Berry asked Lavigne whether she would ever speak to Aguilera again, the Canadian star explained that they both share the same label and manager but didn't receive a warm response when Lavigne introduced herself to the "Burlesque" actor. Lavigne mocked Aguilera's response, implying that she was given a fake handshake and false laugh in return.
A Christina Aguilera hit inspired of one Avril Lavigne's songs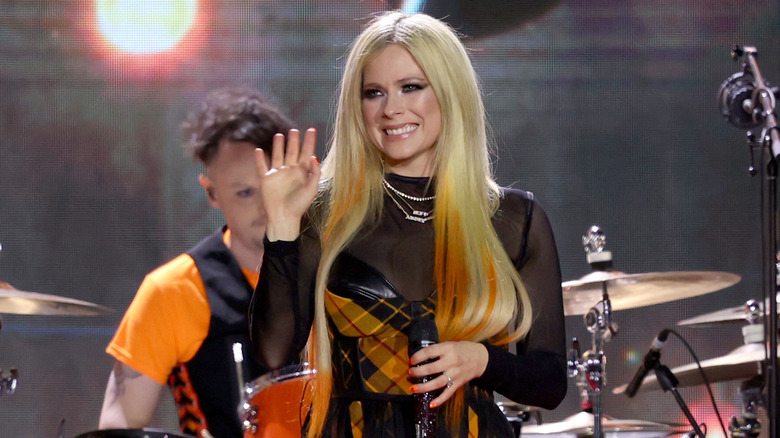 Brian De Rivera Simon/Getty Images
It's been over 10 years since Avril Lavigne detailed the shade she felt from Christina Aguilera. To this day, Aguilera has never responded to Lavigne's claims and has remained tight-lipped. However, that doesn't mean there is still tension between the duo. In fact, Lavigne admitted that the powerhouse vocalist has had a positive impact on her since.
When Lavigne returned with the song "Head Above Water" in 2019, she told radio host Zach Sang that she decided to release a duet version with We The Kings after taking influence from "Say Something," Aguilera's duet with A Great Big World. 
In 2013, Lavigne appeared on Maria Menounos' new online talk show, "Conversations with Maria," and was asked whether she was friendly with the likes of Aguilera and Britney Spears who were considered her peers during the early part of her career. Even though Lavigne stated she isn't friends with either of those singers, she kept it positive by saying "it's kind of cool that everyone's still around."