Is There A Feud Between Taylor Swift And Kacey Musgraves?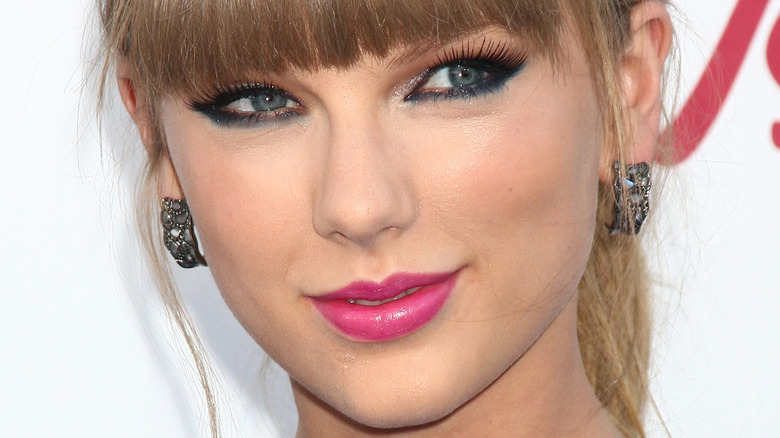 Kathy Hutchins/Shutterstock
Taylor Swift is no stranger to a feud. The star has had a few tense moments with a handful of fellow A-Listers over the years, perhaps no more so than that notorious drama with Kanye West... and then his now former wife, Kim Kardashian. Of course, how could we forget the rapper's infamous outburst at the 2009 VMAs which then re-irrupted in 2016 when West debuted the song "Famous." That's when Kardashian got in on the action, leaking a phone call between West and Swift after the latter slammed the song for being derogatory, while the former hit back claiming he had her approval to release it. Yeah, it was all as dramatic as it sounds, guys.
But that's not all. Swift also had some major tension with Katy Perry back in the day, even dropping a whole anthem about their feud. Swift released the song "Bad Blood" about her issues with the "I Kissed A Girl" singer, to which she retaliated with "Swish Swish." They buried the hatchet eventually, though, with Perry admitting on "The Ellen DeGeneres Show" in 2019, "It was really unfortunate but we made amends and I'm all about redemption and forgiveness and for setting an example for those younger people that it can be cool to ask for forgiveness and confront someone that you may have an issue with or a problem with and talk it out."
But what about Kacey Musgraves, then? Let's dive into those feud rumors if you're "...Ready For It?"
Kacey Musgraves was accused of throwing shade at Taylor Swift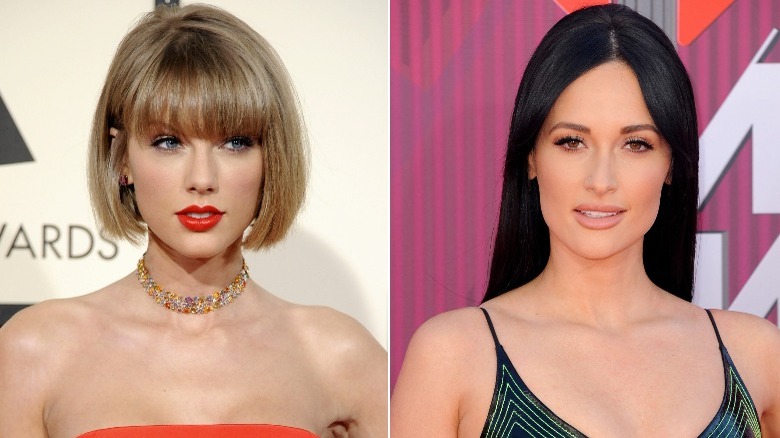 Tinseltown & Tinseltown/Shutterstock
Okay, so to get to the start of this one, we're throwing it back to 2015. The rumors of drama between Taylor Swift and Kacey Musgraves first came about after fans believed she was shading Swift in her song, "Good Ol' Boys Club" via the line, "Another gear in a big machine don't sound like fun to me." Swift, at the time, was signed to the Big Machine, though Musgraves denied to Fader it was about Swift.
But, four years later and the rumor mill swirled again when Musgraves was accused of liking a viral shady tweet about Swift, which had many accusing the country star of disrespecting the "22" hitmaker. That tweet came from Kid Rock and read, "Taylor Swift wants to be a democrat because she wants to be in movies....period. And it looks like she will suck the door knob off Hollyweird to get there. Oldest move in the book. Good luck girl." Swift's fans were in uproar after supposedly seeing Musgraves like the message, though she claimed on Twitter her account was hacked and hadn't even been online that day. Not everyone was convinced, though, seeing as the "High Horse" singer's account had apparently only liked that, before then seemingly unliking it after she was called out. Plenty called her out, with some suggesting Musgraves may have been "jealous" of Swift.
But do Swifties need to "Shake It Off," when it comes to this drama?
Kacey Musgraves and Taylor Swift spoke about the backlash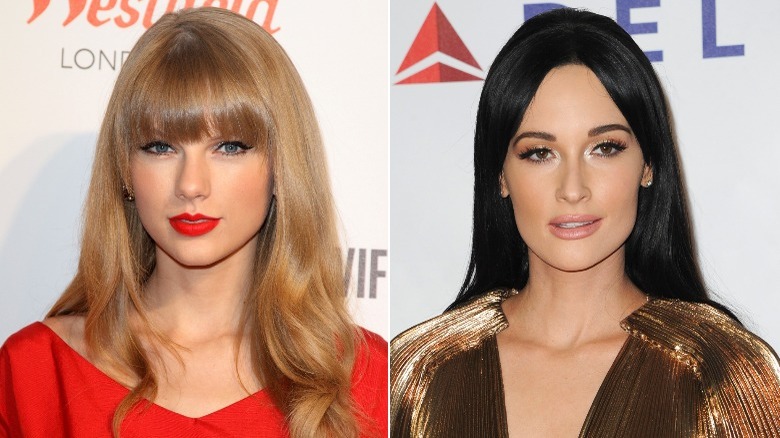 landmarkmedia & Tinseltown/Shutterstock
Kacey Musgraves took to Twitter again a few days after the Kid Rock tweet drama, revealing she'd smoothed everything over with Taylor Swift and it was all one big misunderstanding. The star issued a statement, writing, "I was dragged because of how liberal I am and anyone that knows me knows how outspoken I am about equality & respect. I've connected with Taylor — she knows this is NOT how I feel and we are cool. That was a manipulated image, (I don't even follow Kid Rock), and I would NEVERRR support any message promoting such misogyny." Swift even liked that tweet, so it seems things are all good between the two.
But, the same couldn't quite be said for all of Swift's fans. While some supported Musgraves' explanation, others continued to call out the star, with one pointing out that she was amongst a slew of celebrities who liked a controversial post from Swift's former manager Scooter Braun's wife amid the drama over Swift's musical catalog. "I'm happy you connected with Taylor sis but you also liked Scooter's wife's IG post where she dragged Taylor to hell and that was not okay. Was that a 'manipulated image' too?" one fan tweeted, in part. "I'm so disappointed."
It seemed Swifties still weren't over it by 2021 either, as, per The Things, they got Musgraves trending on Twitter on her birthday by recalling her past shady incidents with Swift. "Bad Blood," anyone?