Here's What Kaley Cuoco Really Looks Like Without Makeup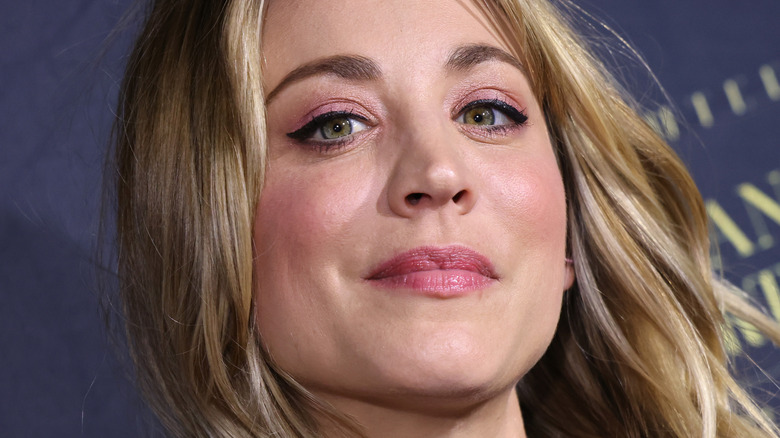 David Livingston/Getty Images
Kaley Cuoco has a close relationship with her long-time makeup artist and friend, Jamie Greenberg. "The Flight Attendant" actor is such a loyal client that she often helps Greenberg showcase her skills on her YouTube channel, where fans can watch the beauty pro prepping Cuoco for events, which include the 2019 Golden Globes and the actor's 2014 Hollywood Walk of Fame induction ceremony. "Kaley is always down to try new looks. She's one of the most outgoing, hilarious and compassionate people I know and just has fun with everything," Greenberg told Us Weekly in 2019.
Greenberg spoke to Glamour about some of the bold beauty looks Cuoco has allowed her to experiment with over the years, including glossy eyelids, matte fuchsia lipstick, and winged liner on her upper and lower lash lines. But while there's a whole universe of makeup products and techniques out there for Cuoco to explore with her BFF, "The Big Bang Theory" star does give her skin a breather from time to time.
What happened when Kaley Cuoco went to work without makeup on
Kaley Cuoco isn't someone who absolutely must have makeup on if she's going to be around other people. During her many years filming "The Big Bang Theory," she didn't worry about coming to work with a blemish — even though she had to face a group of wise-cracking co-workers who weren't going to pretend not to notice. "I walked onto the set this morning, no makeup," Cuoco recalled to Cosmopolitan in 2014. "Jim [Parsons] was like, 'Oh my god, you have a huge zit on your face!'"
But there was a time Cuoco fretted over what other people thought about her appearance, and it didn't help that she was once a self-professed reader of internet comments. After seeing what some judgmental trolls were saying about her, she actually decided to put more effort into her day-to-day look. "So I started putting on makeup. And they started writing, 'Wow, someone really likes being in front of the camera' and 'Her hair's done now for coffee,'" she recalled.
Cuoco told PopSugar that she was plagued by breakouts during her teenage years, which weren't great for her self-esteem, either, but she got her acne under control by using Proactiv. "I was at the point where I would have tried anything," she said. Now Cuoco is confident enough in her skin's appearance that she'll let Jamie Greenberg share Instagram pics of her before and after getting her makeup done (pictured above).
Kaley Cuoco presented her makeup artist with an unusual challenge
As Kaley Cuoco's makeup artist, Jamie Greenberg has had to do far more than pick out eyeshadow palettes and keep her hand steady while winging out eyeliner. Ahead of the 2021 SAG Awards, Greenberg took to Instagram to show her followers the unusual spots on Cuoco's body that she was tasked with covering up — and a little dab of concealer definitely would not do the trick. The dark, round circles on Cuoco's back were the aftermath of a cupping session, which involves placing heated cups on the skin. The resulting suction creates bruise-like marks, per WebMD.
"Needed some magic makeup to cover up those cupping marks," Greenberg wrote, revealing that she relied on just one product to get the job done: Clarins Everlasting Youth Fluid. Greenberg regularly uses Instagram to showcase the products that she uses to get Cuoco red carpet-ready, like the Dr. Harris Anti-Wrinkle Mask, a black fabric mask that Cuoco wore over her eyes ahead of the 2021 Emmys. "It completely relaxes you and takes away your wrinkles at the same time. You no longer need Botox or Xanax," Greenberg wrote.
In addition to relying on her makeup artist's help to look her best, Cuoco has confessed to using plastic surgery to change her appearance, telling Women's Health that she's gotten a nose job and breast implants. "As much as you want to love your inner self ... I'm sorry, you also want to look good," she stated.