How Did Jennifer Connelly And Paul Bettany Meet?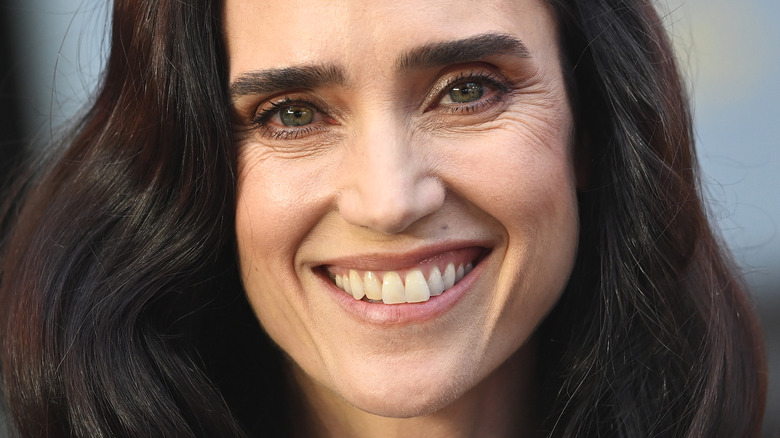 Dave J Hogan/Getty Images
Jennifer Connelly and Paul Bettany have been together for over two decades, which by Hollywood standards is at least 50 or 60 years. However, they keep a super low-key profile and shun the spotlight whenever possible. So despite collaborating on numerous movies and raising three kids, many people don't even know they're together. They haven't even got a couple name a la Bennifer or Brangelina! Jennipa has a nice ring to it, though.
Bettany was crushing on Connelly hard, years before they even met. He admitted to Larry King that she was his "childhood celebrity crush" and that he'd watched all the movies she'd first made as a teenager. "I was like a stalker, really," he quipped during a 2017 "LIVE with Kelly and Ryan" interview. The British-born actor said he believed he only had a "three to four-month" window to work his charms on Connelly "before she [saw] through the accent." Well, he clearly achieved his target, hitting it out of the ballpark.
However, Bettany's British accent wasn't the only hurdle to guaranteeing he could stay by Connelly's side forever. He also swapped his old red passport for a shiny new blue one, and Connelly helped Bettany cast his first vote as a U.S. citizen. "I was officially his first," she joked to Jimmy Kimmel. "I think it kind of qualifies as a hot date." So, how did he finally manage to snag his dream girl? Well, there's something quite beautiful about how Connelly and Bettany met.
Jennifer Connelly and Paul Bettany met in a beautiful way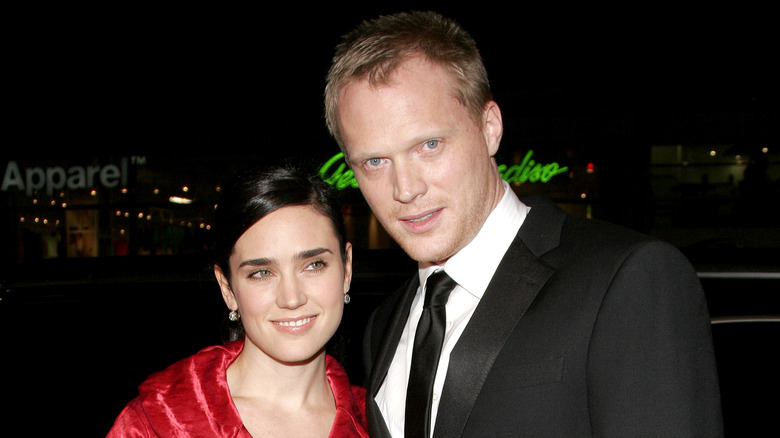 Tinseltown/Shutterstock
Paul Bettany copped to Larry King that Jennifer Connelly was his "childhood celebrity crush." He'd even vowed to marry her one day, but presumably, they had to meet first. The couple eventually crossed paths while working on "A Beautiful Mind" in 2001. Connelly has blamed her looks for holding back her career. "I think it's my eyebrows. I look very serious. I look stern even when I'm not stern," she told CBS News. Bettany would beg to differ, and he should know, having closely watched Connelly from her childhood to the present day — which actually isn't anywhere near as creepy as it sounds.
"I remember seeing her sit across the table during the first read-through and thinking, 'I've never seen anybody that beautiful,'" he told ET. Bettany assumed everybody attempted to hit on the actor, so he decided to play it cool. "We just talked about politics and books," he shared. So, was Connelly enthralled or bored to death? "He started playing guitar, and then it was all over," she admitted.
However, "The course of true love never did run smooth," as William Shakespeare noted. "We liked each other, but we didn't do anything about it," Connelly told Glamour. "We were both in relationships. We didn't get together until months and months after that film." When they finally did, the couple went from 0 to 60 in one second flat. Bettany got down on one knee within weeks of dating.
Jennifer Connelly and Paul Bettany's relationship is ride or die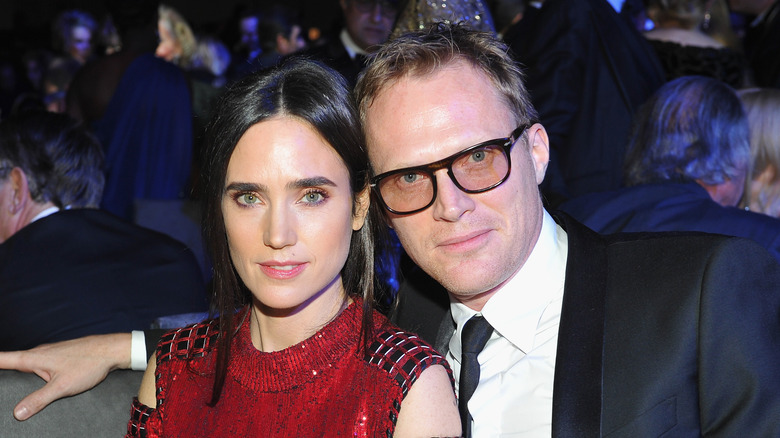 Donato Sardella/Getty Images
The 9/11 terrorist attacks had a profound effect on Paul Bettany. Aside from the horror everyone experienced, the atrocity made him realize how deep his feelings were for Jennifer Connelly. Bettany admitted the second he heard the news, he frantically tried calling Connelly. "I realized I was in love. So I got her on the phone and said, 'I'm coming over, and let's get married,'" he told Larry King.
Luckily for her love-struck suitor, Connelly had no reservations about saying yes to the dress. "He stood out to me as someone singular and rare and beautiful, and I liked the way he was in the world," she explained to Glamour. Connelly said she also loved how Bettany treats her son from a previous relationship "and the way he [makes] me feel." By the end of 2002, they were husband and wife. "[They got married] over the holidays in a small, private ceremony with just family in Scotland, Connelly's publicist confirmed to People.
According to Bustle, they welcomed their son Stellan in 2003, and their daughter, Agnes Lark, arrived in 2011. "They're all such extraordinary kids," Connelly told Anderson Cooper. "They're great together. They never fight. They look after each other." However, Connelly revealed that she and her husband often struggle to communicate. "We speak the same language, but the words have different meanings," she shared on "The Graham Norton Show," citing the pronunciation of "khaki pants" as an example.