The Most Uncomfortable Megyn Kelly Interviews Ever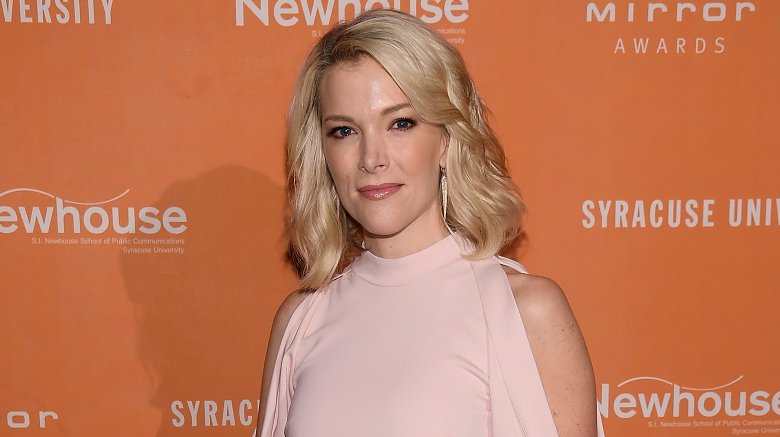 Getty Images
Megyn Kelly is not having the year she likely thought she would. After leaving Fox News to headline her own morning talk show for NBC, Megyn Kelly Today, the former anchor has been repeatedly slammed by audiences and other network personalities for multiple gaffes and hemorrhaging ratings. Some celeb publicists are reportedly hesitant to even book their clients with Kelly for even run-of-the-mill appearances. 
Viewership numbers are abysmal, and part of the reason so few seem willing to tune in for Kelly's latest adventure is that she keeps messing up when it comes to interviews. Sure, she had a rare moment of earned respect for her commentary about her former network's spate of sexual harassment allegations, but otherwise, her highlights reel is cringe-worthy at best.
Vladimir Putin
Kelly started her tenure on NBC News months before her daytime program launched by sitting down for an exclusive one-on-one interview with the Russian President Vladimir Putin. 
Considering how embattled the U.S. government has been in the wake of reported Russian meddling in the 2016 presidential election, this opportunity may have seemed like a surefire way to get Kelly's new career started on a prestigious note with some hard-hitting journalism.
However, Kelly was panned for taking a supposedly softball approach with Putin, allowing him to control the narrative regarding his country's hacking of the election and his murky relationships with certain Donald Trump campaign officials. 
She was later shown complementing Putin–who is widely suspected of having journalists in his own nation killed for unfavorable coverage of his administration–in unedited footage from the chat. "We have been here in St. Petersburg for about a week now. And virtually every person we have met on the street says what they respect about you is they feel that you have returned dignity to Russia, that you've returned Russia to a place of respect," Kelly said. As icing on the cake, she also called him "personable" after the interview, citing the lush accommodations he provided for her while in Russia.
Alex Jones
The second controversial figure Kelly interviewed prior to the launch of her hour-long regular spot was InfoWars host Alex Jones, who's been broadly condemned for his controversial views–particularly when it comes to his conspiracy theory about the Sandy Hook school shooting of 2012, which claimed 26 lives, most of whom were children. Jones claimed the entire shooting was a "hoax."
The parents of some of the children killed in the incident were offended by Kelly's interview, claiming that it unjustly elevated Jones' platform in the public sphere and legitimized his oft-outrageous beliefs. 
When Sandy Hook came up during Jones' interview with Kelly, he deflected, pointing to international events with higher death tolls that received arguably less attention. 
The cast of Will and Grace
When Megyn Kelly Today finally launched in September 2017, she had a chance to turn things around by focusing on public figures who weren't embroiled in government affairs. In fact, her very first words on the new series were a declaration that she was "done with politics," but even a seemingly simple interview with the cast of Will and Grace on her very first day went wildly awry.
When Kelly invited a super fan of the show to the stage, she bungled the interview by asking, "Is it true that you became a lawyer—and you became gay—because of Will?" The audience guest managed to answer her question sincerely, without launching into a tirade about the "nature versus nurture" sexuality debate, but Kelly made things even more awkward with her headdesk-worthy send-off. "I don't know about the lawyer thing," she said, "but the the Will & Grace thing and the gay thing is going to work out great." 
The backlash directed at that segment prompted the show's lead actress, Debra Messing, to declare that she was "dismayed" by Kelly's comments and "regrets" going on the show. Ouch.
Jane Fonda
It was the side-eye heard 'round the world. Just two days after the aforementioned Will and Grace debacle, Kelly also managed to draw ire from another celeb guest by bringing up plastic surgery during a conversation that was expected to be a lighthearted promo segment about a movie.
Actress Jane Fonda appearedon the show alongside her Our Souls at Night co-star Robert Redford and was asked by Kelly, "You've been an example to everyone in how to age beautifully and with strength and unapologetically. You admit you've had work done, which I think is to your credit. But you look amazing. I read that you said you're not proud to admit you've had work done. Why not?" 
At that point, Fonda paused and whipped out some eye daggers before retorting, "We really want to talk about that right now?" 
Kelly fumbled to recover, saying that people admire Fonda's looks, to which Fonda credited her "good attitude [and] good posture" before insisting on returning to the subject matter at hand, which was the film. 
Fonda later revealed that she was displeased by the question, believing it was neither the time or place to discuss cosmetic surgery, but Kelly has defended her interview. "I have no regrets about the question. Nor am I in the market for a lesson from Jane Fonda on what is and is not appropriate," she said during a segment on Megyn Kelly Today in January 2018 (via Variety). Kelly then proceeded to list some of the highly controversial moments from the actress' past, even referring to Fonda as "Hanoi Jane," the scathing nickname the actress received while speaking out against the war in Vietnam.
The Menendez Brothers
Kelly was condemned for her interview of Lyle Menendez, one-half of the notorious Menendez Brothers convicted in 1996 of murdering their parents in 1989. The segment correlated with the release of Law & Order True Crime: The Menendez Murders, but Kelly failed to impress a lot of viewers.
One detective who'd been part of the original case blasted Kelly's segment for pandering to Menendez, saying, "I thought the whole thing was self-serving to Lyle, with questions like, 'When was the last time you saw your brother Erik?' and 'You're married now—how does that work out?" 
To her credit, Kelly did manage to get Menendez to admit, "I still cry over my mother," but for many, the interview was still too slim on substance. 
Tom Brokaw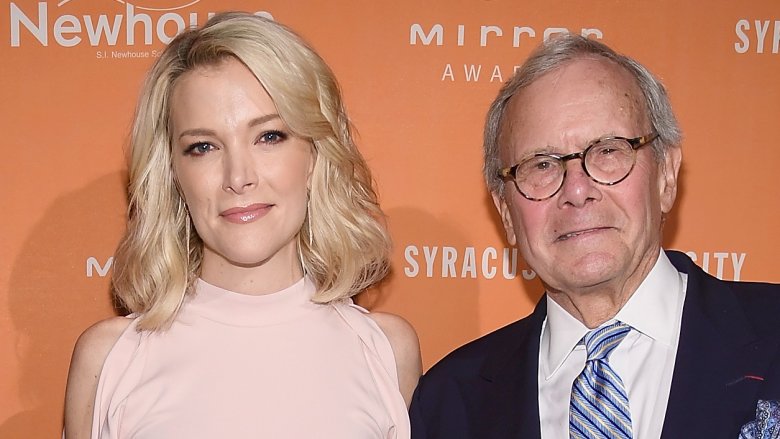 Getty Images
Kelly was panned for abruptly cutting off legendary news anchor Tom Brokaw while he was discussing the nation's need for gun law reform in the wake of the deadly Las Vegas shooting.
Kelly reportedly had to cut away for a "hard break" for commercials that she couldn't avoid, but instead of winding down Brokaw's time with the finesse of a seasoned journalist, she simply interrupted him with the phrase, "Yep, got it." 
Many perceived Kelly's quick dismissal as a sign of her support for the National Rifle Association, although Brokaw defended her, blaming his faulty hearing aid for the poorly-timed interjection.
Suzanne Somers
To be fair to Kelly, this one wasn't exactly her fault. In November 2017, actress-turned-author Suzanne Somers appeared on the show alongside her husband, Alan Hamel, to promote her lifestyle book, Two's Company. Considering the book is all about how to keep things spicy in the bedroom, it was expectable that some risque commentary might make it into the interview, but when Somers joked that she and her husband made whoopie all the time, adding, "Sometimes I'm not awake for it, though," people flipped.
Somers' blithe joke about non-consensual sex was not well received, but Kelly missed the mark on pointing out the danger of her words and simply laughed along, saying, "Alan's like, 'Those are some of the best times!'" 
It got worse from there as Somers and Hamel started comparing notes on the international legality of intercourse with a sleeping spouse. Somers eventually apologized for taking things too far, but the damage was definitely done.
Carli Lloyd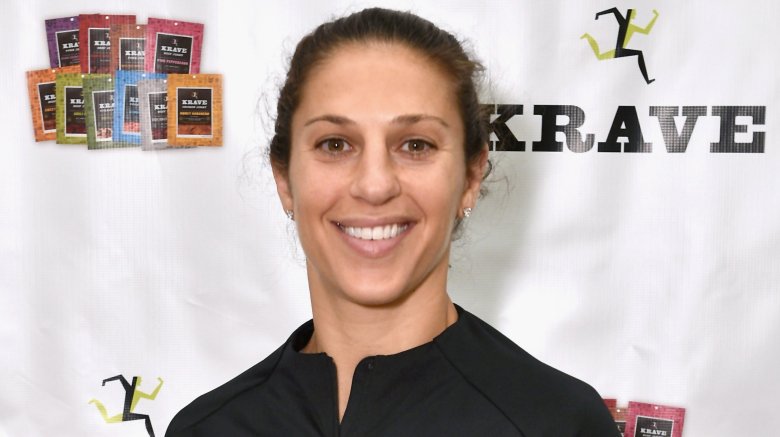 Getty Images
In yet another blooper entry from Megyn Kelly's no-good-very-bad first month on Megyn Kelly Today, she interviewed soccer star Carli Lloyd to talk about her initiative to get girls involved in sports. While the interview itself was innocuous enough, at least one member of Kelly's crew forgot his cues and let a four-letter word slip right onto the live telecast. 
Kelly was just beginning to talk to Lloyd when a cameraman slid into the shot and uttered under his breath, "s**t." It was still loud enough for audiences at home to hear and made for yet another spectacular blunder that took away from Kelly's attempts to establish her groove on the nascent program. 
NBC has since edited out the error from its digital version of the sit-down, but the internet is forever, so the wordy dird still remains accessible to anyone interested. But, hey, it could've been worse. She could've pulled another "F**kabee" incident like she did during her old Fox News days.
Russell Brand
There's no doubt that Russell Brand has made an entire career out of being extreme, and he certainly brought that sense of unusual enthusiasm to the set of Megyn Kelly Today in October 2017. At the time of his appearance, Kelly's show had just been through a widely maligned first week, so he attempted to comfort her with a series of saccharine compliments that were secondhand embarrassing.
"I love you in the daytime," he doted. "Well done coming into the glorious light. You seem beautiful here. It's like you've escaped. You're like an escaped Stormtrooper who took its helmet off to reveal great beauty. You belong here in the light." 
As if that weren't weird enough for one sitting, he later responded to her reading a sample of his book, Recovery: Freedom From Our Addictions, by lapping even more praise upon the host: "God, you should have done the audio book, that was amazing. You have such incredible gravitas." He even ended the interview by saying, "Now that I've met you as an actual human being, I feel appalled that anyone would ever be rude to you. You're glorious." 
Kelly responded with an "Aww, thank you" and some complimentary words of her own. Alas, what Kelly really needs is some love in the ratings department.