Angelina Jolie Proves She's Still Tight With Her Kids Amid Brad Pitt Drama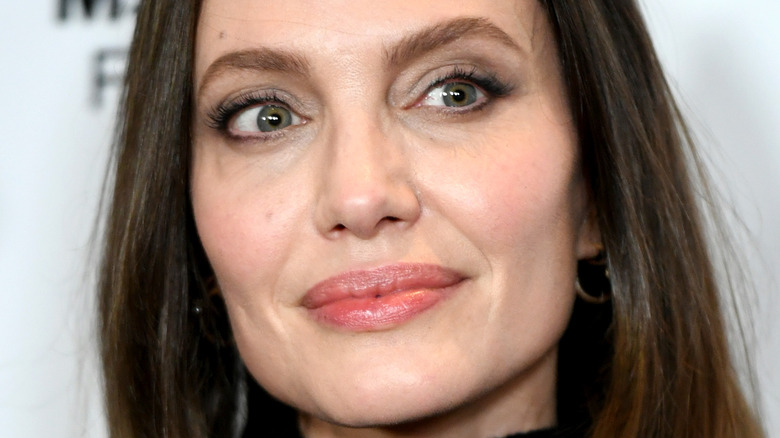 Jc Olivera/Getty Images
Brad Pitt and Angelina Jolie have been in a custody battle for a long time, and it has only gotten more dramatic by the day. The "Maleficent" actor recently requested for FBI documents about a 2016 plane incident, per CNN, accusing her ex-husband of getting violent and abusive with her and their children while drunk. In 2016, the FBI looked into the situation and didn't press any charges. Sources believe that Jolie bringing up the past case is in an effort to prolong the custody battle.
"It appears that Angelina is determined that Brad should never get 50/50 custody," an insider told Page Six on August 6. "And there are some who say that she won't rest until the kids are legally adults, so Brad will never have shared custody."
But it seems that Pitt isn't letting the squabble with his ex-wife affect him and his life. According to a source, he's focusing on having fun promoting "Bullet Train," per People. The insider mentioned that he occasionally has dinner with his children when they're all in Los Angeles, saying, "Brad still has a pretty good relationship with them." And it looks like Jolie also has a good relationship with the children amid the custody battle.
A Broadway date for Angelina Jolie and daughter Vivienne
Angelina Jolie and her daughter Vivienne, who she shares with ex-husband Brad Pitt, had a girls night out. The "Mr. & Mrs. Smith" actor took her daughter to see the North American tour of "Dear Evan Hansen" in Philadelphia on August 20, per People. A source said Vivienne enjoyed the show so much when she saw it in Los Angeles that she wanted to see it again.
The two even got to go backstage and meet the cast, taking a photo with Anthony Norman who played Evan Hansen, as well as some other cast members. "Waving back at @angelinajolie and Vivianne this weekend in Philly," the official Dear Evan Hansen Instagram account captioned the picture.
The backstage photo is pretty rare, as Jolie and Pitt like to keep their children's lives more private, but Harper's Bazaar mentioned that their children have been spotted out in public more this past year, as the "Eternals" actor was seen going to a concert with Shiloh in July. This supposedly because the children are getting older, but it could also be because of the custody battle.