The Rumors That Swirled About Nicole Scherzinger And Harry Styles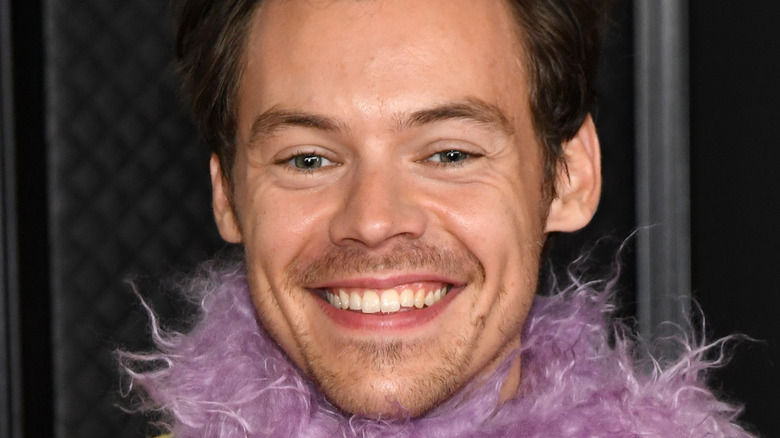 Kevin Mazur/Getty Images
Harry Styles charmed millions of fans when he made his public debut as a member of One Direction, and he keeps them swooning to this day. The "Watermelon Sugar" artist has been linked to several high-profile relationships throughout his career. According to Bustle, Styles briefly dated Grammy winner Taylor Swift in 2012 but their romance didn't last too long. 
The pair decided to break up after only spending a few months together. Swift ended up turning her sadness into music and created the smash hit records "Out of the Woods" and "Style" which seemingly appeared to be about her time with Styles. "I don't know if they're about me or not ... but the issue is, she's so good, they're bloody everywhere," he said during an interview with Rolling Stone.
Styles was also rumored to be dating model Kendall Jenner back in 2013 and maintained an alleged on-and-off relationship with the reality star over the years. Cameras spotted the pair on several dates together and even though they never publicly confirmed if they were an item, Jenner's sister did. "Do I think they're dating? Yes," Khloe Kardashian told ET. "I don't know their title. But I mean, they were in St. Barts together hanging out, so to me that's dating." While his relationship timeline includes a long list of beautiful women, fans were shocked to find out Styles was also romantically involved with the lead singer of the Pussycat Dolls — Nicole Scherzinger. 
Nicole Scherzinger and Harry Styles met on 'X Factor UK'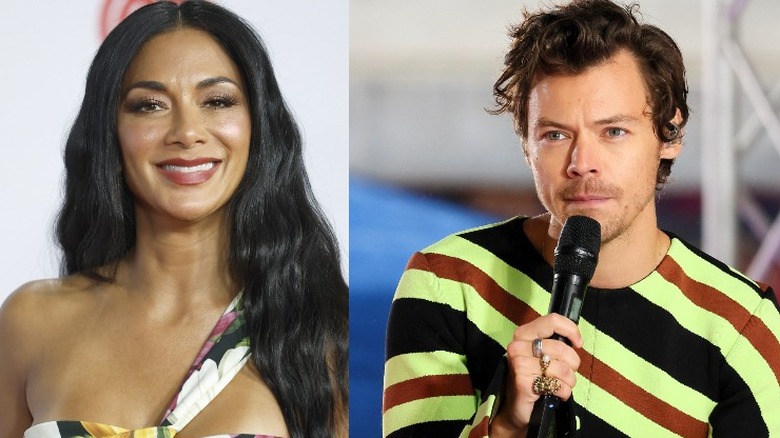 Frazer Harrison & Dia Dipasupil/Getty
Back in 2010, Harry Styles auditioned as a solo artist on "The X Factor UK" but Simon Cowell thought he would make a better fit with another group of guys who were also trying to make it on the show as solo artists, according to Billboard. Cowell formed the boy band One Direction which included singers Niall Horan, Zayn Malik, Liam Payne, Styles, and Louis Tomlinson. Nicole Scherzinger was a guest judge on "The X Factor UK" and reportedly had hand in putting the guys together. 
In a recently uncovered video, the "Buttons" singer can be seen encouraging Cowell to not eliminate the boys, but rather have them join forces as a band. "They're just too talented to get rid of ... I think they'll be really great in a boy band together," Scherzinger said. "They're like little stars so you can't get rid of little stars so you put them all together."
Not only did she make the right choice, but she also managed to catch Styles' attention. According to sources, the pair hooked up at the end of the show in 2013 after One Direction performed at the "X Factor" finale. "Harry was obviously very taken by Nicole who is stunning and he had always looked up to her," an insider told The Sun (via Daily Mail). That encounter only spiced things up for the pair for when they eventually reconnected again months later. 
Harry Styles seems like he prefers dating older women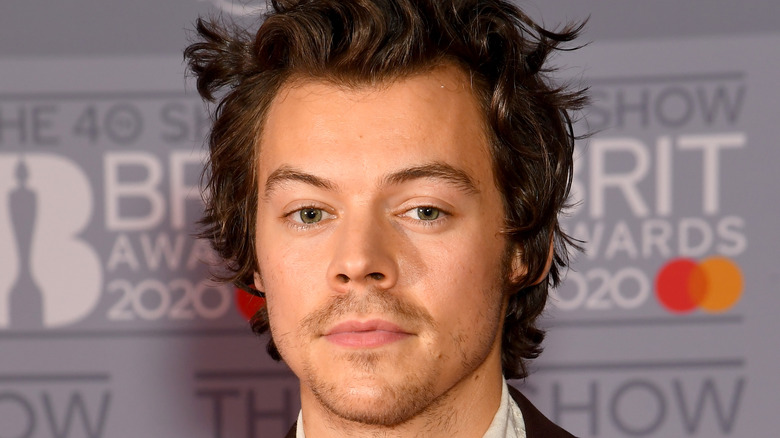 Dave J Hogan/Getty Images
Hollywood Life reported things between Nicole Scherzinger and Harry Styles started to heat up after the two were spotted at a Brits Awards after-party in 2014. "They were sitting next to each other, having lots to drink and wildly flirting," the source said. "It was very clear there was an electric chemistry between them and something had gone on." Although the two have never confirmed if they actually dated, Scherzinger was spotted in 2017 wearing a Styles graphic T-shirt after a night of partying in London, per Teen Vogue. While that doesn't prove that the pair were involved at one point, it sure proves she's still a fan.
Styles, on the other hand, did make one thing clear — he's attracted to older women. Most of the ladies he's dated have been older than him, including his relationship with his "Don't Worry Darling" director, Olivia Wilde, who is 10 years his senior. In January 2021, Page Six reported that Wilde and Styles were dating after they were spotted attending a wedding together.
Fans have criticized the two, in particular Wilde, for the relationship. "It's obviously a difficult feeling to feel like being close to me means you're at the ransom of a corner of Twitter," Styles told Rolling Stone. However, Wilde believes not all of his fans are overly critical. "I don't personally believe the hateful energy defines his fan base at all," she told the outlet.