The Brutal Way Chris Rock Got Rejected By Rihanna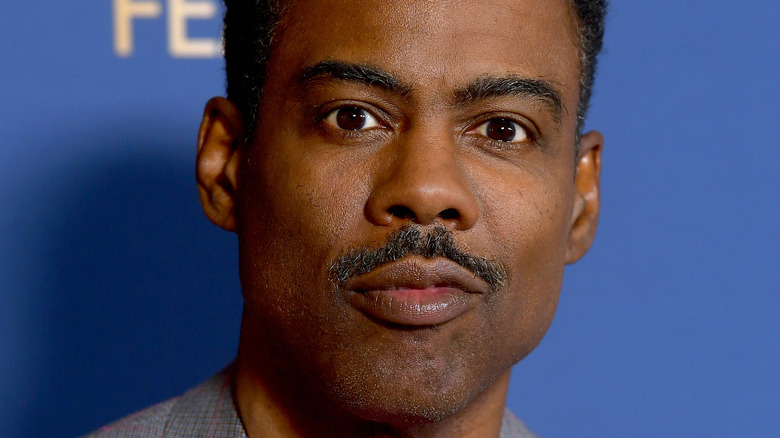 Matt Winkelmeyer/Getty Images
Many viewers had to pick their jaws off the floor after seeing Will Smith slap Chris Rock at the 2022 Academy Awards. Whether you thought Smith's punishment for Rock's bad joke fit the crime or not, one thing is clear: It was among the most exciting things to happen at an award show since that singer got on stage with a snake — and we're not talking about Britney Spears. Though the memory of the slap heard around the world still resonates in the minds of pop-culture enthusiasts like us here at Nicki Swift, it isn't the first time that the comedian has faced humiliation at the hands of a fellow A-lister — which has us thinking that everybody really does hate Chris.
Rock has always counted himself among the ranks of celebrities who have had something of a crush on Rihanna. Heck, he even made a wisecrack about her at the Oscars in 2016, per Billboard: "Jada boycotting the Oscars is like me boycotting Rihanna's panties. I wasn't invited. Oh, that's not an invitation I would turn down." Of course, there's a grain of truth in every joke, and it turns out the comedian once tried to shoot his shot with the singer. But Rihanna didn't have love on the brain; she rejected Rock in what must have felt like a slap on the face.
Chris Rock got put in the 'uncle zone'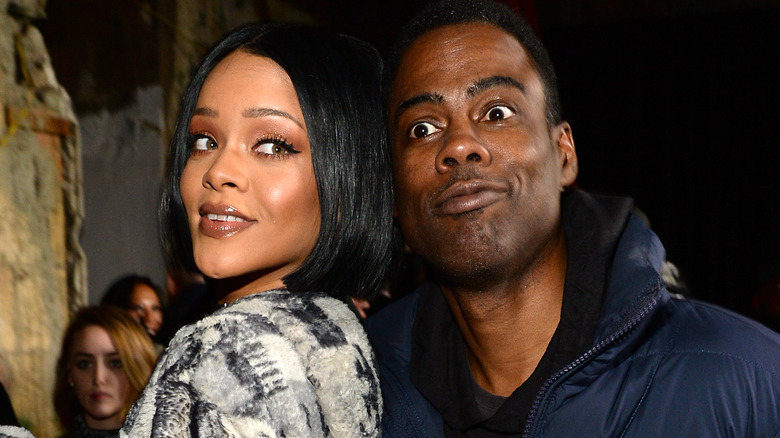 Kevin Mazur/Getty Images
When Chris Rock stopped by "The Tonight Show," Jimmy Fallon couldn't help but bring up that time the comedian tried and colossally failed at asking Rihanna out. "I don't know if you want to tell anyone the Rihanna story," Fallon posed to Rock, who sheepishly quipped: "Oh, the Rihanna story. Me trying to talk to Rihanna? Because I thought, 'Hey, I'm single now, let me give it a go.'"
Rock, who stammered as he thought of the right words to use, eventually said, "You ever not realize how old you are? Like, I couldn't tell how old I was." He explained that Rihanna is as pretty as a picture and that her life would be the same regardless of her vocal chops. "She'd have clothing lines; people would be asking for autographs."
Fallon tried to soften the blow of Rock's rejection to no avail, telling the comedian it would be flattering to be hit on by someone as legendary as he is. To that, Rock replied: "Oh. That did not register at all. She's like, 'Have you seen Ray J?'" Rock explained that Rihanna looked at him as if he was one of her aunts — that is, completely devoid of any sexual interest. "When a girl says she doesn't want to have sex with you, at least she thought about having sex with you," Rock quipped. "I was, like, in the uncle zone."
He isn't the only person Rihanna has rejected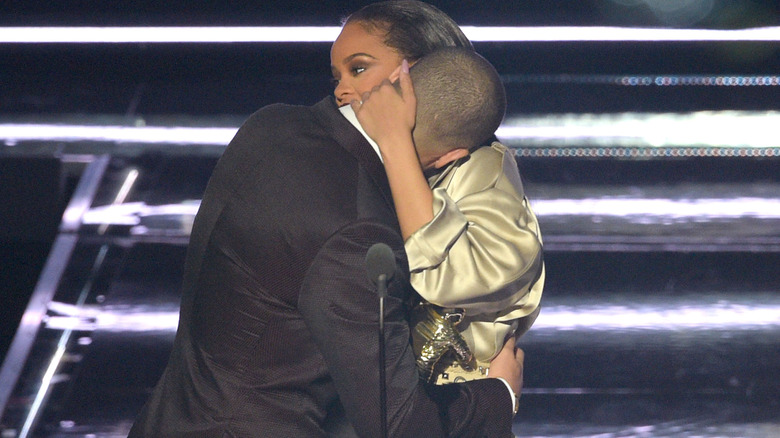 Jason Kempin/Getty Images
Chris Rock is hardly the first celebrity to be turned down by Rihanna, who recently welcomed her first child with rapper ASAP Rocky. According to Nylon, when Justin Bieber was still rocking the shaggy top with a side-swept fringe, the then 16-year-old found himself seated next to RiRi at an NBA All-Star game — and despite their seven-year age gap — tried to get her phone number. She refused, but that didn't stop the "Sorry" singer from laughing about it. Bieber shared a photo of him showing Rihanna his phone, alongside the self-deprecating caption: "'Can I have your number please' — Justin. 'Nah' — Rihanna."
When Rihanna showed up to the 2016 VMAs, she didn't expect Drake to profess his love and use her big moment as a backdrop for some grand gesture, but that's exactly what happened. According to Grazia, while presenting the "Umbrella" singer with her Michael Jackson Video Vanguard Award, Drake called Rihanna "someone I've been in love with since I was 22 years old." And then, when the Caribbean Queen came to collect her award, Drake had the audacity to lean in for a kiss — which was swiftly rejected. Rihanna later called the moment "uncomfortable," in an interview with Vogue — a statement that we wholeheartedly agree with. Sorry, Drake, I guess it wasn't part of "God's Plan."