DWTS Pros Sasha Farber And Emma Slater Have Heartbreaking Marriage Update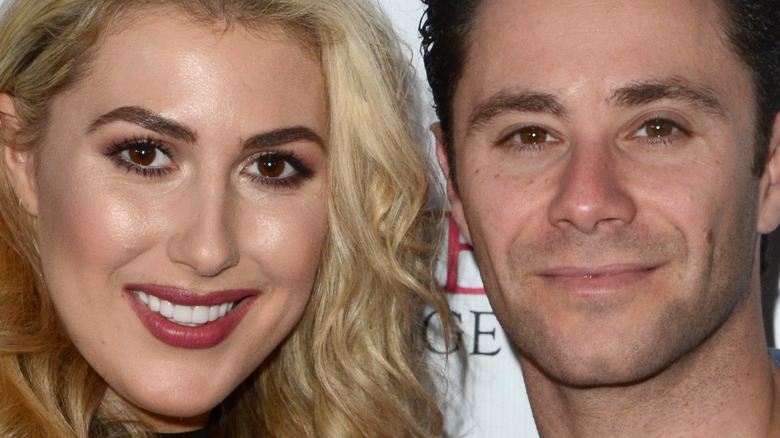 Kathy Hutchins/Shutterstock
Emma Slater and Sasha Farber have a long history together. The pro dancers met on "Dancing With the Stars" in 2009, when they developed a close friendship. "#Tb to when we were just best friends," Slater captioned a January 2016 Instagram selfie that showed them looking all baby-faced. But that deep bond turned into something more about two years later, according to Us Weekly. They balanced work and a personal relationship until 2014, when the British and Russian natives parted ways.
Despite their split, Slater and Farber managed to maintain a healthy professional relationship. "It goes through moments, but I think the world of Sasha. I really do," Slater told Glamour in December 2014. After breaking up, they jumped right back into friendship mode. "I'm always going to be his best friend. I feel like his best friend right now," she added. Their bond was so tight that Slater and Farber even continued to share the same roof. "We're family. He's the only family I have in America, and we still love each other. For now, living together is just totally fine," she explained.
The breakup didn't last, though. By 2015, they were back together, Us Weekly noted. A year later, Farber proposed in grand style on "DWTS" — with the help of Tom Bergeron and all, People reported in October 2016. "Sasha, I always thought you had the potential to host," he said. In March 2018, Slater and Farber tied the knot. Their marriage, however, has come to an end.
Emma Slater and Sasha Farber have reportedly separated
Emma Slater and Sasha Farber are headed toward divorce after four years of marriage, though divorce papers have yet to be filed, according to Us Weekly. The "Dancing With the Stars" dancers' separation is reportedly no recent event. "They've been apart for many months now," a source said. "They both have not been wearing their wedding rings and are each leading a single life." For the time being, Slater and Farber are working out what their shared future might look like. "It's been a difficult time since they really care about each other and have been together for so long," the insider detailed.
Slater has indeed uploaded recent photos that feature her with a bare ring finger. The Instagram snippets from her Italian vacation offer some examples. She also appeared to have attended a wedding in July without a plus-one. Slater hasn't shared pictures of Farber in several months, either. The last seems to be from his birthday on May 9. "What a special one you are, no doubt about that. Thank you for all that you do and all that you are. You are so loved, loved by everyone and you deserve the best always," she captioned the post.
But even then, fans felt something was already off. "Sounds like a friend post," one wrote. Other Instagram users pointed out that she barely ever posted couple photos anymore. "I miss seeing pictures of you and Sasha together!" another user said.