What Prison Was Really Like For Kiefer Sutherland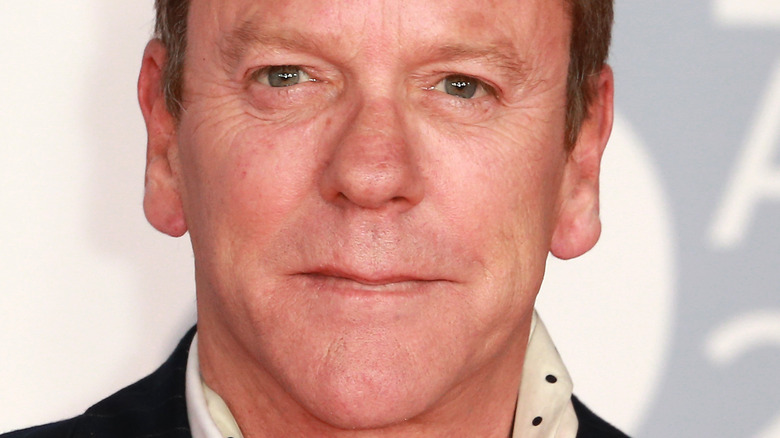 Cubankite/Shutterstock
Kiefer Sutherland's relationship with alcohol is complicated. It might be easy to laugh at the "24" star attacking a Christmas tree like a freaked-out cat in 2005, but the actor has gone way beyond doing silly stuff in hotel lobbies while intoxicated. Sutherland has a history of drunk driving that goes back decades. The first time the British-Canadian actor was arrested for a DUI was in 1989, according to People. In addition to the DUI charge, Sutherland was also accused of having a loaded weapon on him, a charge that was dropped when he pleaded no contest to the first offense.
Sutherland was arrested again in 1993, once again making a deal with prosecutors in exchange for a no contest plea, according to ABC News. He was sentenced to 200-plus hours of community service for the crime. The Emmy and Golden Globe winner went more than a decade without any run-ins with law enforcement. But that changed in 2004, when he was again caught driving under the influence. He pleaded no contest once more.
Sutherland received a five-year probation sentence and was ordered to complete a treatment program, Reuters detailed. He was still on probation when he was arrested a fourth time in September 2007, which also violated the terms of his agreement. This time around, he couldn't get out of it through a plea deal and had to serve time.
If you or anyone you know is struggling with addiction issues, help is available. Visit the Substance Abuse and Mental Health Services Administration website or contact SAMHSA's National Helpline at 1-800-662-HELP (4357).
Kiefer Sutherland certainly felt out of his element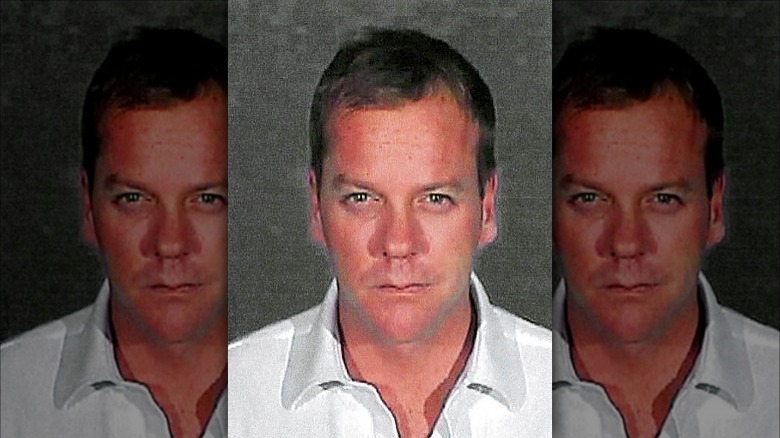 Glendale City Police Department via Getty Images
As a professional actor, Kiefer Sutherland is trained to visualize a wide range of scenarios in his head. And prison was precisely how Sutherland had pictured it. "You ever get a brochure for a holiday and you get there and it's not quite what you're expecting?" he said on "Late Night with David Letterman" in 2008. "Jail is not that. It's exactly as advertised." Even though he encountered no glaring surprises on the inside, he was acutely aware he was out of his element. "One of the gang members in one of the cells was making all his signs to me, which I certainly didn't understand, and I went like that," he told Letterman, forcing a smile and throwing up two thumbs up. "He got a chuckle out of that."
Sutherland also recalled feeling like a cliché while in the shower in his first days in jail. "[I was] very conscious and looking around. And I, actually, I dropped the soap," he laughed. He considered his choices before making his next move. "I remember looking down at the soap and looking around, and I went, 'Soap is overrated.'"
A year out from his sentence, Sutherland relied on humor to cope. But he's had enough time to process the seriousness of what happened. "Man, there ain't no sound I learned to hate more than the sound of the county jail gate," he said on the "Kyle Meredith With" podcast in January 2022.
Kiefer Sutherland never gave up alcohol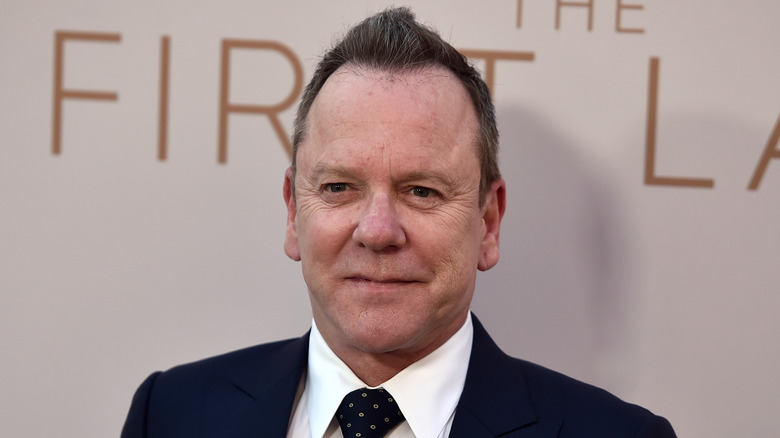 Alberto E. Rodriguez/Getty Images
Kiefer Sutherland is aware his drinking crossed boundaries, but he never thought he actually had a problem that required total avoidance. "If something was wrong in my life or something wasn't right, I didn't go drown my sorrows," he said on People's "The Jess Cagle Interview" in 2016. Drinking was always one of his favorite social activities, one he admits he has occasionally taken too far. "I can also look back on my life and tell you very squarely that the only bad things that have ever happened to me in my life have been because I like to go to bars and have drinks with my friends," he reflected.
After his stint in jail, Sutherland had yet another brush with the law in 2009 when a man accused the actor of headbutting him at a Manhattan bar, The New York Times reported. Because Sutherland was still on probation, he could've been sent to jail again for assault, according to ABC News. But police dropped the charges when he and the victim released a joint statement, per The Associated Press (via CP24).
Now in his 50s, Sutherland sees no humor in the behavior he exhibited a decade and a half earlier. "I'm laughing out of a kind of sense of embarrassment and absolute humility," he said on the "Kyle Meredith With" podcast, adding: "Those moments ... you're just so cross and angry with yourself that you've allowed yourself to do something so stupid and lazy."