Why It Was So Meaningful For Jennifer Connelly To Meet Prince William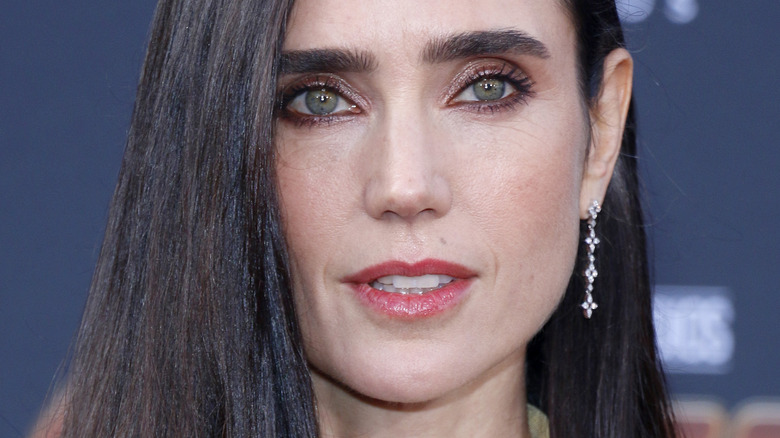 Tinseltown/Shutterstock
Jennifer Connelly was thrust into the limelight as a teenager when she booked an uncredited role in a Duran Duran music video, per IMDb. She then went on to star in her first movie, "Once Upon A Time In America," released when she was just 14 years old. Since her illustrious start, Connelly's career has only gotten better with the likes of movies such as David Bowie's epic fantasy flick "Labyrinth," "Mulholland Falls," "A Beautiful Mind," "Requiem for a Dream," and fan-favorite TV series "Snowpiercer."
However, Connelly's latest role has grabbed the attention of many fans. She plays Penny Benjamin, Tom Cruise's on-screen love interest in "Top Gun: Maverick." As one fan said, "Finally watching Top Gun Maverick. I am loving seeing Jennifer Connelly ...bonus points for David Bowie playing during her first scene," referring to her breakout role in "Labyrinth." Another gushed, "I just came home from watching Top Gun Maverick. Let me tell you the main reason to see this movie is ... Jennifer Connelly. The woman is still the most beautiful woman in Hollywood."
"Maverick" racked up $124 million during its international opening weekend, making it Cruise's biggest opening yet, per Deadline. Cruise and Connelly rode the wave of the film's success and attended red carpet events worldwide. One of their stops was London, where the actors went on to meet some members of the royal family, per People, and the moment was particularly special for Connelly.
Jennifer Connelly met Prince William's mom, Princess Diana, at a premiere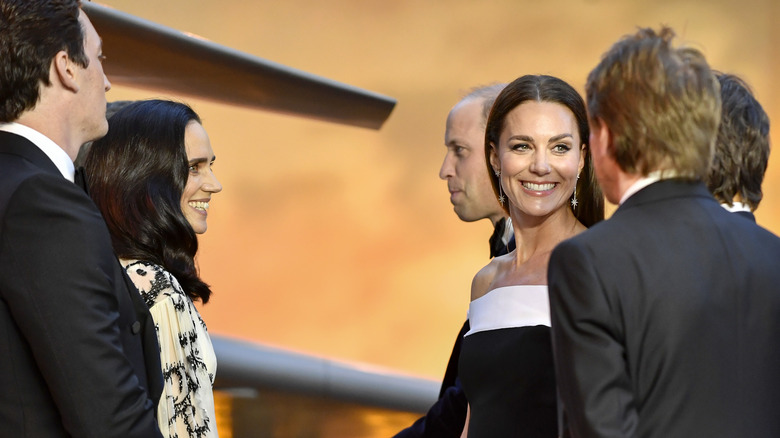 Gareth Cattermole/Getty Images
Jennifer Connelly was starstruck when she attended the London premiere of "Top Gun: Maverick." And while most fans' eyes were presumably on Tom Cruise, Connelly found herself searching for the royals. According to People, Connelly was interested in gauging Prince William and Catherine, Duchess of Cambridge's reaction to the flick. The actor told the outlet, "I kept peeking over to check their reactions, and they seemed to be having a great time." Connelly later told Entertainment Tonight, "It was, you know, it's a very special occasion." She added, "Kate and William were both so gracious and reached out and shook our hands and they are just impeccable." Connelly shared that when she met Wills she "definitely thought about" the time she met his mother.
This was not the first time that Connelly encountered a royal, you see. She had previously met his mother, Princess Diana, in 1986, when William was only 4 years old. Like his mother, the duke met Connelly at a red carpet event. The actor and mother-of-three even took to Instagram to share her memories. She started off the post, writing, "My last time at a Royal Premiere!" In the snap, a 15-year-old Connelly wore a demure, black dress, while the Princess of Wales sported a sophisticated cream dress. It shouldn't be surprising that the flick that garnered the attention of the princess was the one that put Connelly on the map. 
Jennifer Connelly (and a monster) met Princess Diana
Jennifer Connelly met both Prince Charles and Princess Diana at the royal premiere of "Labyrinth." The star shared a throwback photo where she commemorated the first time she met a British royal. "Meeting Princess Diana at the Royal Premiere of Labyrinth in 1986." She then reflected on attending another royal premiere as part of the "Top Gun: Maverick" cast. 
Connelly told Entertainment Tonight about her first royal premiere, recalling that it occurred "[in] 1986... for the premiere of 'Labyrinth,' which was a movie I did when I was a teenager." she said. "And I got to meet William's mom, [Princess] Diana." In ET's clip, Prince Charles first meets Connelly. She takes the prince's hand, smiles, and curtsies, as they briefly talk.
In the meantime, Diana was being entertained by the likes of Sir Richard Attenborough and... a creature? Ludo, the mythical monster who stars in "Labyrinth," also attended the premiere and singled out Princess Diana for some special attention. When Sir Attenborough asks Ludo, "Can you bow or curtsy for Her Highness?" the monster goes down low, much to the embarassment of the princess. She playfully slaps the legendary conservationist and quickly walks away. Connelly can be seen beaming in the background. Perhaps Connelly was remembering how her previous encounter with the royal family really went down while she shook hands with Wills and Kate?