Inside Katherine Heigl And Sarah Chalke's Real-Life Friendship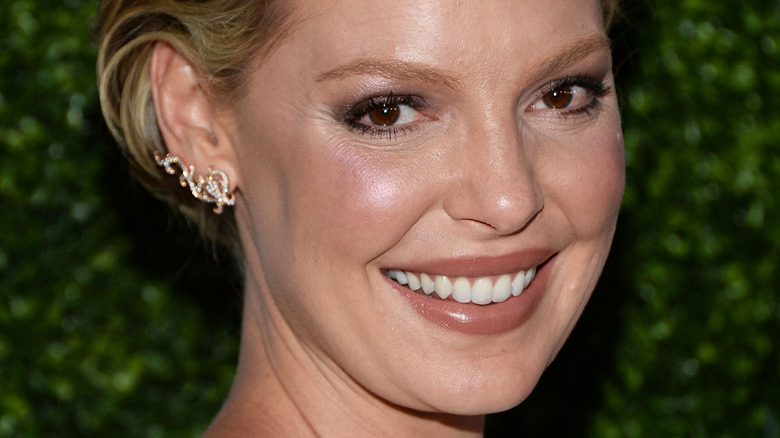 Matt Winkelmeyer/Getty Images
Katherine Heigl and Sarah Chalke's Netflix series "Firefly Lane" chronicles a friendship that endures decades of life's curveballs and triumphs. Before they united on screen, the actors both had successful television careers playing doctors. Chalke appeared on the sitcom "Scrubs" for the entirety of its nine-year run, while Heigl made her dramatic exit from the drama "Grey's Anatomy" after five years in Shondaland. The actors' medical series were dramatically different — much like their "Firefly Lane" characters. 
Heigl plays Tully, whose confident and outgoing personality helps her break into the entertainment business. Chalke portrays her BFF since childhood, Kate, who is pretty much Tully's antithesis. In an interview with 5 NBC DFW, both actors said they have more in common with the less self-assured Kate. "I just related to her so much as a mother and how she struggles with worrying about how motherhood is going to affect her," Chalke said. She also confessed that, like Kate, she's a stickler for the rules.
While Heigl said her fear of being disliked makes it impossible for to be as unabashedly self-assertive and uninhibited as Tully, she explained that she's become a bit more like her character as she's gotten older. "I feel I have a little more chutzpah now that I can stand up for myself a little better and with a little more grace," Heigl told Forbes. In addition to finding common ground with their characters, Heigl and Chalke immediately clicked before a serendipitous casting decision made them co-workers.
Sarah Chalke befriended Katherine Heigl before joining the Firefly Lane cast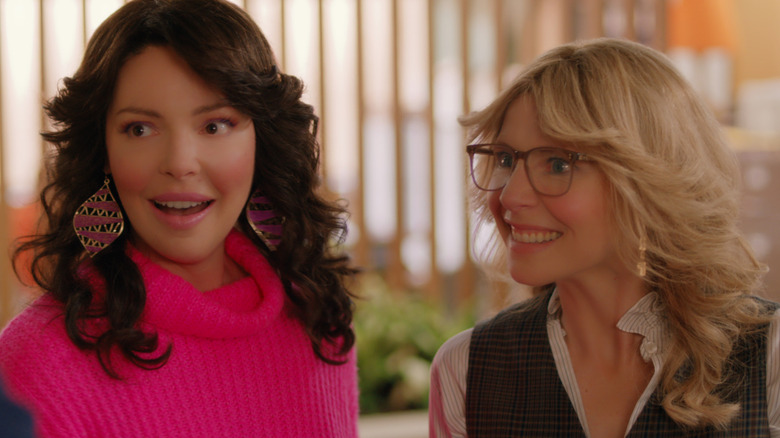 Netflix
After Katherine Heigl decided to executive produce and star in "Firefly Lane," she had to pack her bags and head to Vancouver, where the series was filmed. She was clueless about the area and in desperate need of moving advice, a conundrum she discussed with her former "Suits" co-star Dulé Hill. Per Parade, Hill knew Sarah Chalke, who just so happened to be a Vancouver resident— and he hooked Heigl up with the helpful "How I Met Your Mother" alum. "Mostly, we chatted about kids, schools, and neighborhoods," Chalke recalled. "We just instantly connected and had a lot in common."
While Heigl didn't immediately consider Chalke as a potential co-star, she later realized that her new friend was the obvious choice. "When they mentioned her to me as an option for Kate, I went, 'Oh, my God, she'd be amazing because I love her,'" Heigl told Parade. "She's just an effortlessly good person." Series creator Maggie Friedman confirmed to Forbes that Heigl and Chalke didn't have to fake their warm feelings for one another during filming, and journalist Dana Feldman observed that the actors' real-life friendship was evident in her interview with them.
Chalke told Manny The Movie Guy that she and Heigl enjoyed each other's company so much, that they spent time together on their days off. And in an interview with The Washington Post, she even described Heigl as "somebody I will be friends with for life."
Sarah Chalke and Katherine Heigl both have friendships like Kate and Tully's
Sarah Chalke and Katherine Heigl didn't become BFFs until later in life. However, like their "Firefly Lane" characters, both women forged special bonds with some of their earliest friends that withstood the test of time — so clearly, that deep, meaningful connection is important to both actors.
Chalke met her real-life platonic soulmate, Jen, in kindergarten. The two pals were so in sync that they both eventually decided they wanted to work in the entertainment industry. "So, we packed up our truck and moved to L.A.," Chalke recalled to Parade. "It's just one of those lucky friendships where we've probably spoken every day over the past couple of decades." In an interview with Forbes, Chalke further discussed her reliance on Jen, whose friendship played a pivotal role in her success. "I wouldn't have made it without her," she said.
As for Heigl, she described the group of girls she became tight-knit friends with as a teen in an Instagram post. "We pushed and pulled and cheered and carried each other. We laughed more than we cried, but we cried some too," she wrote. They drifted apart as they got older, but in a cinematic twist, the sisterhood Heigl dubbed the "Sacred Six" reconnected at a high school reunion decades later. "Since then, we have maintained the connection," Heigl told People. "Having that history makes this bond between us so powerful."