What You Don't Know About Prince Harry's Dating Past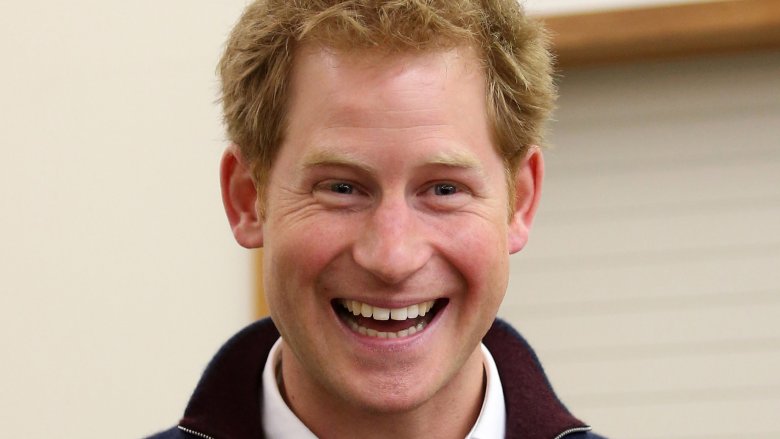 Getty Images
"Dirty Harry," "Wild Child," and "The Playboy Prince" are all nicknames that have been bestowed upon Prince Harry, aka Henry, aka the Prince of Wales, aka the Duke of Sussex, aka sixth in line to the British throne, aka Mr. Meghan Markle. Though the rogue prince settled down and wed the American actress on May 19, 2018, in front of 600 guests, thousands of onlookers outside the chapel, and tens of millions watching live around the world, this beloved royal certainly lived it up during his bachelor years. 
For a long period, Prince Harry's love life was consistent tabloid fodder fueled by alleged cheating scandals and a lengthy list of ladies who've been romanced — or at least groped — by everyone's favorite ginger royal. From a Real Housewife to his sister-in-law's sister, his royal highness' rumored flings know no bounds. In fact, some of his exes were even invited to his wedding!
It seems obvious that the prince is now hopelessly devoted to being a good husband and life partner to his wife, but before we turn our attention to the future, let's take one last look in the rear-view mirror. Here's what you don't know about Prince Harry's dating past.
The Vegas scandal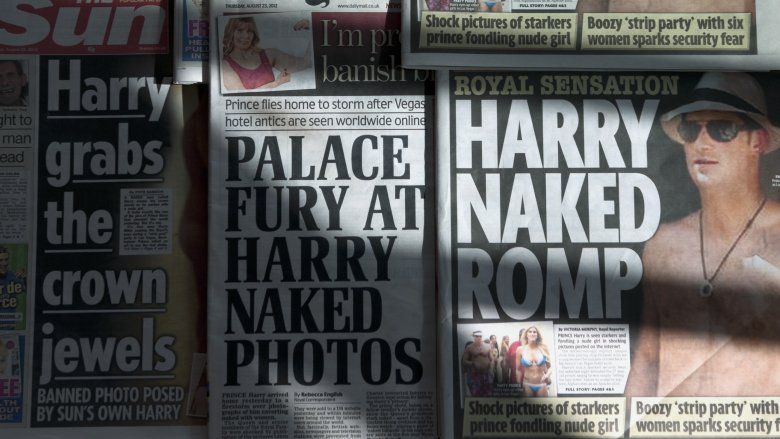 Getty Images
In 2012, TMZ reported on Prince Harry's "naked Vegas rager," during which he was photographed in his birthday suit with several young women during a game of "strip pool." In one photo, Harry is seen using his hands to cup the ... "crown jewels," so to speak. In another, he hugs a nude young woman from behind, exposing his own bare backside.
Needless to say, it was an embarrassment for the royal family, who initially stated that it had "no comment to make on the photos at this time." One of the girls at the party, however, had no problem spilling the beans on her alleged make-out sesh with the prince. Speaking with The Mirror, UK native Carrie Reichert said she received a "random" invite from a member of the prince's crew to come party with them in his penthouse. When she and about ten other girls arrived, Harry was allegedly already naked, drunk, looking "delirious," and encouraging everyone else to disrobe. Reichert claims she made out with Harry for "15 to 20 minutes."
Several months after the photos were leaked to TMZ, Harry finally addressed his royal shame, telling Channel 4 that he let himself and his family down. "It was probably a classic example of me probably being too much army and not enough prince," Harry said, adding, "But at the end of the day I was in a private area and there should have been a certain amount of privacy, that one should expect."
He was briefly linked to Pippa Middleton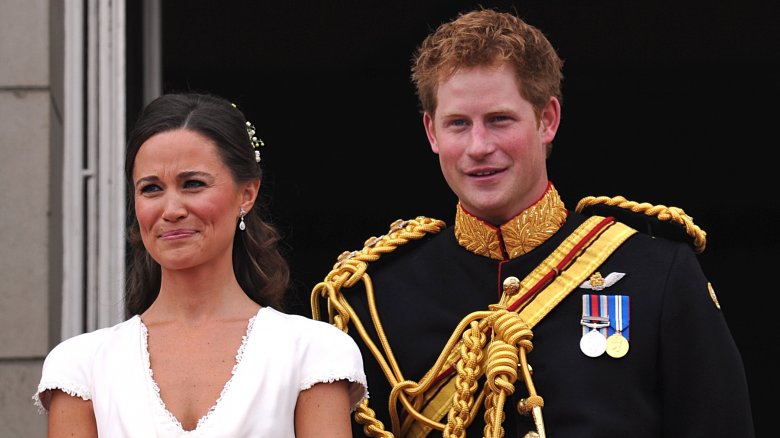 Getty Images
Thanks to his legendary bachelor status, Prince Harry had the misfortune of not being able to even be seen with a woman unless he's prepared to weather an onslaught of rumors about them hooking up. (Rihanna knows what we're talking about.) It has happened repeatedly over the years, but perhaps most notably with Pippa Middleton, the sister of his sister-in-law, Kate Middleton. According to the Daily Mail (via E! News), the rumor mill kicked into overdrive when Harry and Pippa went out for a cup of tea, a surefire indication of impending marriage if there ever was one. 
Harry was quick to poo-poo the romance, allegedly telling fellow concertgoers while attending the Hard Rock Calling concert in Hyde Park a month later, "Pippa? Ha! No, I am not seeing anyone at the moment. I'm 100 percent single." Yeesh. It's no wonder "Mr. Sensitive" isn't one of his nicknames.
Chelsy Davy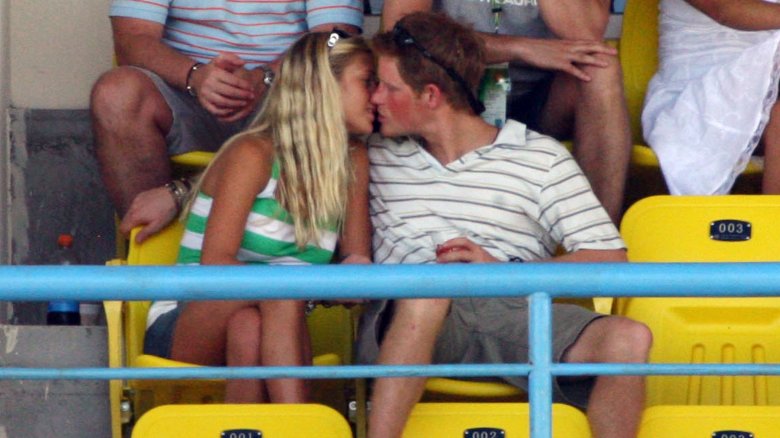 Getty Images
Of all Harry's pre-Markle paramours, Chelsy Davy was the one may have come the closest to a royal ring. Throughout their seven-year, on-again, off-again relationship, Davy accompanied Harry to many high-profile functions, including the 2007 Concert for Diana and "the wedding of Harry's cousin Peter Phillips to Autumn Kelly," which was "her debut at a royal function," according to People. Despite rumors that Harry constantly cheated on her, the real reason for their eventual split in 2011 — after she accompanied him to William and Kate's wedding — was as simple as this: Davy hated the public scrutiny.
In a rare and candid 2016 interview with The Sunday Times, she spoke for the first time about the break-up, even though she confessed that she was "quite scared" to do so. Of the paparazzi, Davy said, "It was so full-on: crazy and scary and uncomfortable. I found it very difficult when it was bad." She added, "I couldn't cope. I was young, I was trying to be a normal kid and it was horrible." In the end, she retreated back to her home country of Zimbabwe where it's "calm." Davy did say that she and Harry will "always be good friends," which the prince seemed to prove when he invited Davy to his May 2018 wedding to Markle.
Natalie Pinkham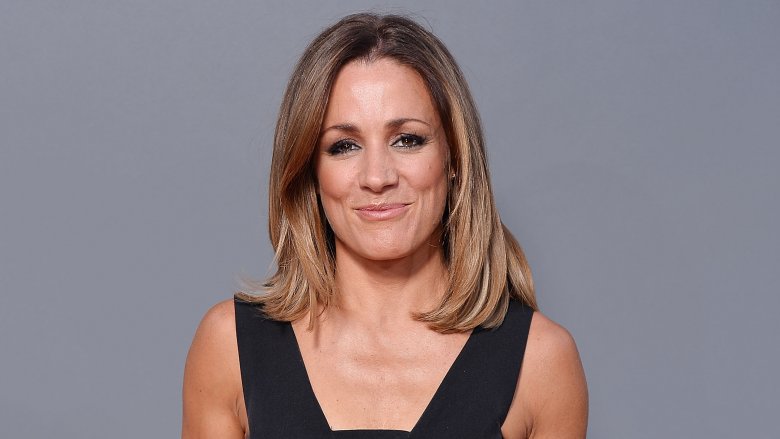 Getty Images
There has never been confirmation of a romance between Harry and his longtime friend, TV presenter Natalie Pinkham, and yet that didn't stop her from becoming the center of one of the more notorious scandals overshadowing Harry and Davy's relationship. The big kerfuffle was over a photo that was stolen from Pinkham's home and published by The Sun. In the scandalous snap, Harry can be seen groping Pinkham's breast and kissing her on the cheek. Other than the obvious problem pertaining to stolen property, The Sun reported that the snap was recent, circa 2006, when it had actually been taken three years earlier, prior to the start of Harry and Davy dating. According to The Guardian, The Sun issued an apology for running the photos under false pretenses, but that probably didn't do much for the embarrassment likely felt by Davy.  
Pinkham wasn't too keen on the incident either. Sources close to her insisted to the Daily Mail that she and Harry had always just been close friends and nothing more. Pinkham herself told the tab, "I never wanted to be a dolly bird. I find fame by association so cringeworthy. If I'm going to do well, I want it to be down to me."
Catherine Ommanney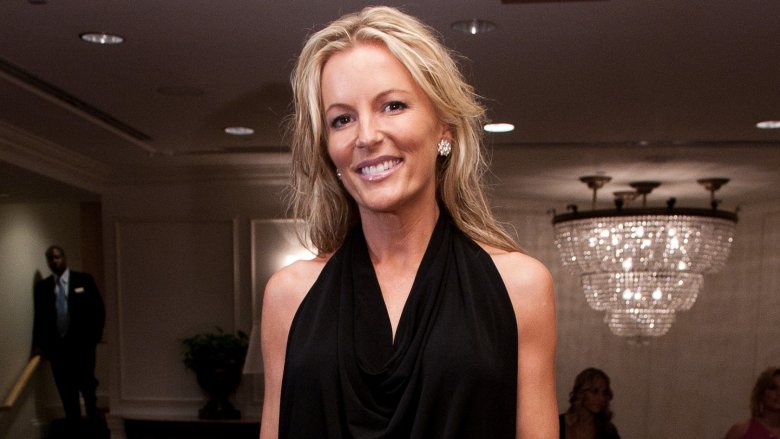 Getty Images
We may be speaking out of turn here, but we're fairly sure that if the Queen Mother had any clue about The Real Housewives of D.C., she wouldn't exactly love it if her grandson was romantically linked to a cast member. Regardless, reality star Catherine Ommanney told the Daily Mail that she had a rendezvous with Harry in 2006. "He was holding me off the floor, kissing me. I was absolutely speechless," she said. One could chalk this up to Prince Wild Thing just being Prince Wild Thing, except the timeline of the Ommanney incident also lands squarely in the middle of his relationship with Davy. Oh, Harry.
Then there are the claims from Ommanney's nanny, Monica Herrero, who told Radar Online that her boss' fling with the Prince of Wales was more than just one passionate kiss. Describing their alleged encounters as "a series of steamy rendezvous," Herrero claims to have witnessed two separate occasions in which Harry sent "a car with a chauffeur" to pick up Ommanney. Herrero also claims to have seen "messages that he sent her" and said Ommanney and Harry had discussed traveling the world together. Granted, that all sounds vague and sketchy, but with Harry's track record, anything seems possible.
Astrid Harbord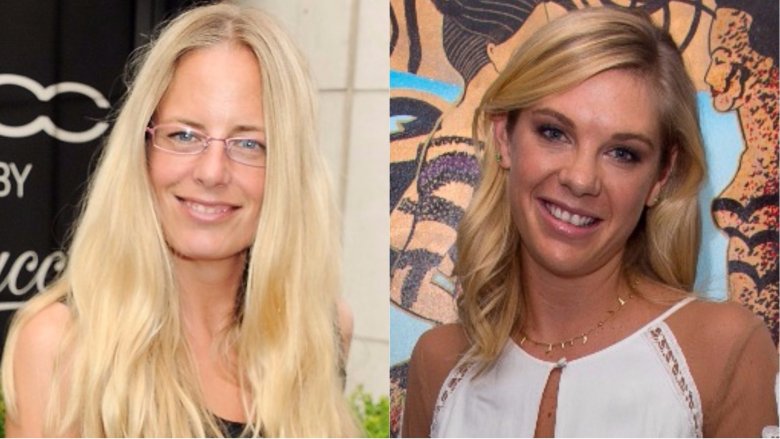 In 2009, Harry scored a tawdry two-fer when he allegedly hooked up with Astrid Harbord (above, left), according to news.com.au. Not only was Harbord supposedly a dead ringer for Davy (above, right), but she also happened to be a close friend of Kate Middleton, Harry's soon-to-be sister-in-law. After clubbing the night away, the ginger prince allegedly scurried Harbord back to Clarence House — his dad, Prince Charles' pad — when Charles was away for the weekend. The kicker to this whole shabby one-night affair? Harry had supposedly spent the weekend before hanging out with Davy. If any of this is true, where did this guy get the energy?
Caroline Flack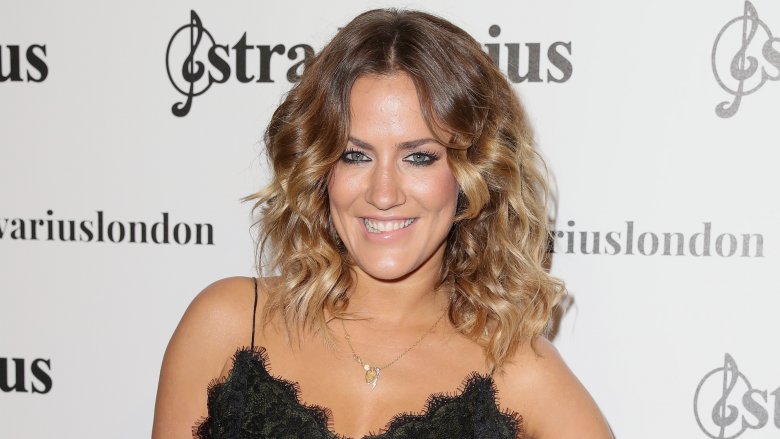 Getty Images
Around the time of his rumored fling with Harbord, Harry was said to be dating X Factor host Caroline Flack. Of course, that assumption was predicated based on the fact that they'd been seen together in public, which by Prince Harry Tabloid Law, meant that, at the very least, they'd probably secretly eloped and had twins on the way.
But while outlets such as Marie Claire breathlessly reported on Harry and Flack going on "another hot date," nothing could have been further from the truth. In excerpts from her autobiography, published by The Sun, Flack said she and Harry merely had "a friendship" after being introduced by a mutual friend, the aforementioned Pinkham. Flack revealed that being friends with Harry isn't much fun once the tabloids sink their teeth into it. "I was no longer Caroline Flack, TV presenter, I was Caroline Flack, Prince Harry's bit of rough," she writes. "The thing about Prince Harry is that he has no choice. He's not some egotistical rock star who wants loads of attention. That is his life. He didn't ask for it, he just has to deal with it." 
Aw, poor Prince Harry. However could he deal with such a plight? We're glad you asked...
Lauren Pope & Cassie Sumner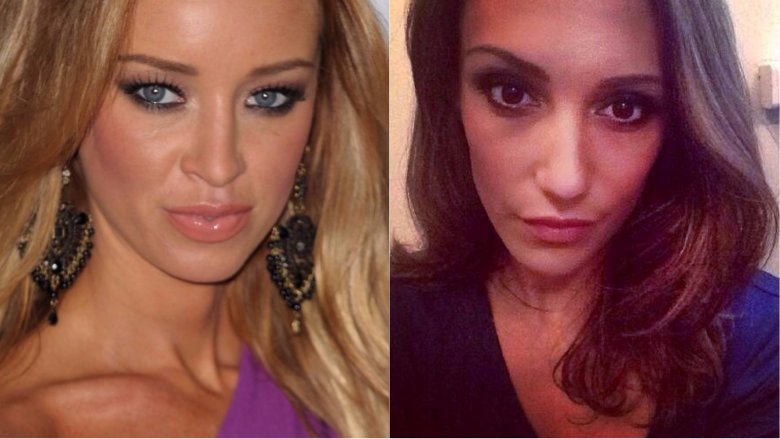 There are two ladies mentioned together here, because Harry allegedly hooked up with them both on the same night at the same club. According to Cassie Sumner's account of the evening, a then-19-year-old Harry spent the earlier part of his evening at London's Chyna White club "kissing and cuddling" model Lauren Pope (above, left). When she left, Harry allegedly set his sights on Sumner (above, right), directing her to his "private table."
"He seemed fascinated with my breasts, because he spent more time looking at them than he did my face when we talked," Sumner told The Mirror. "When I told Harry I was a model his eyes lit up and he ordered a round of Sex On The Beach cocktails." Sumner alleged that the teenage prince ran his hands "up and down the inside" of her thighs, as well as "nuzzled" her earlobes and propositioned her to leave the club with him. Sumner claims she declined. "If I'm honest I didn't really fancy Harry," she said. "I prefer more muscles on a man. But he came across as a lovely lad who was just enjoying a normal night out like any red-blooded single 19-year-old."
Sounds like a classy evening all around.
Cressida Bonas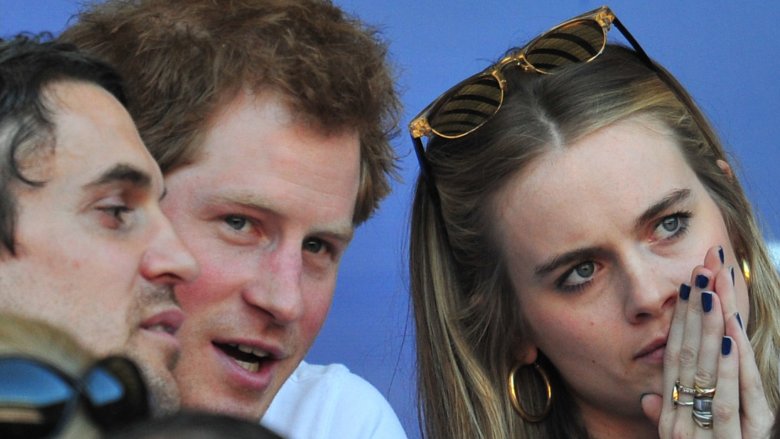 Getty Images
Harry dated actress and British socialite Cressida Bonas for two years before their split in 2014, making her the last in a long line of girlfriends before he decided to settle down. Their relationship didn't make the scandal sheets very often, although it did, of course, frequently generate engagement rumors. In typically tight-lipped fashion, their breakup was not formally announced, but a source told Us Weekly: "They're off, but I don't think it's for good. They hit a rocky patch and this decision is the result of that. Harry is the type to want to take breathers and then try again." (Looking at you, Davy.) 
This pair proved to be off for good, and neither commented on the relationship until Bonas' 2017 interview in The Observer. When asked how she felt about having her life "defined by a much more famous man," Bonas replied, "It's incredibly frustrating, especially in the industry that I'm in, but it is the way it is." 
Author Ingrid Seward, who's written frequently about the royals, expanded on Bonas' frustrations, telling the Daily Mail, "She just said it was awful because every time she walked down the street she could hear people criticizing her. They would whip out their phones and take photos of her. They'd say 'Oh look at her hair. Oh look at her clothes, look at her boots, she hasn't got her laces done up.' I mean this is just a normal, pretty girl and she just couldn't take it. She just thought 'Why are they getting at me?'"
Meghan Markle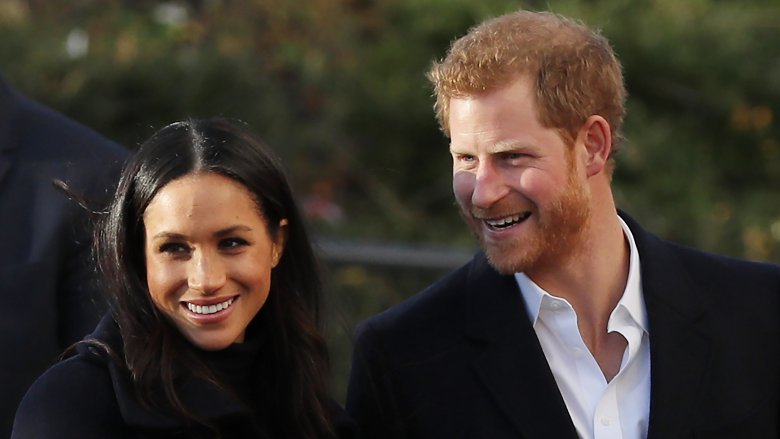 Getty Images
That brings us to Meghan Markle, the Suits actress and philanthropist who tamed the royal rapscallion and ended up with a proposal to join the the royal family. Ever since reports started to surface around November 2016 that Prince Harry and Markle's relationship had gotten "serious" after a few months, hardly a detail has gone unreported. But a lesser known tidbit about Harry and Markle's courtship is the fact that she actually lost her job because of it. In a November 2017 interview with Radio 4's Today (via BBC), Suits creator Aaron Korsh revealed that he wrote Markle off of the show when he realized how serious she was getting with Harry.
"I knew from a year ago that this relationship was burgeoning, and I had a decision to make because I didn't want to intrude and ask her, 'Hey what's going on and what are you going to do?'" Korsh said. "So collectively with the writers, we decided to take a gamble that these two people were in love and it was going to work out...which would likely mean her leaving the show." And so they wrote her off, citing the fact that it was "much easier to undo that, if it came to it, than to just plan on her staying forever and then finding out she's going to go."
Though she was essentially unceremoniously fired, Markle took the whole thing in stride, telling Sky News, "I don't see it as giving anything up. I just see it as a change... We were very, very fortunate to have that sort of longevity on a series... I've ticked this box, and I feel very proud of the work I've done there, and now it's time to work with [Harry] as a team."