Gwen Stefani's First Love Isn't What You'd Expect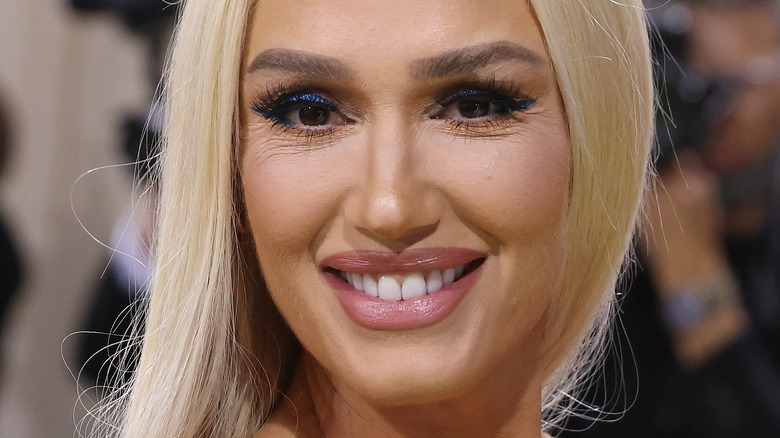 Taylor Hill/Getty Images
Gwen Stefani took over the airwaves in the '90s by singing about a lost love. "When I went through all my personal tragedies in the past ... music was the thing that was like my savior," she told WWD. But the "Don't Speak" singer doesn't need saving these days — her cup is overflowing with love. One of those loves is, of course, Stefani's husband, Blake Shelton. Their unlikely relationship allowed Stefani to indulge her love of making music alongside the love of her life, and she cried when Shelton asked her to record the country song "Happy Anywhere" with him. "It was such an honor to be asked on a different genre, and with someone that I respect and love so much," she told Wonderland.
Stefani's three sons — Kingston, Zuma, and Apollo — are also on the receiving end of the "Hella Good" hitmaker's love and the boys found themselves getting double the doting when Shelton entered the picture. "I can't imagine my life without these kids now," the happy stepdad told KFROG's "The Ride with Kimo & Heather."
Through all of her ups and downs, an appreciation for style has been a constant in Stefani's life. She revisited some of her most beloved looks in the 2021 music video for "Let Me Reintroduce Myself," telling Vogue, "It's incredible how those outfits have stood the test of time." But before the men and the boys and the clothing and the noise, there was only one apple of Stefani's eye.
Gwen Stefani's love of makeup goes way back
Gwen Stefani's love affair with makeup has come full circle with the release of her own line of cosmetics, GXVE. "Before there was music, it was makeup for me. I've always loved makeup, and I think it's because I have an artistic eye," Stefani told LuisaViaroma. In addition to its functionality as a tool for artistic expression, she appreciates makeup's ability to transform and provide a boost of self-confidence. "What's so empowering about launching a makeup brand is sharing something I know will make people feel good," she stated.
Stefani learned about the power of a pop of color and a coat of mascara long before she launched her pop career. She landed a job working at a makeup counter in a mall in Anaheim, where she was tasked with giving potential customers makeovers. She was untrained, but quickly discovered that she was a natural with a brush and some blush. "I just remember making people feel so much joy and so inspired and so full of confidence, and that's what makeup can do," she recalled to WWD.
But when it comes to her own makeup application, Stefani prefers for the process not to be a ménage à trois between herself, her beauty products, and a makeup artist. "I never worked with a makeup artist my entire career, really, other than one here or one there. ... I've just been very controlling about it," she told Glamour.