Inside Elton John's Beef With Madonna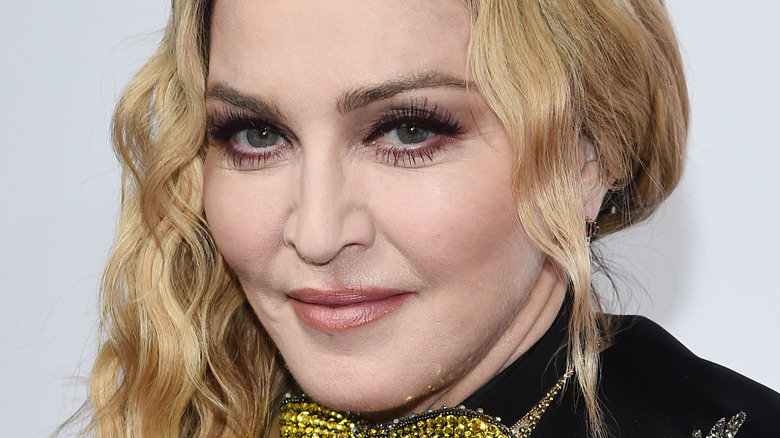 Ilya S. Savenok/Getty Images
Madonna has never been one to not speak her mind, whether that be in her songs or in interviews. Madonna has been on the entertainment scene since the early 1980s and has found herself rubbing people the wrong way more than a few times.
In the early 1990s, Madonna didn't hold back her feelings toward powerhouse vocalist Mariah Carey. As MTV mentioned in 1995, Madonna reportedly said that Carey is "not particularly bright" and that she would rather "kill herself than be Mariah Carey." In return, Carey threw shade at the singer and said she hadn't "paid much attention to Madonna since like I was in 7th or 8th grade when she used to be popular." Carey is not the only pop diva with whom Madonna has clashed, either. In 2012, Cynthia McFadden asked Madonna how she felt about Lady Gaga. Madonna insisted that Gaga's "Born This Way" sounded similar to her hit "Express Yourself," and sassily remarked that it felt "reductive." At one of her concerts, Madonna discussed Gaga and said, "Imitation is the highest form of flattery." The following year, Gaga clapped back on Howard Stern's radio show and said that she believed Madonna was "more aggravated that I'm not upset that she doesn't like me."
This isn't where Madonna's list of feuds end. She and Elton John have also clashed numerous times.
Elton John said Madonna's Die Another Day was 'the worst Bond tune ever'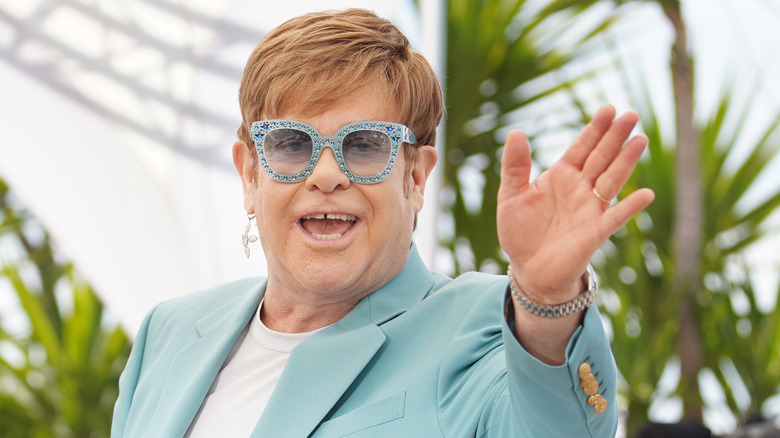 Denis Makarenko/Shutterstock
Madonna and Elton John might be two of music's most celebrated names, but that doesn't mean they've always gotten along. In 2002, Madonna released the single "Die Another Day" for the James Bond movie of the same name. Despite claiming he's a "big fan" of the singer, John didn't hold back and boldly described it to Sky News (via CBS News) as "the worst Bond tune ever." Two years later, it seems John still had sour feelings towards Madonna.
At the 2004 Q Awards, Madonna took home the trophy for Best Live Act. Later on in the evening at the same award show, John made it clear on stage how he felt. "Madonna, best f***ing live act? F*** off!" he said. "Since when has lip-synching been live? Anyone who lip-synchs in public on stage when you paid like 75 quid to see them should be shot." Ouch! John joked that he was going to be taken off her Christmas cards list. However, her spokesperson soon had something to say. "Madonna does not lip-synch nor does she spend her time trashing other artists ... Elton John remains on her Christmas card list, whether he is nice ... or naughty," they shared, per CBS News.
John later admitted his comments were "unfair" and said he would apologize to the singer in person. Despite that, Madonna still wasn't happy with John and refused to perform at his bachelor party. John told guests that Madonna was a "miserable cow."
Elton John called Madonna a 'fairground stripper'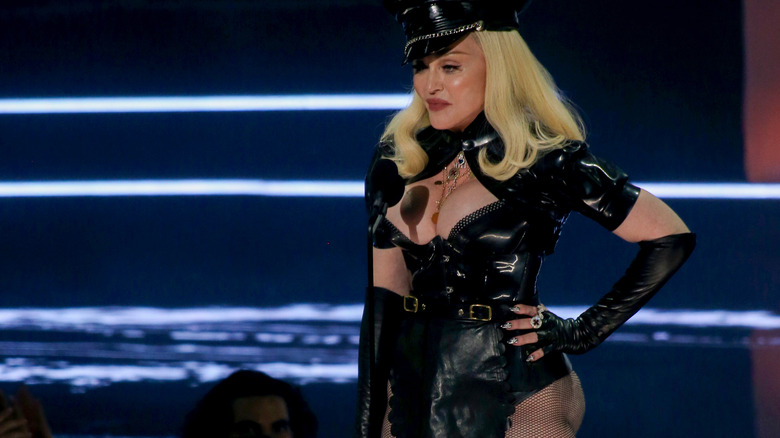 Bennett Raglin/Getty Images
Elton John and Madonna's feud continued to turn sour in the following years. When both were nominated for best original song at the Golden Globes in 2012, John said in an interview on the red carpet ahead of the award show that Madonna had "no f***ing chance" of taking home the award. When informed about John's salty words, Madonna seemed unfazed and said, "May the best man win." John was soon proven wrong when the "Hung Up" hitmaker did in fact win the award. In a now-deleted Facebook post with his husband, David Furnish, the pair wrote (via CBS News), "These awards have nothing to do with merit," before expressing that her acceptance speech was "embarrassing."
That same year, John continued to speak his mind about Madonna. In an Australian television interview (via ABC News), John referred to the "Material Girl" as a "nightmare" and insisted that her "career is over," that she had been "so horrible" to his friend, Lady Gaga, and that her most recent tour at the time had "been a disaster." That's not all, however. John said she is capable of making good pop music and explained she should have stayed away from the dance genre, referring to her image as "a f***ing fairground stripper."
By 2013, John told Extra that their long-lasting feud was "over and done with" after he apologized to Madonna when they were both in the same restaurant in France. "She came in, and I sent over a note. She was very gracious," he said.