Inside Jennifer Garner's Friendship With Ina Garten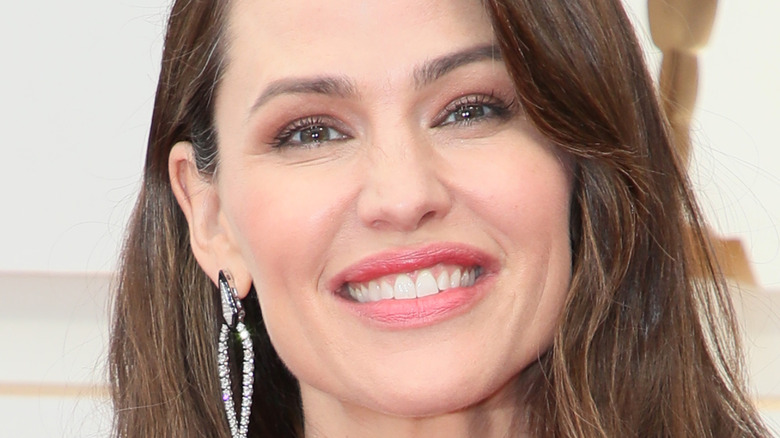 David Livingston/Getty Images
There's nothing that brings people together more than food, and Jennifer Garner and Ina Garten are living proof of that. Garner is widely known for her performances in top films such as "Peppermint," "Dallas Buyers Club," "Catch & Release," and the iconic "13 going on 30." Now, we can add chef to her list of accomplishments.
During the beginning of COVID-19 pandemic, Garner started cooking more as a way to bond with her kids. "Cooking connects me to my family because my mom was such a steady, solid, really great cook," she told "Good Morning America" in November 2020. "Whenever I smell a roast chicken or fresh bread baking or my neighbor Marge's gingersnaps in the oven, it connects me to my childhood. And I feel like I'm passing that on, and that comfort and coziness, as much as I can to my kids, as well as an expectation that they will grow up and they know what healthy food is."
The down-to-earth mother of three is always down to try something new. Through her fun-filled foodie videos, Garner brought a sense of positivity into the homes of many — including the "Barefoot Contessa" star.
How did Jennifer Garner and Ina Garten meet?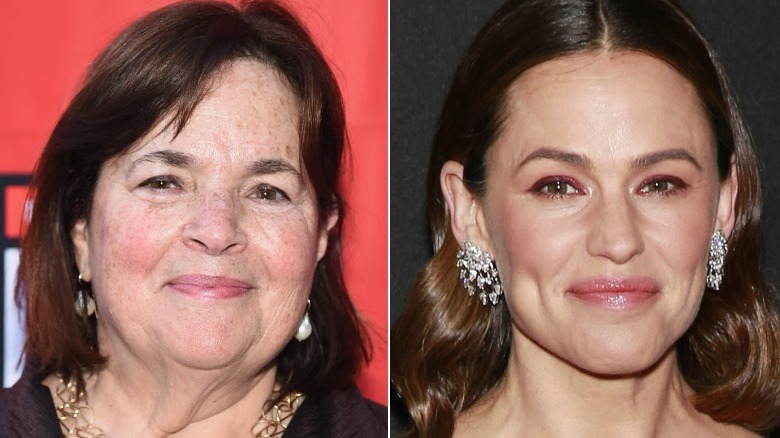 Ovidiu Hrubaru/Shutterstock & Michael Loccisano/Getty
Jennifer Garner's friendship with Ina Garten is the relationship we didn't know we needed. But how did the host of "Barefoot Contessa" and the actor meet? Per People, the friends first connected around 2015 when Garten heard Garner was interested in cooking with her. "Somewhere along the line, I found out that she liked my cookbooks and my TV show, so I asked if we could cook together," Garten told the publication in 2018. "She was very sweet [and] she invited me to her birthday party. It was all girls in swimsuits — it was so Jennifer! It was so fun and not fancy, which is what she's like." The two have bonded over all things edible ever since.
We can't blame Garner for being obsessed with Garten. The culinary queen currently has 13 cookbooks, according to her website, and she sure knows a thing or two when it comes to whipping up a delicious dish. In 2015, the award-winning chef shared with Epicurious that writing cookbooks was "in [her] DNA," and that creating culinary masterpieces is "as good as it gets." Honestly, we can see why; her creations spark joy regardless of a person's level of expertise in the kitchen.
It comes as little surprise, then, that Garner and Garten often bond while chatting and whipping up tasty dishes in the kitchen.
Ina Garten is a fan of Jennifer Garner's Pretend Cooking Show
Jennifer Garner and Ina Garten have documented their blossoming friendship on social media since they first cooked together. Garner has even launched a "pretend cooking show," on which she often used Garten's recipes. In the clip from 2017, the "Juno" actress paid homage to the chef by making honey white bread, a recipe from the book "Barefoot at Home." As luck would have it, the celebrity chef saw the video and shared her approval. "I love her videos so much," Garten told People in March 2018. "She is adorable and smart and not at all performing — that's just who she is. I just think she's really special."
The admiration is mutual, as the pair has been smiling and sharing foodie tips and tricks — and of course, making everyone jealous along the way. At one point, Garner was so giddy about her time with Garten that she took to Instagram in July 2018 to reflect on their "perfect morning." In the post, she gushed, "I spent the morning with @inagarten. In her barn kitchen, in her garden, having coffee ... yes. It's true." Garner also shared that she got a sneak peek of Garten's "fabulous" book, gushing that she couldn't wait to "continue the conversation."
This budding friendship is exactly what we need. We can't wait to see what this dynamic duo whips up next!