Colin Kaepernick Accepts Sports Illustrated Award From Beyonce
The athlete and activist received a major honor from one of the world's biggest superstars.
On Tuesday, Dec. 5, 2017, Sports Illustrated held their Sportsperson of the Year ceremony at Brooklyn's Barclays Center, honoring men and women in sports who've made achievements on and off the field. And while Houston Texans player J.J. Watt and MLB star José Altuve were named as Sportsperson of the Year honorees, many people are talking about Colin Kaepernick's big win—especially since the award was presented by Beyoncé.
"Hello, everyone," Beyoncé (full name Beyoncé Knowles Carter) told event attendees, most of whom were likely shocked by the singer's surprise appearance. "It feels so good to be here on such a special night of appreciation."
"Thank you Colin Kaepernick. Thank you for your selfless heart, and your conviction," Beyoncé stated in a speech before welcoming the football player to the stage to accept the Muhammad Ali Legacy Award (via NBC News). "Thank you for your personal sacrifice. Colin took action with no fear of consequence or repercussion only hope to change the world for the better. To change perception, to change the way we treat each other, especially people of color."
Beyoncé is, of course, referring to Kaepernick's decision to kneel during the national anthem at NFL games in an attempt to protest racial inequality and police brutality in the United States.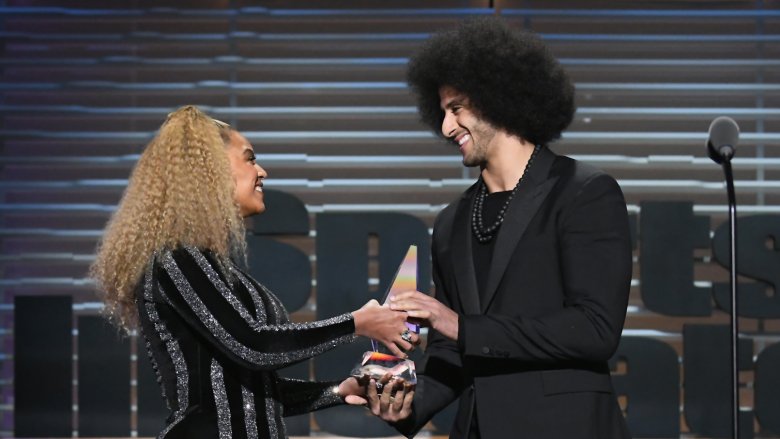 Speaking out against those who've criticized Kaepernick for his peaceful protests, Beyoncé continued, "It's been said that racism is so American, that when we protest racism, some assume we are protesting America. So, let's be very clear. Colin has always been very respectful of the individuals who selflessly serve and protect our country and our communities and our families. His message is solely focused on social injustice for historically disenfranchised people. Let's not get that mistaken."
After receiving his award, Kaepernick delivered his own speech about his determination to combat injustice in the country. "I say this as a person who receives credit for using my platform to protest systemic oppression, racialized injustice and and the dire consequences of anti-blackness in America," Kaepernick said (via People). "I accept this award not for myself, but on behalf of the people. Because if it were not for my love of the people, I would not have protested. And if it was not for the support from the people, I would not be on this stage today."
He continued, "With our without the NFL's platform, I will continue to work for the people because my platform is the people."
Want to know more about Kaepernick? Read all about the athlete's life here.