Inside Drake And Jack Harlow's Close Bond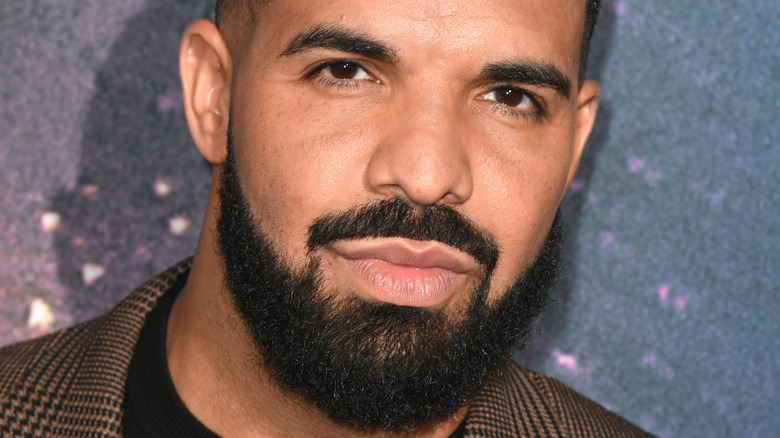 Kevin Winter/Getty Images
From Big Boi and Andre 300 to Kanye West and Jay-Z — hip-hop thrives off collaborations between geniuses, and the growing friendship between Drake and newcomer Jack Harlow is no exception. The bond thry share has become fodder for gossip mags and social media, with some fans already saying the rookie could be Drake's heir apparent. It's certainly not the first time we've seen an industry veteran offer to show the ropes to a novice. In case you forgot, Usher masterfully guided Justin Bieber from his floppy-haired YouTuber days to the global superstar we know today.
We don't want to jump the gun and assume that Harlow is a shoo-in for the same kind of decade-spanning success that Drake has achieved, but by all accounts, he's going for it. What's more, Harlow may have the charming demeanor and the work ethic to pull it off. Nevertheless, only time will tell if Harlow finds his name etched on hip-hop's wall of fame, but in the meantime — we're here for his friendship with Drake.`
The two rappers became fast friends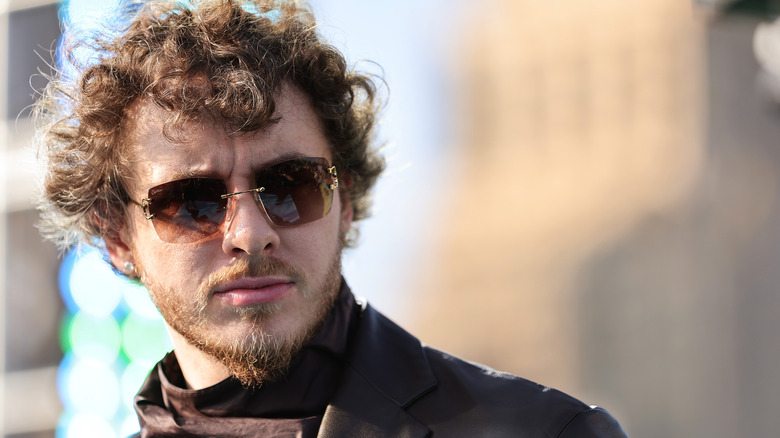 Jamie Mccarthy/Getty Images
A year before Jack Harlow became a TikTok darling with his viral hit, "What's Poppin," he was a relatively unknown rapper without an album, but that didn't stop word of his lyrical prowess from reaching Drake. Harlow stopped by "The Breakfast Club" where he recalled meeting the "God's Plan" rapper for the first time at a party in Atlanta. "He was walking across the party, and he saw me, and he came over to me, and at the time I was pretty wide-eyed, I didn't have a big record out at all," he recollected (via Rap-Up). As it turns out, Drake was a fan of the fellow rapper's work, "He was like, 'You got some hard s***.' It meant the world to me."
Within two years, Harlow would have a chart-topping record and a feature on Lil Nas X's number-one single, "Industry Baby." While performing a sold-out show in Drake's hometown of Toronto, the up-and-coming rapper couldn't help but give a shout-out to one notable fan. "I was halfway through my performance when I looked up and seen my idol looking at me, man. Toronto, make some noise for the GOAT one time," Harlow said. In a video posted to Instagram, Drake can be seen in a VIP booth, looking down at his protégé.
According to GQ, the "First Class" rapper got an invite back to Drake's $100 million mansion (aka "The Embassy") after the show, and before, a tropical vacation. 
Their vacation was the definition of friendship goals
The friendship between Drake and Jack Harlow finally hit a fever pitch in early 2022. The "6 God" rapper decided to trade freezing Toronto for the sun-soaked beaches of Turks & Caicos, and Harlow joined the fun. If you still aren't convinced of their bond, take a look at this video, where Harlow stands close to Drizzy as the certified lover boy scans Harlow's phone. According to Briefly, the moment sent fans into a frenzy, with some asking what Drake could be reading as others wondered why Harlow hovered over the rapper like a kid waiting his turn to play a game on your phone. It probably wasn't a "shorty," because the "One Dance" singer made a video asking them not to hit him up, "cause you see me chillin with jack."
It looks like the two had a blast sipping Weng Wengs in the Caribbean, but while Drake was teaching his bro how to loosen up, Harlow was hard at work finessing him for a feature for his track, "Churchill Downs." As the "Nail Tech" rapper put it (via GQ): "He introduced me to a different type of relaxation because I've never taken a vacation since I got started. I've never been to the islands or anything. " Before the two returned home, Harlow got the feature he was after, with Drake recording his verse right there in the Caribbean — and it only took him 11 minutes.