Inside Aubrey Plaza And Chris Pratt's Relationship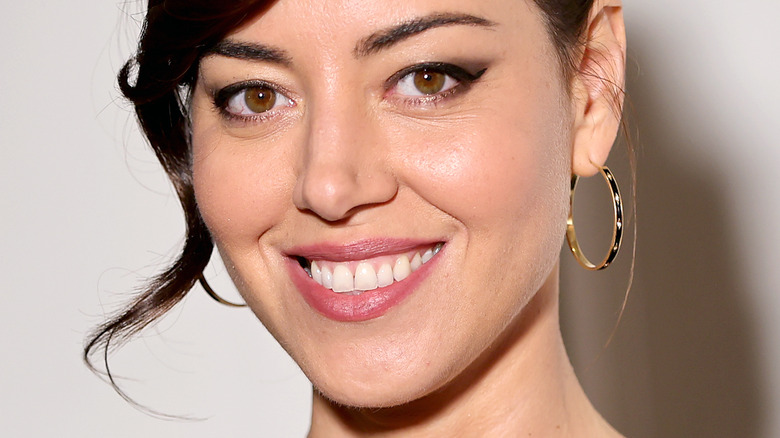 Matt Winkelmeyer/Getty Images
Aubrey Plaza is known for her quirky demeanor and ultra dry sense of humor. She's developed a following for her roles in movies such as "Ingrid Goes West" and "The To Do List," per IMDb. Fans also praised the actor for her portrayal of April Ludgate in the hit sitcom "Parks and Recreation," which ran for seven seasons. Led by Amy Poehler, the series featured an ensemble cast including Rashida Jones and Chris Pratt. Plaza's character ended up falling in love and marrying Pratt's character, the goofy and kindhearted Andy Dwyer.
While the fictional lovebirds got close on "Parks and Recreation," Pratt and Plaza haven't ignited any talk about romantic sparks off-screen. But Pratt and Plaza did bond over a unique pastime when working together on the series. In a 2015 interview with Refinery29, Plaza shared that Pratt applied her makeup many times. "He's kind of weirdly fascinated with doing makeup," she shared. "Is he good at it?" the interviewer asked, to which Plaza replied, "No." Besides that, it appears that the duo's on-screen chemistry has also carried over into their real lives.
Aubrey Plaza gave the inside scoop on Chris Pratt as a husband
Kathy Hutchins/Shutterstock
In 2019, Chris Pratt married author Katherine Schwarzenegger. At the time, Aubrey Plaza shared her insights on Pratt as a husband. She told People, "Well, I mean, [Pratt's character] Andy Dwyer was the best husband that anyone could ask for. I think Chris Pratt... I think there's a lot of similarities between Andy and Chris Pratt just as there are with me and April Ludgate." Plaza threw some more compliments his way, adding, "So, my bet is that he's gonna be the most fun husband ever and I think that girl is a lucky, lucky, lucky gal. Yeah, it's a jackpot."
This wasn't the only time Plaza shared her thoughts on Pratt, who portrayed Peter Quill in Marvel's "Guardians of the Galaxy." In a 2015 appearance on "BUILD Series," an audience member asked Plaza how she felt about his new superhero role. She responded, "It's totally fine with me. I think he looks great and I just hope he doesn't show up on set acting like a total a**hole now. But I don't think he will because he's the best guy ever." And in a 2014 interview with Nylon, Plaza remarked on her final on-screen moments with Pratt. She said, "We're doing our last season this year, which is so sad and bittersweet. And I'm gonna miss Chris Pratt in my life because he's my TV husband and sometimes I forget that he's not my real husband."
Chris Pratt shed some light on his on-screen relationship with Aubrey Plaza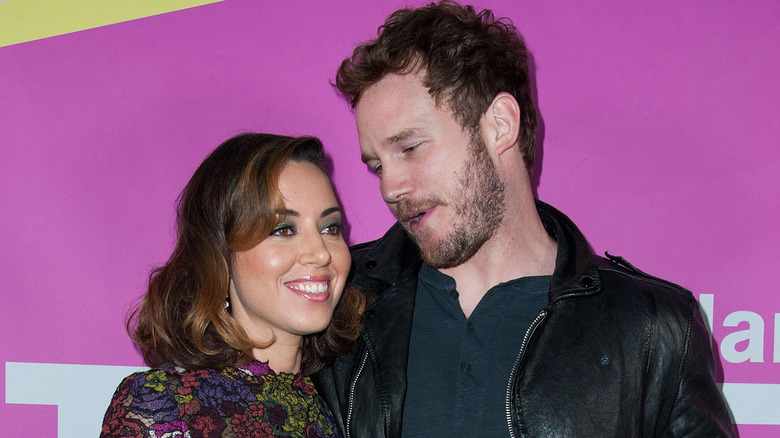 Valerie Macon/Getty Images
Since "Parks and Recreation" came out, there's been a lot of discussion about Aubrey Plaza and Chris Pratt's on-screen romance. In a 2015 appearance on Sundance TV, Pratt talked about April and Andy's on-screen marriage. He reflected on how the relationship unfolded, saying, "Looking back now, it looks so intentional, you know what I mean? Like, April and Andy — they're just meant to be together. But I think that's only looking back." However, he also explained how the couple's storyline was perfected by the writers. Pratt revealed, "Looking forward it was really just these guys [the writers] working really hard to sit back and polish and re-write and see what's working and see what's not working. "
In a 2015 "Parks and Recreation" behind-the-scenes interview, Pratt and Plaza talked about the couple's arc and the inevitable ending of the show. Pratt said, "We're gonna miss each other. This show is — for the fans — is going to live on forever." He continued, "We enjoy creating it and making it and that's coming to an end and so that's very sad for us." It's safe to say that these two co-stars formed a strong and amicable friendship.