The Truth About Christina Aguilera And Eminem's Feud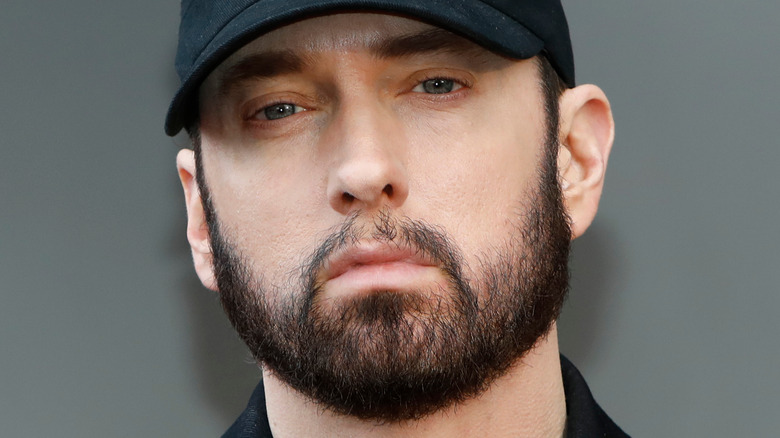 Kathy Hutchins/Shutterstock
Musically speaking, Eminem and Christina Aguilera are polar opposites. One's a powerhouse vocalist, while the other's an iconic rapper. With that being said, they do have on thing in common: their history of feuds with celebrities.
Let's start with Aguilera. The "Genie In A Bottle" hitmaker may be about female empowerment in her songs, but that doesn't mean she hasn't rubbed other women the wrong way. In the early 2000s, Aguilera had beef with Kelly Osbourne. As explained in an interview, the reality star revealed that Aguilera kicked down her door and called her a "fat b***h" when both happened to be recording music in the same building. Osbourne reacted and "spat on her car." In 2011, Avril Lavigne shared at the BRITs aftershow party that she once went to greet Aguilera and received a cold response, insisting she was "really mean."
Moving on to Eminem. It has been well-documented over the years that he has had a long-lasting feud with Mariah Carey. As noted by BroBible, everything started when Eminem said the pair started dating in 2001. Carey completely denied these claims, which resulted in Eminem getting mad and dissing the singer in a number of his songs. Not only did Carey clap back in her own songs, but her ex-husband Nick Cannon also got involved by responding to Eminem in a now-deleted blog post (via MTV).
Considering all this, it is no surprise that Xtina and Slim Shady have also had beef with each other.
Christina Aguilera and Eminem shared their feelings in their songs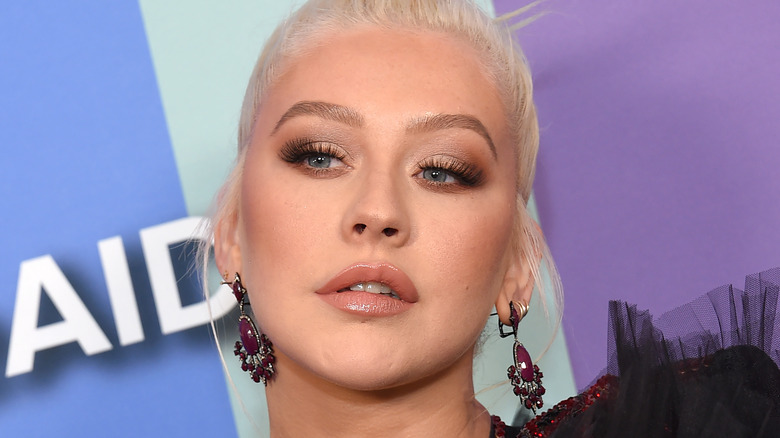 DFree/Shutterstock
Christina Aguilera and Eminem first clashed in the late '90s. During Aguilera's MTV Special, "What A Girl Wants," she selected Eminem's video for "My Name Is," and initially praised the rapper. However, she quickly made it into his bad books when she revealed to the world that he was married to his longtime partner, Kim. "She heard a rumor, she didn't know if I was married or not," Eminem later responded in an interview.
On his 2000 global smash, "The Real Slim Shady," Eminem didn't go in lightly on Aguilera, rapping, "Little b***h put me on blast on MTV' / Yeah, he's cute, but I think he's married to Kim, hee-hee.'" During the same verse, Eminem continued to bash the singer, "I should download her audio on MP3 / and show the whole world how you gave Eminem VD!" Aguilera obviously was not pleased and shaded the rapper right back at the MTV Video Music Awards that same year when his name was brought up onstage. Eminem didn't seem too phased though as he was seen laughing in the audience.
In 2002, Aguilera voiced her own thoughts in her song "Can't Hold Us Down" with Lil' Kim. "Am I not supposed to have an opinion? Should I keep quiet just because I'm a woman? Call me a b***h 'cause I speak what's on my mind. Guess it's easier for you to swallow if I sat and smiled," she sang during the opening verse.
Eminem continues to reference Christina Aguilera in his songs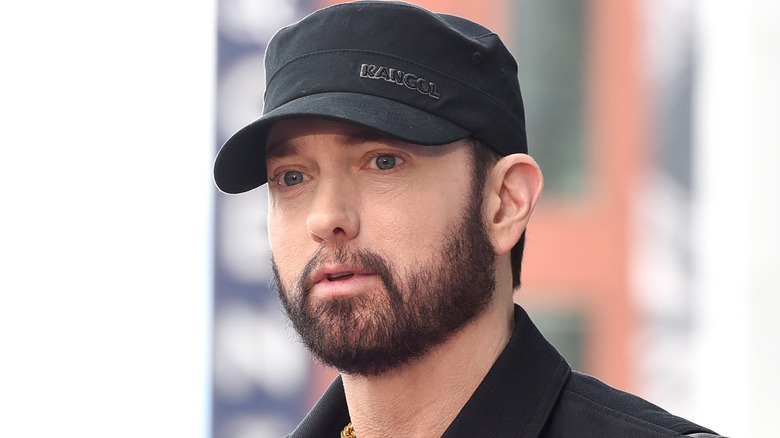 Presley Ann/Getty Images
By 2002, it seemed Eminem and Christina Aguilera had squashed their beef. At the MTV Video Music Awards, Aguilera presented Eminem with the award for Best Male Video and everything appeared good between the pair. With that being said, he referenced her once again in his 2018 song, "Kick-Off." "F**k Christina with a plastic spoon," he rapped, "'Cause her double g-cups are massive, huge!"
While the pair haven't reignited their feud, Aguilera did have something to say about Eminem in her televised interview on "Watch What Happens Live with Andy Cohen." When asked about what she thought about her name still being on his lips, Aguilera insisted it was "real thirsty" of him and had no clue why she was referenced. "That's really in the past and, you know, it was thirsty then, it's thirsty now," she continued. "It's not nice to go after anybody, especially a female in this business, and now, what we're looking at and seeing come to the forefront, it's just, get a new gig."
In 2011, it was reported by NME that Aguilera and Eminem were rumored to be releasing a song together. As of this writing, the duo has yet to collaborate.