Here's What The Kids Of '90s TV Stars Look Like Today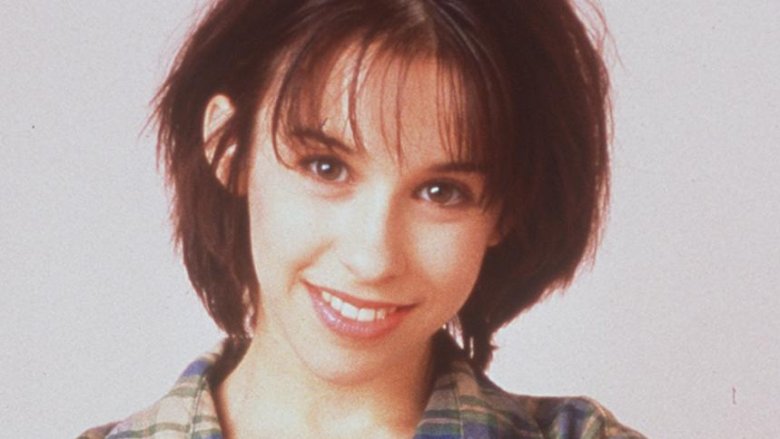 Getty Images
We may receive a commission on purchases made from links.
Child stars are often cemented in history as fresh-faced kiddos, despite the years rolling forward. But they all grow up eventually—and some even have young ones of their own. While TV's most iconic '90s kids may still appear as teens in small screen reruns and on streaming platforms, many have moved on to much bigger roles as parents. Take a look at some of the most famous '90s kid actors and their offspring.
Tia Mowry-Hardrict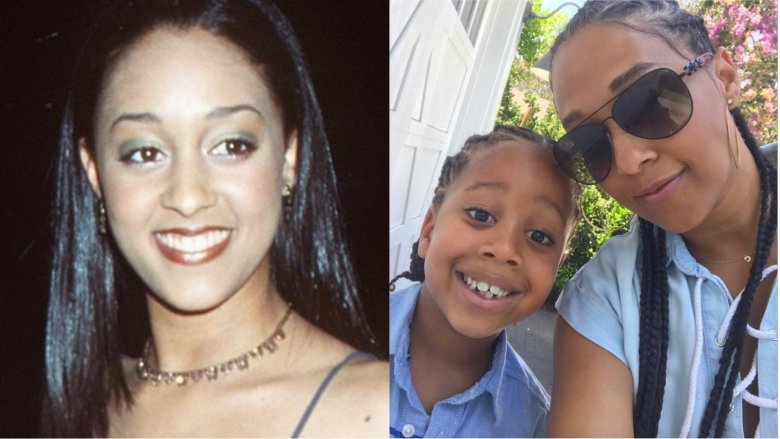 Getty Images
This Sister, Sister star has come a long way since her time as one-half of the most famous twins in Hollywood (after Mary-Kate and Ashley Olsen, of course). Besides starring in shows like The Game and Instant Mom, Tia Mowry-Hardrict became a mother in June 2011 when she welcomed son, Cree, with her husband, actor Cory Hardrict.
Back in March 2015, the actress spoke with Vibe about creating a good work-life balance post-birth, and she revealed that, while her kid is her main priority, she makes sure to give herself much-deserved "me time" every once in a while. "The number one key is to basically prioritize," Mowry-Hardrict explained. "I'm a mother and wife first because family is important to me, and a part of having a balanced life is not feeling guilty about taking care of yourself."
Hopefully, Mowry-Hardrict will continue to make time for herself as her family grows. In November 2017, Mowry-Hardrict took to Instagram to announce that she and her hubby were expecting their second child together.
Tamera Mowry-Housley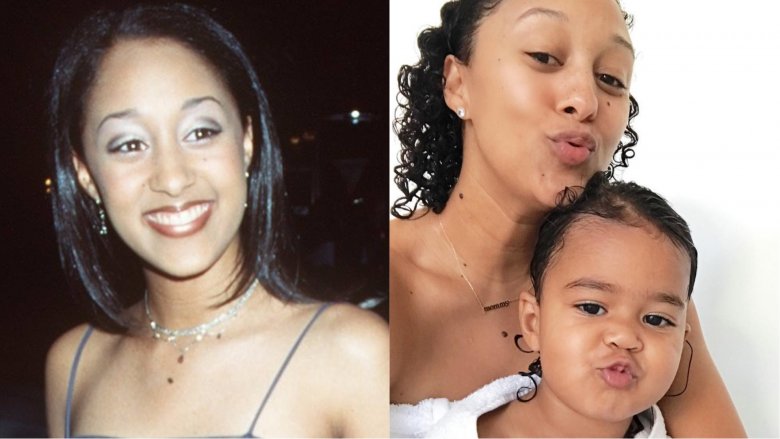 Getty Images
Mowry-Hardrict's twin sister, Tamera Mowry-Housley, has been all about embracing her new role as mother to two young children—son Aden, born in 2012, and daughter Ariah, born in 2015. And it's clear that Mowry-Housley finds parenthood to be one fulfilling experience.
"I'm so grateful to have be chosen to be a mom. Children are from God and are a passage through you," Mowry-Housley told Essence in 2014. "I have had some of the most blissful days as well as some challenging in my life. But as a result, it has molded me into the person I am today. As I teach my son, he teaches me."
But while kids may be an incredible gift in a parent's life, they also come with some headaches, as Mowry-Housley knows all too well. Describing the stress that goes along with having children—resulting from sibling spats, school tardiness, or what have you—Mowry-Housley told People magazine, "...it can be very challenging, and I just sometimes throw my hands up and start crying too. We just all have a cry."
Hey, there's nothing wrong with shedding a few tears. Motherhood's a tough gig.
Candace Cameron Bure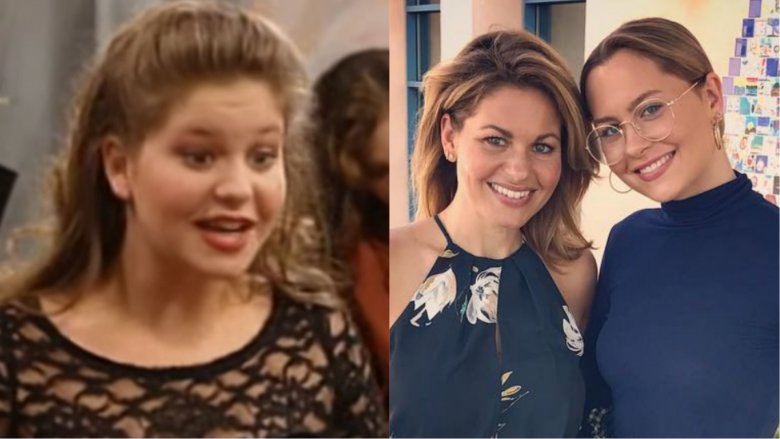 Like her TV dad Danny Tanner, Candace Cameron Bure welcomed three blond kiddos into the world. But, unlike her Full House family, Bure didn't just have girls. Instead, she gave birth to one baby girl, Natasha, and two younger sons, Lev and Maksim.
Similar to her character DJ Tanner on Fuller House, Bure's become the type of parent that likes to know everything that's going on in her children's lives—and she's not afraid to be tough if it's in the best interests of her young ones. "Being a mom is my biggest priority," Bure told L.A. Parent in December 2016. "I hope my kids would say that I'm a loving mom. They would also describe me as strict."
She explained, "We set firm boundaries, but there is always love and grace. I'm the mom that needs to meet the parents before my kids can go to a new friend's house. I want to know who they're with, where they're going. ... My goal as a parent is not to make my kids happy, but to guide them to be respectful, curious, responsible, resilient, kind, giving and thoughtful adults."
Considering that her oldest child, Natasha, published her own book called Let's Be Real: Living Life as an Open and Honest You, we'd say that Bure's doing a pretty good job as a mama.
Jodie Sweetin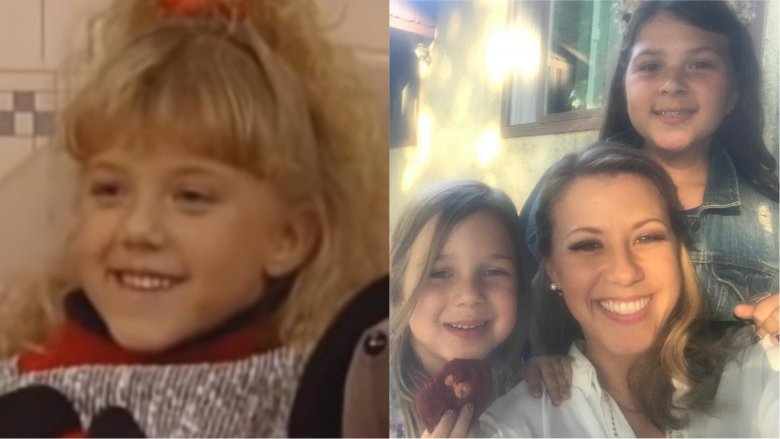 After starring as middle sister Stephanie Tanner on Full House in the '90s, Jodie Sweetin battled some personal demons—mainly, cocaine, crystal meth, and alcohol abuse (via Redbook). But, as the actress revealed in a 2009 interview, motherhood forced her to clean up her act and get sober.
"I got sober for good on December 7, 2008," Sweetin told Us Weekly. "I was flying to L.A., and I ended up taking a bunch of Nyquil and drinking a s***load. When I got home, I got a call that there was an emergency custody investigation because of my drinking. From that day forward, I threw myself into going to AA and avoided people who do blow off their coffee tables."
Sweetin is mom to two daughters, Zoie and Beatrix, each from previous relationships.
Beverley Mitchell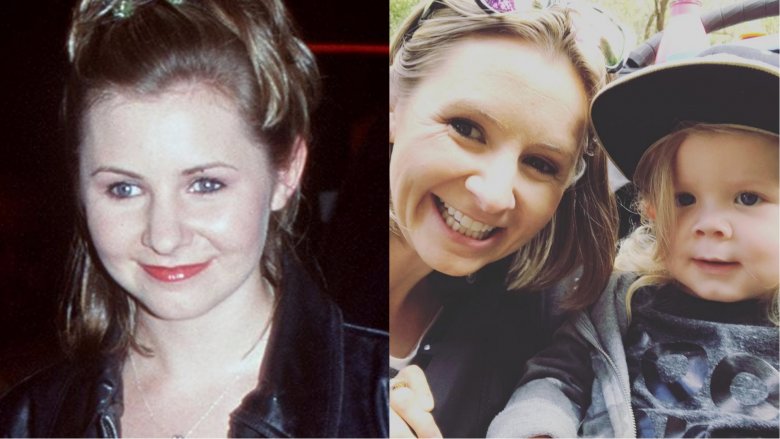 Getty Images
There's no shame in still imagining Beverley Mitchell as naive Lucy Camden and not a married mother of two; the 7th Heaven star still has a hard time believing she's a parent herself! "I still don't feel old enough to be a mom!" she told People in 2015.
Still, despite her disbelief, Mitchell knows that raising daughter Kenzie and son Hutton has been one of her biggest accomplishments. "Of all the amazing things I've done in life, nothing has been more important. Being a mommy is the best thing I've done," she told the magazine. "Seeing them embrace life with their fresh eyes and excitement really grounds you and makes you realize what life's really about."
It's fortunate that Mitchell feels that way, as she's admitted to previously thinking many of her mom friends were boring. "[Now] I am so that woman!" revealed Mitchell, who's married to Michael Cameron (via People). "My perfect night is going home, making dinner, putting [my daughter] down, and then my husband and I will watch a movie together."
Not going to lie–sounds like a pretty good night.
Lacey Chabert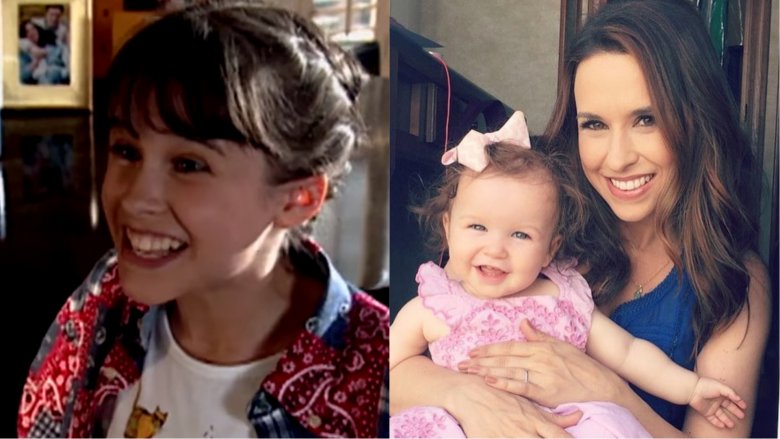 The former Party of Five child star became a mother in September 2016 when she gave birth to a baby girl named Julia Mimi Bella. But pregnancy wasn't so easy for Lacey Chabert. In fact, the actress said she'd felt huge during those nine months and often referred to herself as "a beached whale in distress" (via People).
"But it's all worth it when you see that beautiful baby," Chabert added, thinking about her family in April 2017. "It's true, what people say, that you watch them grow up and you really imagine yourself doing it all over again."
That's sweet and all, but all we want to know is if Chabert's daughter ever see her iconic Mean Girls performance. Well, at just 7 months of age, Julia had already caught a glimpse of her mother's hit movie. "It was actually on TV the other day," Chabert explained to People. "She turned around and she looked and it was the 'Jingle Bell Rock' portion. She started laughing. I was like, 'I think she recognizes me!'"
Hey, maybe Julia will be the one to make fetch happen.
Kel Mitchell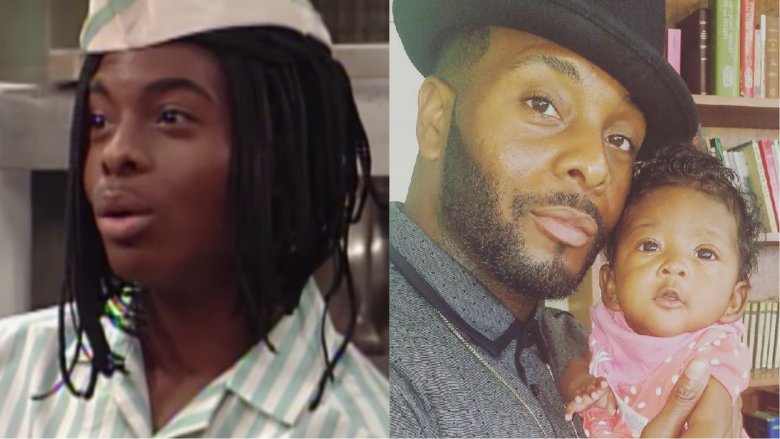 When the 2000s rolled around, All That star Kel Mitchell traded in his Good Burger gig for daddy duties, welcoming son Lyric and daughter Allure with his then-wife Tyisha Hampton. Nearly two decades later, Mitchell, married to second wife Asia Lee, grew his family with the birth of daughter Wisdom in July 2017. But before baby Wisdom was born, Mitchell sought inspiration from his past to create one memorable pregnancy announcement—much to the delight of '90s kids everywhere.
Revealing that he and his wife were expecting, Mitchell shared a photo of him and his wife donning paper Good Burger hats and holding a burger and a bottle of orange soda. "We have a bun in the oven!" he wrote on Instagram alongside the picture.
Mitchell kept the Nickelodeon theme going after Wisdom's arrival. In late August 2017, he posted a photo of the newborn holding a toy bottle of orange soda, his Kenan & Kel character's all-time favorite drink. The next month, he celebrated Wisdom's two months of age by snapping a few photos of his baby girl in an All That onesie. Too cute!
Melissa Joan Hart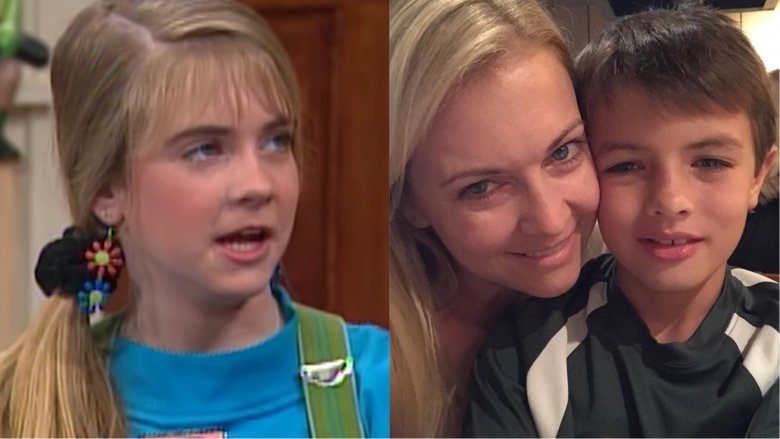 After marrying musician Mark Wilkerson, Clarissa Explains It All star Melissa Joan Hart expanded her family, welcoming three sons over the years: Mason, Braydon, and Tucker (via E! News). And, as could be expected from having a family of five, Hart soon discovered that parents have to make certain sacrifices to ensure their kids have a fun childhood—namely, a clean home.
"I have a sign in my house that says 'please pardon the mess, my children are making memories,'" Hart told Us Weekly in November 2016. "I think that's important to remember. They're only little once, and there'll be some day where I'm not picking up Legos and Silly Putty isn't stuck to my couch and I can actually have a clean house. But those are the days that I'll miss my kids."
Too bad Hart doesn't have the same powers as her Sabrina the Teenage Witch character. Then she could have it all!
Christine Lakin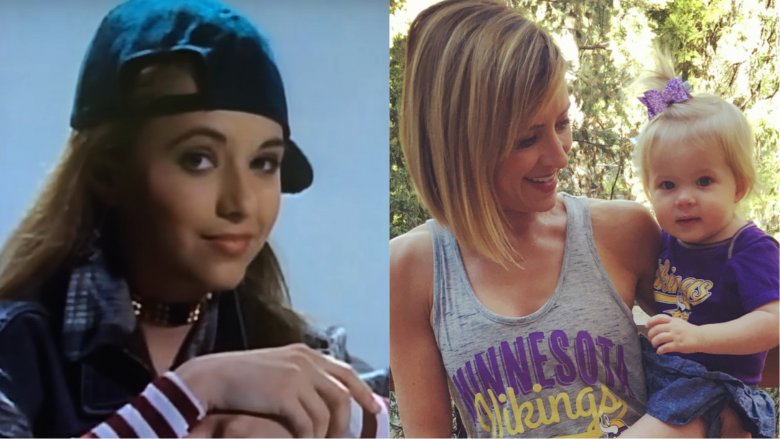 Following her days playing Alicia "Al" Lambert on Step by Step, Christine Lakin started a family. But, unlike her TV family, the actress only welcomed one kiddo. For now, at least. In March 2016, Lakin gave birth to daughter Georgia James Breault, whom she shares with husband Brandon Breault (via E! News).
In a guest post on People, Lakin opened up about the difficulties of becoming a mother, a lesson she couldn't learn secondhand from TV parents Patrick Duffy and Suzanne Somers. "The fact of the matter is, it's hard. Way harder than I thought it would be. And I read books!" Lakin wrote. "This is by far, the most difficult job I've ever had. And I've navigated a career in the entertainment industry for 29 years without losing my marbles, which is no small feat."
But despite the stress of parenthood, Lakin is still clearly in love with her new life. She noted, "The role of mom is definitely hardest earned, and so far, the best one I've scored."
Given that Lakin boasts over 100 acting credits to her name, we'd guess that the actress must be pretty darn happy with her family life.
Neil Patrick Harris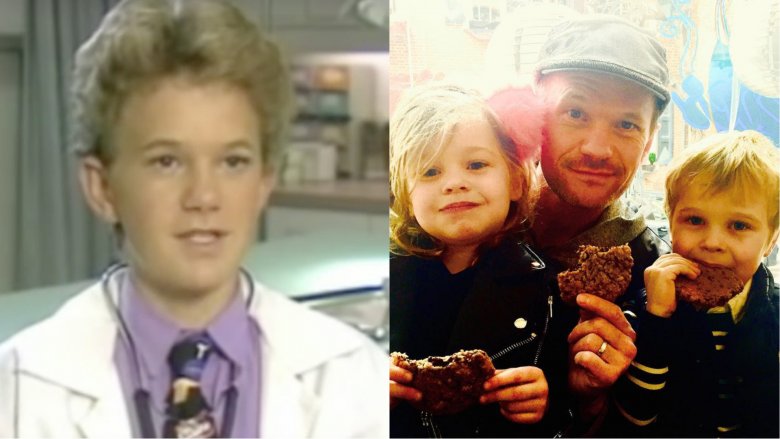 Nearly 20 years after he hung up his white coat, Doogie Howser, M.D. star Neil Patrick Harris became a father. In October 2010, Harris and his husband, actor David Burtka, welcomed twins Harper and Gideon, born via a surrogate.
Speaking with Barbara Walters four years later, Harris revealed that he and Burtka each fathered one of their children, but neither knows which kid is biologically his own (via the Daily Mail). And they don't really care. "I have no interest in [finding out]," Harris explained. "We are their parents and I love them implicitly."
Since the kids' births, Harris and Burtka have established a reputation for their family as major fans of Halloween, dressing the crew up in coordinating costumes. The group's tapped everything from Peter Pan to Star Wars for inspiration—and they've yet to disappoint.
Brandy Norwood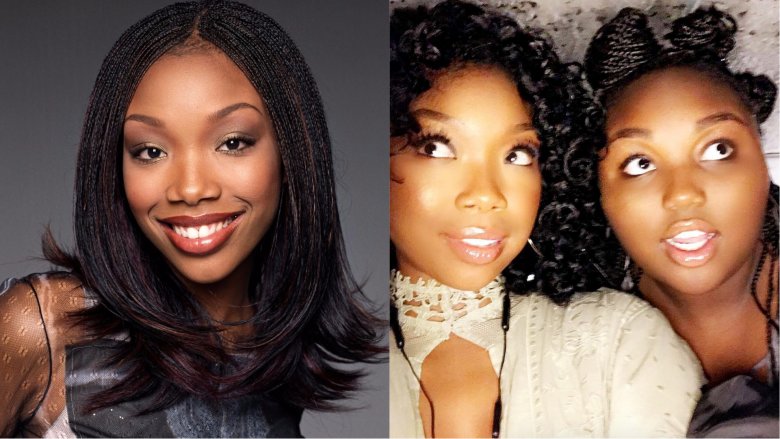 Getty Images
The Moesha star welcomed a baby girl back in June 2002, just one year after her beloved UPN sitcom ended. Brandy Norwood documented the birth of her daughter, named Sy'rai Iman Smith, in the MTV four-part series Brandy: Special Delivery. And while Sy'rai's arrival may have placed her in the spotlight straight out of the gate, Norwood's largely kept her kid out of the public eye since then.
Still, she's opened up about her relationship with her daughter, revealing how she's approached motherhood with a different perspective than her own mother had way back when. "A lot of mothers feel like they're the mom first, with that authority. But for me, I'm a friend first," Norwood explained to Parade in 2010. "I believe that just being there for my daughter as a friend more than 'I'm in charge...' causes her to be more open with me as a person. That's just what our relationship is."
She added, "At the end of the day we're going to be friends. When she grows up, it'll be about that friendship that we'll have. She'll come to me for any problems that she has. If I have an authoritative wall up, she's going to rebel and not come to me and I don't want that."