The Truth About Phoebe Dynevor's Famous Mom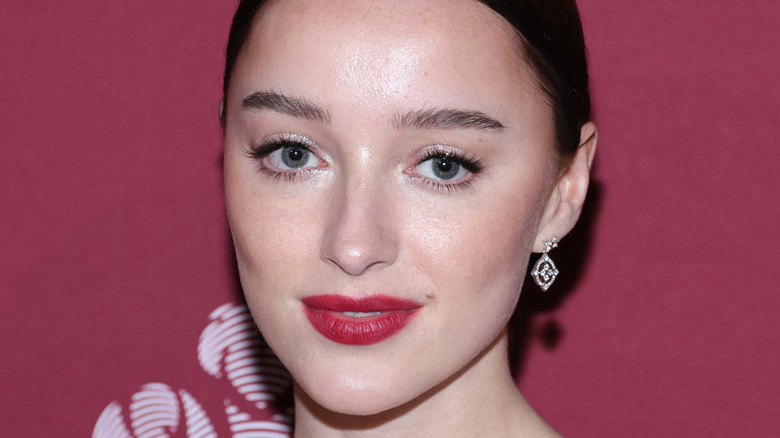 Theo Wargo/Getty Images
Phoebe Dynevor captivated viewers on the Netflix hit series "Bridgerton" for her portrayal of Daphne Bridgerton. However, fans may be surprised to learn that the British actor had already been working in the business for more than a decade before landing such a major role. Dynevor starred in several television shows like "Waterloo Road," "Prisoner Wives," and "The Village," per IMDb. While she had been doing her best to create a name for herself, Dynevor almost quit acting a few days before auditioning for "Bridgerton" in 2019. "I had been living in L.A. for about nine months, and I was kind of at that point where I was ready to go home and sort of throw in the towel," she confessed on "The Tonight Show with Jimmy Fallon."
"Bridgerton" was released in December 2020, and the show's success took the world by storm. According to Deadline, Season 2 of "Bridgerton" became the streaming platform's "most-watched English-language series debut ever" as viewers pulled in 627.11 million hours of watch time. Aside from the series being an instant hit, Dynevor's performance on "Bridgerton" not only made her a fan favorite but also catapulted her career to all-new heights. "I knew that at some point, something would happen," she said during an interview with Harper's Bazaar. "I just never imagined quite the scale."
Dynevor has already proven that she's an outstanding actor — and it appears greatness runs in her family. 
Sally Dynevor is an award-winning British actor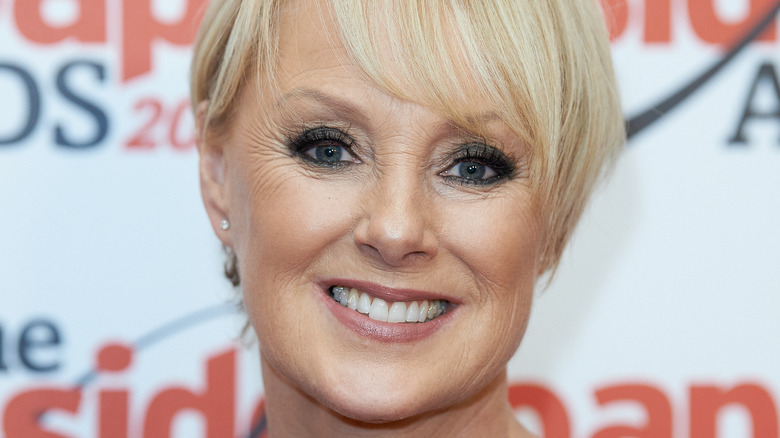 Joe Maher/Getty Images
It looks like Phoebe Dynevor isn't the only star in her household. Her mother Sally Dynevor is also a British actor and is widely known for her role as Sally Webster on the television series "Coronation Street," according to BBC. Sally has been a huge part of the show's success which spans three decades. "I've been in Corrie for 35 years, and I've loved every minute of it," she said during an interview with WhatToWatch. Fans may also recognize the '80s star from other television shows like "Juliet Bravo" and "The Practice," per IMDb. 
Although Sally is an award-winning actor and Phoebe was raised somewhat in the spotlight, she has always appreciated her mother's simplicity growing up. "In real life, my mum was always a dungaree wearer, which probably rubbed off on me a lot," the "Bridgerton" star told Financial Times. "Work for her was the dressy time, not home, and I always thought that was kind of cool." 
Phoebe clearly gets her acting abilities from her famous mother, and Sally is very proud of everything her daughter has accomplished.
Sally Dynevor is proud of her daughter
Sally Dynevor couldn't have been happier about her daughter, Phoebe Dynevor, landing a major role on a show like "Bridgerton," as she shared with the Daily Mirror ahead of the Season 1 premiere. "I just want to say I'm very proud of Phoebe, and as a family, we are so excited to see 'Bridgerton' on Christmas Day." Not only did she tune in, but so did the whole family. "Even the grandparents managed to watch it," Phoebe said during an interview with BBC Radio (via Hello Magazine). "I had to sit there and fast forward on high alert with the remote control. We managed it just about." 
Thanks to her parents, Phoebe learned a lot about how to navigate the industry. Her father Tim Dynevor is a famous screenwriter for the show "Emmerdale," and because she had both her mom and dad in the business, Phoebe was able to sit back and soak up all the knowledge. "I was always really interested in what was going on, watching the cameramen and stuff," she told Express. That's not all; her parents also instilled in her the importance of being genuine. "My mum and dad taught me to respect everyone and to be kind," she added.
Phoebe is accomplishing amazing things in her career — and she clearly has the support of her mom Sally, who continues to be a force on the big screen.